De Soto announces full-day free kindergarten for all classes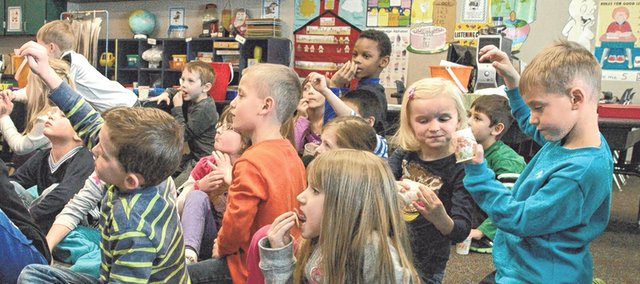 The De Soto School District is introducing tuition-free full day kindergarten for all students in that grade, starting in the upcoming 2017-2018 school year.
Up until now the district had provided half day kindergarten free of charge, with full day kindergarten offered for a tuition of $300 per month.
Now, all kindergarten students will be enrolled in the full day program.
The district was able to make the adjustment because the Kansas Legislature passed a school finance plan and aid package that moves forward with specific funding for full-day kindergarten.
"It's great we're able to do it," said De Soto superintendent Frank Harwood. "The drawback has always been cost. This is a huge step forward for the district and it puts us in a good place."
The De Soto Board of Education unanimously approved the recommendation to implement the full day kindergarten for all its kindergarten classrooms at its meeting earlier this summer.
"There was a demand for full day, so this is something the community has wanted," Harwood said. "Educationally, it's important because students in full-day kindergarten prove to be more ready for first grade. Not just academically, but socially and physically, which gives them a better start."
Starting this upcoming school year, the program will go into effect at all seven De Soto elementary schools.
Six of those schools are in Shawnee.
A full elementary school day lasts from 8:45 a.m. to 3:50 p.m.
Parents who still want to utilize half-day kindergarten are encouraged to reach out to their school's principal to set up a schedule.
The district wishes to emphasize that it will no longer have a separate half-day kindergarten program, however.
As for transportation, bus service for kindergarten students will be available at the start of the school day and end of the day.
The district will not offer mid-day bus transportation that was formerly associated with the half-day program.
So, parents who choose a part-time schedule for their children will be responsible for mid-day transportation.
They may elect to have their children ride the bus in the morning before the school day begins or at the end of a normal school day, depending on their kid's schedule.
If parents are interested in bus transportation, they are encouraged to complete the bus transportation enrollment form and send it to First Student, the district's transportation provider.
The district is currently processing refunds for those parents who have already made tuition payments for the 2017-2018 full day kindergarten.
For more information, visit usd232.org.