Face to Face: Isaac Fagan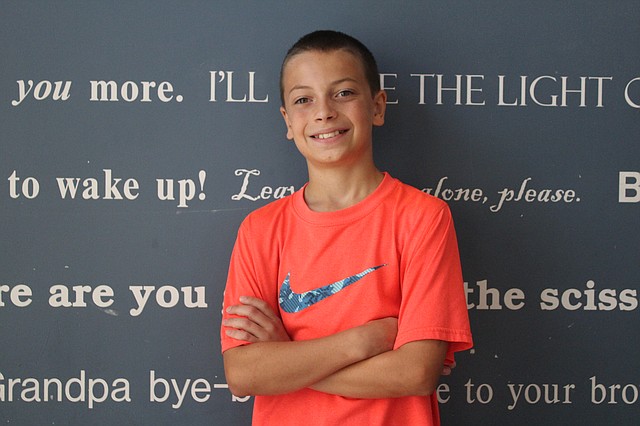 Name: Isaac Fagan
Born: Overland Park
Family: Mom, Sarah; dad, Ryan; 9-year-old brother Adam; 7-year-old sister Ellie and 4-year-old sister Anna
Dream job: "I think it would be fun to be a police officer."
Digging deeper: It was, in 11-year-old Isaac's words, "the best day I've had all month." That's how the Shawnee soon-to-be sixth-grader described his recent stint as "Mayor for a Day."
On a balmy Thursday, he spent hours learning how the city works.
In the morning, he helped Shawnee Mayor Michelle Distler update residents during the monthly Thursday coffee Q&A session at the Civic Centre.
He helped conduct safety checks and chemical testing at the aquatic center and he received tours of City Hall, the Justice Center and a fire station. He even got to use a radar gun to check for speeders on Johnson Drive and spray a fire hose.
Over at the public works building, he was allowed to drive a street sweeper in the parking lot.
"My favorite part of the day was meeting all the people who help keep Shawnee safe and clean," he said. "The street sweeper was pretty cool. too."
Isaac was granted the title of 2017 Mayor for a Day by winning the city's annual essay contest.
In his essay, he talked about how more Shawnee citizens should get involved in the community by attending city council meetings, volunteering, participating in Parks & Recreation activities and enjoying city festivals.
"It's good for people to see how the city works and it's good for the city to have its citizens involved," he pointed out.
Winning the contest, however, was not Isaac's first introduction into Shawnee city government. In the past year, he has been a guest councilmember twice.
"It's fun to go through the agenda as you're sitting there," he said. "My favorite part of the whole meeting is voting."
When Isaac isn't busy being involved in city government, he enjoys playing soccer and golf, swimming and practicing the piano.