Eventful summer for
SMNW

alum Skeens includes playing with

USA

D2 touring team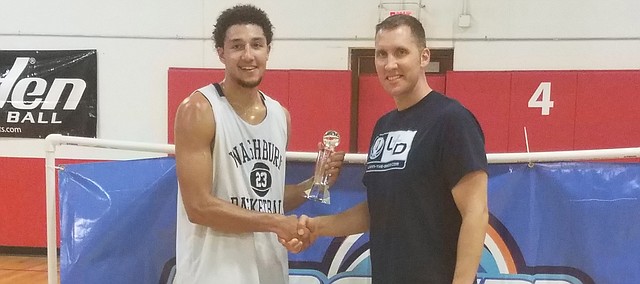 Shawnee Mission Northwest alumnus Brady Skeens has already etched his name in the Washburn men's basketball record books in his three seasons with the Ichabods, and the accolades have continued to mount for the former Cougar in the offseason.
Skeens — who is the Ichabods' career leader in blocked shots, blocked shots per game, field goal percentage, rebounds per game and defensive rebounds per game — is playing for the USA Division II All-Star touring team for four games in Sao Paulo, Brazil. The USA D2 team is 1-1 through its first two games after defeating Jundiai on Tuesday and falling to Paulistano on Wednesday. The tour will conclude with games against Fluminense on Sunday and Botafogo on Monday.
"I think this will be an incredible opportunity for Brady," first-year Washburn head coach Brett Ballard said in a press release. "The basketball piece will be fun and beneficial, but I'm more excited about the fact he will get to experience a new culture and see a very unique part of the world."
The Washburn forward is the lone player from the MIAA on the USA D2 team.
The Brazil tour is just one piece of what has been a standout summer for the two-time MIAA Defensive Player of the Year. Skeens was named the Most Valuable Player of the Dream League, which is a Summer Pro-Am league in Kansas City. The 6-foot-7 senior led the Ichabods to a Dream League championship.
Skeens also received some recognition for his academic success when he was named to the National Association of Basketball Coaches Honors Court on July 18.
Ballard's squad has a lot of Shawnee area flavor to it along with Skeens. Senior Tom Huppe and freshman Will Mckee — both of who are St. James Academy products — and sophomore Clayton Holmberg — a former Mill Valley standout — will all suit up for the Ichabods this year.