Van stolen from western Shawnee driveway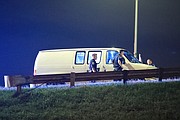 Shawnee Police are investigating after a Ford Econoline work van was stolen from a western Shawnee driveway early Monday.
Major Dan Tennis says officers were called to an address in the 21600 block of West 72nd Street shortly after 4 a.m.
"At about 4:16 a.m., the resident heard his van being stolen and he called 911," Tennis said. "Officers observed the van on Shawnee Mission Parkway and the suspect driver abandoned the stolen vehicle on Shawnee Mission Parkway at Robin Hood Lane."
Operation 100 News was on scene as police and the vehicle owner recovered the vehicle, left abandoned with the driver's door open. The van was parked in the right lane of eastbound Shawnee Mission Parkway near Carter Avenue in Merriam.
On Tuesday, Shawnee Police Captain Ben Mendoza confirmed to Operation 100 News that the keys had been left inside the vehicle.
When asked if officer's attempted to stop the stolen van, Capt. Mendoza replied, "yes, briefly."
Recorded radio traffic indicates an officer spotted the vehicle on eastbound Shawnee Mission Parkway near Interstate 435. The officer attempted to make a traffic stop and the driver continued driving eastbound at 80mph. The officer discontinued his pursuit about two miles later, just west of Pflumm Road.
Mendoza says it's unknown if the suspect got into another vehicle, as the van was empty when officers located it.
"There was a red two door sports car traveling in front of the victim's stolen van that officers believed was associated to the theft," Mendoza said. "There is no other information at this time."
---
Operation 100 News provides overnight news coverage for the Shawnee Dispatch. Follow on Twitter for real-time updates.