Colorado Springs trip highlights summer for St. James cross country team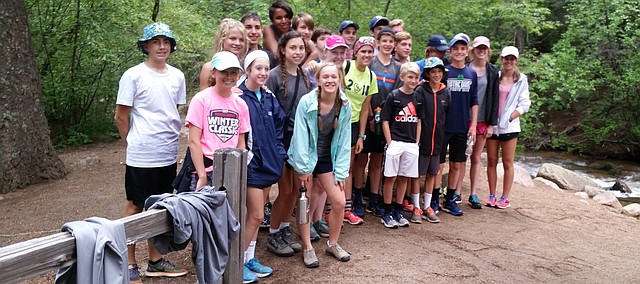 The St. James Academy cross country team's annual trip to Colorado Springs, Colo. has always been something that coach Rob Harber and his athletes have looked forward to, and this year's trek was no different.
"It was a big group. It was 34 (people), and we were there for five days," Harber said. "We stayed in a retreat center there. It's a fabulous place to stay — Franciscan Retreat Center. We've been going there for a lot of years, many years."
Harber likes taking his team to Colorado in the early stages of their summer training to let them experience what it's like to run in high altitude, but that's only one of many reasons why the St. James runners enjoy the annual trip.
"Just all of the things you can do there, not just the running — the hiking, the Olympic Training Center, the zoo, the Air Force Academy," Harber said.
While sophomore Sarah Murrow and senior Charlie Wallace were unable to go on the trip, they've both attested that the bond of the team has become much stronger. Murrow, who was the state champion in the 3,200 meters in May, can't wait to see what the future holds for her sophomore campaign.
"Sophomore year is going to be completely different," Murrow said. "Freshman year I was just trying to figure stuff out, but now I know how it kind of works. I'm excited for the season."
Murrow and fellow sophomores Hannah Robinson and Katie Moore and senior Mary Goetz will return from the Thunder's state runner-up team. With talented freshman like Mary OConnor added into the mix, Harber believes that the Thunder can do something special this season.
"It's very exciting to have young people like that step up and come right into the program and kind of make a name for themselves just right from the start, not just as athletes but as great people and being a great inspiration to their teammates," Harber said.
The St. James boys squad will look to join the Thunder girls team at state this year after missing out by one spot last fall at regionals. Junior Jack Moore and graduated senior Matt Kipper and Erik Wilkinson were the Thunder's individual state qualifiers last year, but Wallace is determined to go to state as a team this year.
"We've just been getting closer in each aspect of running and running all of the workouts together," Wallace said. "If we're getting to state as a team this year, we've got to be close to do it."
Wallace acknowledged that it would be difficult to fill the voids left by Kipper and Wilkinson, but he's confident that he and his senior teammates can do it with the help of others like Moore and junior John Matulis.
"It's going to be rough without Erik and Matt, but I've been seeing a lot of people improve," Wallace said. "Seniors wise we've got Joe Ben (Martinez) and Brandon Lobb. They're looking pretty good."
Harber said that the senior leadership at summer conditioning and on the Colorado trip have been critical to the team becoming closer over the past few months, and he believes that they'll continue to set a good example throughout the season.
"It's been great. They can hardly wait to race," Harber said. "They're just so excited to get this season started and get going. They've worked really hard, and they want to get out there and show what that hard work can do."