Confident
SM

North runners ready to kick off cross country season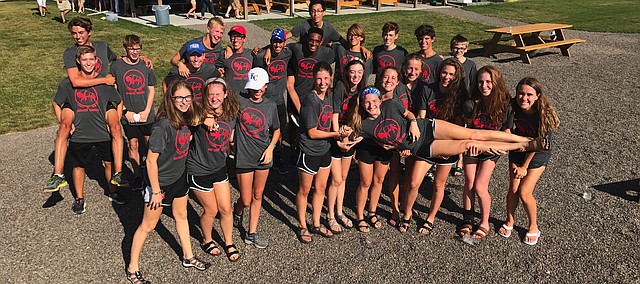 Shawnee Mission North seniors Molly Ryan and Cassie Raines and junior Katie Kasunic helped highlight a strong 2016-17 school year for the Indians cross country and track and field teams with chipping on two state runner-up teams.
Ryan, Raines and Kasunic were a part of the Indians' state runner-up cross country team last fall before joining graduated senior Amber Reed on SM North's second-place 4x800-meter relay in the spring.
While Reed has departed for Wichita State, the SM North distance running trio is full of confidence that the Indians can move up one more step on the state podium with cross country on the horizon.
"It just makes you feel really good that you still have the support of six girls that were on your state team last time and with me, Cassie Raines and Cassie Davis as the seniors — I feel like we're really great leaders," Ryan said. "We're going to push everyone still. We have our top girls returning and that feeling that you've kind of done it before just kind of supports everyone and makes everyone more confident going into the season."
Also returning from the state team with Ryan, Raines, Kasunic and Davis will be junior Abby Onnen and sophomore Keagan Stiers. North coach Aaron Davidson said the biggest thing that his girls squad was able to take away from last season was developing a belief that it was good enough to compete against any team in the state.
"I feel like with our girls, we used to have to tell them that they could be good and what could be possible. I feel like they're starting to think that themselves. We don't have to tell them anymore," Davidson said. "That's huge for what we want to try to accomplish as a team. When they start believing it, it makes my job a lot easier because they just show up and they're motivated and excited to do it. I don't have to try to tell them that they can be good runners and a good team."
Davidson was preaching the same message to his boys distance runners last track season, and started to see some encouraging results — including a third-place state finish in the 4x800-meter relay. Senior Joseph Coddington and junior Asher Molina are back from that 4x800 relay. Coddington and junior Logan Jiskra also qualified for the state cross country meet individually last fall.
"I was constantly reminding them in the spring to about what the fall could hold for us as far as the potential and what we had coming back," Davidson said. "I know they were excited and I was excited about that."
With the help of fellow senior Ben Tyrrell, the emergence of freshmen such as Austin O'Dwyer and a few junior varsity runners making positive strides throughout the summer, Coddington is confident that the Indians have what it takes to earn some hardware at the state meet this year.
"Asher has really been coming up since he had a really great track season last year. Ben, he's looking to drop some big times. Logan Jiskra qualified for state with us. We have some new guys, too. Austin O'Dwyer, he did his first half marathon with us today," Coddington said on Thursday at the Indians' team conditioning. "It was a big day. He was keeping up with Asher, Ben and I. We just have a lot of dudes coming up this year. Eric Kyle, he was one of our alternates last year. Zach Bell, he had a really great track season, too."
Coddington, who was a regional cross country champion last fall, had a strong summer after winning the CASA Superhero 5K with a time of 16:23. The SM North senior has set out the goal of breaking 16 minutes this season, and he's ready for the season to get started.
"I'm just really excited for the season to see what our guys can do, and hopefully we can get on the state podium this year," Coddington said. "I think we have a title-contending team."
The Indians have become a close-knit team as they've continued to drop their times over the past few years, and they were able to increase that bond this summer with their annual retreat to Lake Maloney — which is eight miles away from North Platte, Neb.
"Coach says it's a bonding trip and it really is because you bond through the toughest workouts that we have all summer, but then we'll have capture the flag moments and kayaking moments to where we goof around," Ryan said. "We still run really hard. The camp, I think, is one of the greatest things that happens in the summer."