Johnson County court help center celebrates serving 15,000 clients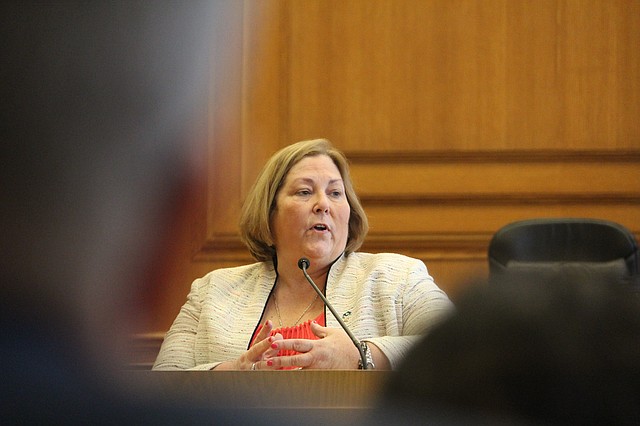 Suddenly having to navigate the court system can be a daunting task.
Legal terms become a foreign language. Documents may seem confusing. And what happens if you can't afford legal fees?
In Johnson County, those intricacies are addressed one-on-one.
In May 2014, the District Court Help Center was established to provide legal assistance and an attorney for those unable to have one.
It offers free legal forms, case information, filing assistance, document review, referrals to low-cost or free legal assistance and referrals to social service agencies.
When it opened a few years ago, the help center assisted 16 people.
Last week, the center celebrated the milestone of serving more than 15,000.
To commemorate the occasion, a ceremony was held at the Johnson County Courthouse in Olathe last week.
Speakers included the honorable Karen Arnold-Burger, chief judge of the Kansas Court of Appeals, and honorable Kevin O'Grady, district court judge.
"We have need for citizens in our own county to have access to food and shelter, but access to legal help is also another big need," O'Grady told the audience. "You should all be very proud because you've made a huge difference in the lives of a lot of people."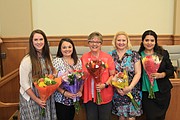 He pointed out that the service is invaluable because one in 15 people in Johnson County live below the poverty level.
"A lot of people don't believe it," he said. "They think our streets are paved with gold and champagne comes out of our faucets."
By celebrating this milestone, O'Grady said if shows the help center is doing something right.
"It has become a remarkable diamond in the rough in the court system," he said.
He told the audience that not only does the help center relieve frustration for residents who need it, but it helps the court system be more efficient because it allows people to have correct information and all their paperwork together.
With its long-term benefits, he thinks the Johnson County help center is a great model for other court systems in the state.
At a reception following the courthouse ceremony, held at the first-floor help center, O'Grady told the Dispatch he has read email upon email of residents grateful for the service.
"It's very scary to come into court because everyone speaks a different language," he said. "You don't know what the rules are and that can be overwhelming. So this is a great resource because all of the sudden, it all becomes not-so-scary."
The numbers for the help center keep growing each year.
In 2015, 4,074 people were helped. In 2016, the center served 5,633 in-person visitors, an average of 470 each month.
Most months, it assists more than 20 people each day. On average, the center answers 360 phone calls per month from residents.
The help center was initially started to assist the unrepresented with forms for family law cases such as divorce, parentage cases, cases concerning child support, motions to change parenting plans, child support worksheets, medical expense reimbursements and name changes.
Since being founded, the help center now offers assistance with landlord-tenant disputes and guardianship and conservatorship reports.
The center's goal is to provide basic information and forms for the most common kinds of problems. The majority of problems by unrepresented citizens fall into the categories of family, tenant and debt disputes.
When the help center opened three years ago, staff worked out of three small cubicles on the second floor of the courthouse.
After a few months, they outgrew the space and the center was moved to a larger suite on the first floor.
"It's kind of hard to put into words how much this job means to me," said Teresa Young, supervisor for the help center. "It can be frustrating and sad, because you're dealing with people at one of the hardest times in their life, but at the end of the day, I feel like I've helped somebody and accomplished something. It's one of the most rewarding positions I've ever been in."
She added that the staff members complement each other with their strengths.
"Our group of girls down here, each one of them, has a different type of personality to help all sorts of different people, so we all fit together like a glove."
Young believes the center has potential to grow even more.
She would like to see the center become the hub for the entire state of Kansas one day.
She would also like to incorporate face chats to help people online from smaller counties. Like O'Grady, she thinks the Johnson County help center, the first one of its kind in Kansas, could be emulated throughout the state.
For more information about the help center, visit courts.jocogov.org or call 913-715-3385.
The help center is located on the first floor of the Johnson County Courthouse, 100 N. Kansas Ave.
More like this story