Mill Valley cross country runners highly-motivated for upcoming season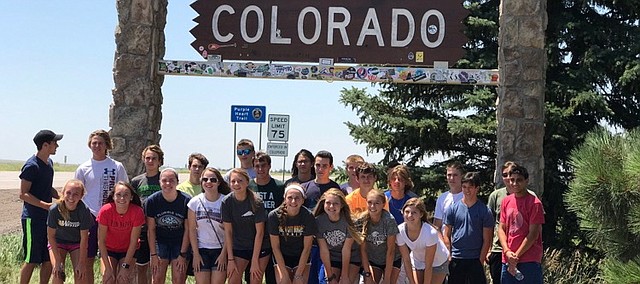 With all seven of the runners on last year's third-place state squad returning, the Mill Valley girls cross country team knows that big things could be in store this fall.
But in order to reach their full potential, the Jaguars also have realized that the key to a successful season starts with getting their summer mileage in. Along physically preparing for the season with each distance run or workout, the Jaguars have been getting themselves mentally ready for the grind of the season.
"We talk about goals a lot and picture ourselves where we want to be by the end of the season," said junior Delaney Kemp, who returns from last year's state team along with seniors Britton Nelson and Bella Hadden and sophomores Emerson Kaiser, Morgan Koca, Molly Haymaker and Jenna Walker, said. "We try to picture that in every workout that we do."
While the Jaguars have needed much motivation to gear up for the season, they got plenty of it during their team trip in July to Colorado Springs, Colo. The Jaguars were able to get in a few runs in the high altitude, but their most beneficial experience from the trip came from watching some other athletes run. The Mill Valley runners got to watch a few Olympians and United States track and field team members go through a workout. A majority of the runners were also members of the U.S. Army.
Some of the prestigious runners included 2016 Olympic 5,000-meter silver medalist Paul Chelimo, Shadrack Kipchirchir and Leonard Essau Korir — who placed ninth and 13th, respectively, at the IAAF World Championships last week — and steeplechasers Stanley Kipkoech Kebenei and Hillary Bor.
"Basically depending on how well they're racing, they get moved to Colorado Springs to do their work there and they're coached there. In the morning they work out, and then all day they go to work," Kemp said. "It's just really awesome to see them run these workouts. They do quadruple the reps that we do. It's just crazy."
Kemp added, "It was very inspiring. We got to watch a video about all of the athletes and their Road to Rio and things like that. We want to bring that back here and find success just in high school sports."
The Mill Valley boys team is also shooting for its second straight top-three state finish after taking second last fall to three-time defending champion St. Thomas Aquinas. The Jaguars are returning four members from their state team in seniors Tyler Coad and Gavin Overbeck, junior Greg Haynes and freshman Nick Schmidt.
Junior Justin Grega is also looking to qualify for the state meet for the second time after being hampered by injuries during his sophomore season. Grega said that he's feeling much better than this time last year.
"I was injured and I couldn't run like a mile," Grega said while reflecting on last summer. "Right now it's great because I'm back to where I was and like I should be. I'm just working hard and hoping for a great season."
While the Jaguars have a wealth of experience on both the boys and girls team, they're thankful to still have an experienced coaching staff as well. After Mark Chipman retired last year, his longtime assistant, Chris McAfee, has stepped into the head coaching role. The Jaguars also have another familiar face to go to for guidance in assistant Betsy Meeks and have welcomed assistant Page Anderson with open arms.
"The transition has been smooth," Grega said. "Everything has just been going great so far."
Kemp echoed Grega's sentiments. The Mill Valley junior has appreciated McAfee's dedication to the team as he prepares the Jaguars for the upcoming season.
"McAfee doesn't get paid to work with us over the summer, and I think it's really awesome that he meets with us almost every day," Kemp said. "He's a pretty awesome guy."