Face to Face: Shane Britt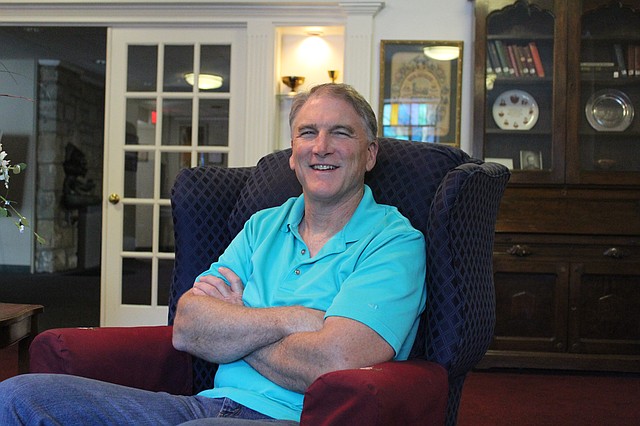 Name: Shane Britt
Born: Salina
Family: Toni, wife; Ethan, son and Brogan, daughter
Dream job as a child: Farmer
Digging deeper: Before he was a pastor, Britt longed to be a farmer like his dad.
Growing up on a farm in a "don't blink or you'll miss it" Kansas town, he admired the hard work and perseverance his dad demonstrated.
"Farming gets in your blood and every day is different," Britt said. "You get to be outside a lot, so you aren't tied to a desk all day long."
But in junior high, everything changed when he felt the calling of God.
Without a mentor to guide him and amidst the confusion of what that pull meant, Britt put the message aside.
In the early 1990s, he was an insurance adjustor when his father died.
After helping his brother run the family farm for a couple years, he took over the reigns in 1995.
The 1,200-acre farm produced wheat, soybeans and grain. The family also raised cattle.
While he loved his job, Britt still felt a bit unsettled in his life.
The pull to convey God's word never went away.
It consumed his mind to the point where it became impossible to ignore.
"It was stressful because even though I loved farming, God was calling me to do something different," Britt said. "When it's a true calling, you can't do anything else."
In the early 2000's, he started out as a part-time pastor.
In 2006, he sold the farm and devoted his life to being a full-time pastor.
Earlier this year, he felt God's call to join Shawnee United Methodist Church as its pastor. He started the church, 10700 Johnson Drive, in July.
Determined not to be a "person just standing up there preaching," Britt has been spending the last several weeks meeting each member of the congregation and getting to know their family.
"I love to meet new people and help them walk through their faith," he said. "Whether I'm teaching a lost person or helping people with a spiritual or emotional struggle, it's very rewarding."
And while he's living his dream, Britt admits ministry is the hardest thing he's ever done.
"It's extremely demanding because there's a lot of need in the world and if you're not careful, you can get burned out," he said. "It's important to take care of other people, but also take care of yourself and your family. It's about maintaining a balance in your life."
He is also currently working on finishing his Masters of Divinity online and in-person from Asbury Theological Seminary, which is based out of Kentucky.
When Britt isn't busy finishing his seminary degree or getting to know his congregation, he has enjoyed getting to know his new town.
Since he lives next to his new church, getting to know downtown Shawnee has been fairly easy.
One of his favorite things to do is walk with his wife around downtown to local establishments, such as Pegah's or Hartman Hardware.
"I love Shawnee," he said, with a smile.
More like this story