Royal reflection: Shawnee resident describes emotions of being Sonic Slam Inning winner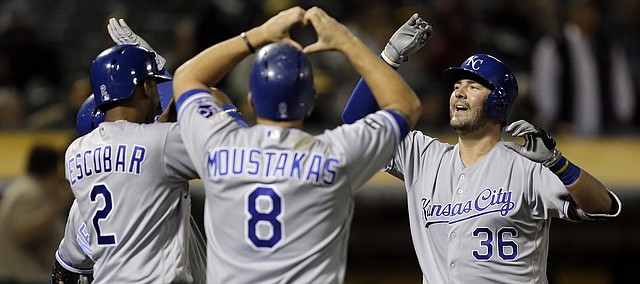 When the sixth inning of Monday night's baseball game between the Kansas City Royals and Oakland A's began, Shawnee resident Tim Brown had his fingers crossed that the Boys in Blue might be able to add to their lead via the long ball.
Brown, 40, was the Sonic Slam Inning contestant, and felt pretty good about his chances of the Royals hitting a home run with their heart of their order coming up. A home run would net Brown $300, but a grand slam would make him the winner of $25,000.
"I really had a good lineup going into it because I figured Melky (Cabrera), Moose (Mike Moustakas), (Jorge) Bonifacio — there's three power-hitters right there," Brown said. "I was literally just hoping for the $300. I was like, 'The grand slam is going to be completely out of the question.'"
The Royals plated single runs in the first and second innings against Oakland starter Jharel Cotton, but missed out on breaking the game open with a big frame. Kansas City started to mount a threat in the sixth, though, when Cabrera earned a leadoff walk and Moustakas singled to center. With the rally brewing, Brown began to dream a little bit.
"Then they both got on and I was like, 'Oh, let's get one more runner on,'" Brown, who was watching the game with his wife, Carrie, said.
Bonifacio went down on strikes for the first out of the inning, but Alcides Escobar granted Brown's wish when he reached on an infield single to load the bases for Alex Gordon.
"I was like, 'Man, please let Gordo please run into one. I know he's been (expletive) all year, but please let him run into one," Brown said.
Gordon was unable to come through after popping out to second, which meant it was up to Royals rookie catcher Cam Gallagher to keep the inning and Brown's chances of cashing on in the Sonic-sponsored contest alive. Gallagher — who made his MLB debut on Aug. 6 in the Royals' doubleheader against the Seattle Mariners — was only appearing in his fourth game since being called up from Triple-A, so Brown's hopes weren't too high for the 24-year-old catcher.
The rookie showed some patience at the plate to get up in the count, 3-0, which made Brown believe that Cotton was going to walk Gallagher. Cotton battled back to make the count full at 3-2, but grooved a fastball to Gallagher that ended up being blasted to left field. Brown could tell from the sound of the ball coming off the bat and the way Gallagher extended his arms that he had a chance at a grand slam, but wasn't sure if the ball would stay fair based upon the camera angles.
It wasn't until Brown heard the exuberant Fox Sports Kansas City broadcasting crew of Rex Hudler and Ryan Lefebvre confirm that the Gallagher had hit it fair and over the fence that he knew he was the eighth $25,000 winner of the Sonic Slam Inning since the contest started in 1995. Gallagher's grand slam proved to be the difference in the Royals' 6-2 victory.
While Brown was definitely in a celebratory mood, he did have to keep his composure a little bit.
"The kiddos were upstairs. They were sleeping, and it's obviously tough enough to keep them asleep. We jumped up and I was like, 'I can't believe. I can't believe,'" Brown said in a soft voice. "I was up answering phone calls until probably 3 a.m."
It was a short, but sweet night of sleep for Brown, who works for Custom Lawn & Landscape in Olathe. The reality of winning $25,000 continued to set in throughout the day on Tuesday, as he was invited by the Royals to receive an enlarged check before Friday's American League Central showdown with the Cleveland Indians.
"We're excited. We're rounding up the whole family pretty much," Brown, who will be making it out to Kauffman Stadium for the first time this season, said. "My sister and brother-in-law are coming from Lawrence. My brother-in-law in here and I'm hoping to get the guys down from Maryville. My mom is going and these two little munchkins are going."
Brown is looking forward to the chance to meet and thank Gallagher in person, and has been brainstorming ways of buying one of his jerseys. Thanks to the Royals front office, he might not have to worry about that, though.
"That's the thing I asked my wife. Where the heck am I going to get a Cam Gallagher jersey because they ain't selling those," Brown said. "I asked the Royals today when they were talking to me, and I was like, 'Hey, what are the chances of getting a Cam Gallagher jersey?' and then they asked me my size. So I assume they're going to hook me up with that."
Gallagher quickly moved up in consideration of being Brown's favorite Royal along with the likes of Salvador Perez, Lorenzo Cain and Moustakas. Now that Brown will be forever linked with Gallagher, the Shawnee resident guaranteed that he'll be a lifelong fan of the Royals rookie.
"That's big," Brown said of Gallagher's first career home run. "I'll always follow Cam Gallagher from now on out through his career in Omaha or wherever he goes. For the rest of his career, I'll follow him."
As for what Brown will do with the $25,000, he hasn't thought about it too much, but he has a few ideas in mind.
"I don't know, man. I mentioned a truck to my wife, and she shut that down pretty quick," Brown said with a laugh. "She's got a birthday coming up next weekend, so she's going to get a pretty nice present."