Your guide to the 2017 solar eclipse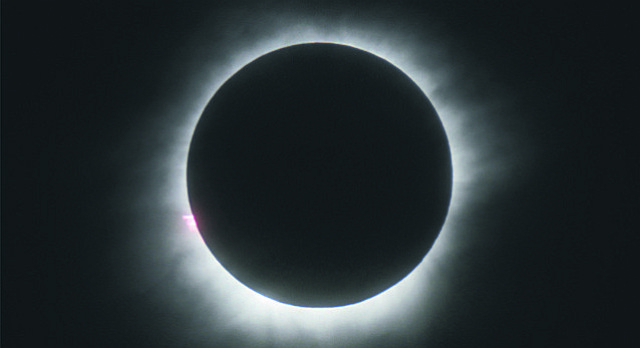 On Monday, millions of people will witness a once-in-a-lifetime celestial period of darkness.
For many communities in the northern part of the Kansas City area, skies will go eerily dark that afternoon, with a few area cities offering some of the best solar eclipse viewing in the world.
According to Travel Kansas, it has been nearly 100 years since the last total solar eclipse was visible from Kansas and the next one won't come to the state again until 2045.
The last time the Kansas City region saw an eclipse like this was in 1806 and it won't happen again until 2205.
It will also be the first total eclipse exclusively to the United States since before the nation's founding in 1776.
From Oregon to South Carolina, the eclipse will follow a 67-mile path of totality as the moon passes between the earth and the sun, turning day into night for up to almost three minutes.
The closer to the center line of that path, the longer the total eclipse lasts. The longest duration anywhere in the U.S. is 2 minutes, 40 seconds; Kansas clocks in with 2 minutes, 38 seconds of near total darkness in Doniphan County.

"This hasn't happened in Kansas since 1918," says Adrienne Korson, Doniphan County economic development director. "We've had astronomers tell us it's like winning the lottery to be on the eclipse's central line of totality!"
The path slices from the Marysville area in Marshall County across the corner of the state to Leavenworth County. The Kansas City, Kan. area gets a glimpse, too, but the best view lies north.
On the Missouri side, St. Joseph is one of the most popular places tourists will go, as the city is also directly on the line of totality.
The city is bracing for thousands of people from around the world to descend on it next weekend.
Organizers of the northeast Kansas watch parties recommend bringing chairs, sunscreen and bottled water, and arriving early. Most importantly, make sure to have proper eye protection. Most sites will have special eclipse-viewing glasses for sale while supplies last, or people can purchase them ahead of time to be safe.
"Never look directly at the sun, even when it's partially covered by the moon," says Dr. Jason Stahl, of Durrie Vision. "The sun's UV rays can burn the retinas in your eyes, causing permanent damage or even blindness. If you're planning to view the total or partial eclipse, appropriate eye protection is a must."
According to Stahl, the only safe way to view the eclipse is with special filtered glasses or the pinhole projection method, with your back to the eclipse.
The use of sunglasses, mylar balloons, smoked glass and other methods are unsafe and could damage your vision.
During the total eclipse, the moon passes between the sun and earth, blocking all direct sunlight and turning day to night for a few minutes. Observers outside the path see a partial eclipse when the moon covers part of the sun's disk.
"Don't miss this remarkable natural phenomenon," urges Chris Sorensen, Kansas State University physics professor and amateur astronomer. "Given its rarity and extreme beauty, this total eclipse and its eerie type of twilight will truly be an awe-inspiring event."
Here are a few Kansas City area solar eclipse events:
Total Eclipse in the Parks
Local convention and visitor bureaus have teamed up with the Johnson County Park & Recreation District to make areas of three different parks available for free observation of the solar eclipse on Monday.
The viewing opportunities will take place at Antioch, Shawnee Mission and Heritage Park.
For this family-friendly event, participants are invited to bring a blanket or a lawn chair, pack plenty of water for late August temperatures and purchase lunch from local food trucks in the parks.
For this event, view site hours will be from 11:30 a.m. to 1:30 p.m.
Park locations include: Antioch Park Shelter #2, 6501 Antioch, Merriam; The Theatre in the Park in Shawnee Mission Park with a separate entrance at 7710 Renner Road, Shawnee, and Heritage Park Shelter #1, 16050 Pflumm Road, Olathe.
The first 200 people at each site will receive a free pair of eclipse viewing glasses.
Since only 200 pairs will be available at each site, participants should be prepared to provide their own viewing device.
Despite the name of the event, Johnson County is expected to experience a partial eclipse, amounting to about 99.8 percent of the sun obscured by the moon.

Peak viewing will take place at approximately 1:08 p.m. and will last roughly two minutes.
The path of totality is a band 70 miles wide that will move across the U.S. passing to the north of the county.
For more information about Total Eclipse in the Parks, call Karen Crane at 913-403-8999.
Total Eclipse Watch Party
City Market in Kansas City, Mo. is holding a nighttime celebration in the middle of the day.
Its watch party will take place at the square, on 5th and Walnut, where the Farmer's Market is held on weekends.
Activities begin at 9 a.m. on Monday with a solar eclipse yoga practice, followed by a sun salutation and DJ dance party featuring celestial-themed popular music.
Free entertainment will include a live tribute to Pink Floyd's Dark Side of the Moon, a Renaissance astronomer and various characters, superheroes from Planet Comicon KC, fire hula hoopers, and a performance by the MoonDrop Circus.
For refreshment, there will be a pop-up picnic area and a beer and wine garden.
Eclipse viewing hours will be from 11:30 a.m. to 1:08 p.m.
There will also be educational activities, such as a solar telescope viewing, NASA live video feed on an outdoor screen and a Q&A with an eclipse expert from Science City.
Complimentary solar sunglasses will be given away while supplies last.
Guests are invited to bring their own lawn chairs and blankets.
Coolers, dogs and pop-up tents will not be permitted.
For more information, visit thecitymarket.org.
Path of Totality
Experience total darkness during the solar eclipse in Leavenworth.
The city is expected to experience 1.5 minutes of totality, starting at 1:05 p.m.
The public watch party, held at the crossroads of Explanade and Cherokee streets downtown, will be held from 11 a.m. to 2 p.m. on Monday.
City staff will be handing out solar eclipse glasses to the first 250 people.
Boyer's Artisan Meatballs and KC Smashers Lemonade will be on site if you're hungry.
For more information, go to visitleavenworthks.com.
2017 Total Solar Eclipse
If you're feeling brave enough to join the massive crowd, St. Joseph, Mo. is the place to be during the solar eclipse next week.
Thousands of people, maybe even hundreds of thousands, are expected to congregate in the historical town on Monday.
The city is conducting a huge public observing event at Rosecrans Memorial Airport, 100B NW Rosecrans Rd.
From there, 2 minutes and 39 seconds of totality will be experienced, only one second short of the maximum time possible.
Astronomers will be on hand to explain what's happening and they will provide several safely filtered telescopes for viewing.
The event is free, although the airport is charging for parking.
The eclipse will begin at 11:40 a.m., with the total eclipse starting at 1:06 p.m.
The city has issued a list of city-approved eclipse viewing locations throughout St. Joseph.
That list and more information about eclipse activities, can be found at stjomo.com/eclipse2017.