Police: Vehicle backed into glass store front, bicycle stolen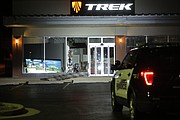 Shawnee Police are investigating after at least one bicycle was stolen from the Trek Bicycles location near Shawnee Mission Parkway and Melrose Lane.
Officers were called to the business, located at 10412 Shawnee Mission Parkway, around 2:15 Wednesday morning.
Major Dan Tennis has confirmed that officers are investigating the incident as a burglary.
"Preliminary investigation looks like a vehicle backed into the glass store front, breaking the glass and allowing access to the business," Tennis said. "At least one bicycle was taken, but owner(s) are still trying to inventory to see what, if anything else, is missing."
Tennis says detectives will be out to canvass this morning looking for surveillance video in the area.
Police do not have any suspect information at this time.
If you have any information regarding this break in, you are asked to call Shawnee Police at 913-631-2150 or the TIPS Hotline at 816-474-8477.
---
Operation 100 News provides overnight news coverage for the Shawnee Dispatch. Follow on Twitter for real-time updates.
More like this story