Mill Valley's Hadden wins Cat Classic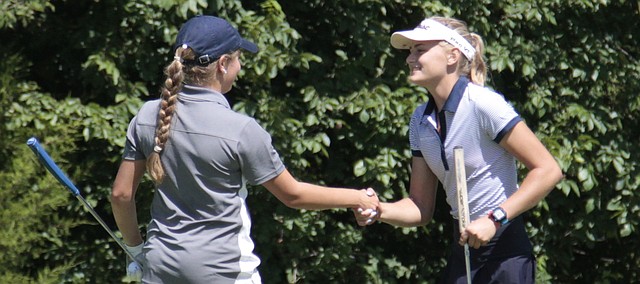 While Mill Valley senior Bella Hadden knows the ins and outs of Shawnee Golf & Country Club better than most, she had a hard time getting into her comfort zone on the front nine of the Cat Classic on Wednesday.
Hadden admitted that it was weird at first to not be in a pairing with St. James alumna Caroline Klemp and St. Thomas Aquinas graduate Tatum King like she was in most tournaments last year, and she couldn't quite find a groove on the front nine after recording a triple bogey on the fourth hole.
The back nine was a completely different story, though, for Hadden. After giving herself a little pep talk in the clubhouse, the Mill Valley senior notched four birdies after making the turn and finished with a round of 2-over-par 74 to win the tournament.
"I went into the clubhouse after the front nine, went to the bathroom and was like, 'OK. I'm going to pull it through,'" Hadden said.
Hadden's hot start to the back nine was sparked by reaching the green in two on the 410-yard par-5 10th hole. However, Hadden still felt like someone was missing after she watched her second shot roll on to the front of the green.
"The one shot Larry didn't see," Hadden said to herself while looking for her father, who is the golf pro at Shawnee Golf & Country Club.
Little did Bella know that Larry still had a great view of it since he drove his cart behind the 10th green. Bella then two-putted from 30 feet to finish off the hole, and went on to add birdies on the 12th, 15th and 17th.
"I don't really feel like I played that good. I just kind of scored well," Hadden said. "My drives were really consistent and I was able to get on the green. And if I missed a green, I was able to make the up-and-down. I made a lot of birdies, which was helpful. It was a nice cushion."
Hadden won the tournament on a back-nine tiebreaker over Aquinas freshman Jaclyn Koziol. Although Koziol was Aquinas' No. 2 golfer and played in the group behind Hadden, the Mill Valley senior is excited for the opportunity to possibly be paired with her in the future.
"I really want to win state this year since everyone that beat me last year graduated, but there is still a lot of competition out there," Hadden said. "There is a freshman that's coming in that's really good for Aquinas. I'm going to have to practice really hard to make that happen."
Joining Hadden as a medalist was Mill Valley junior Sarah Lawson, who carded a round of 85 for a fifth-place finish. Lawson was steady throughout with one birdie and eight pars, but more importantly avoided having a score worse than double bogey.
Hadden believes that Wednesday's round could just be the beginning of even better things to come for Lawson.
"We played together a lot this summer," Hadden said. "We got a lot of work in, so I'm looking forward to see how well she does this year."
Sophomore Hannah Davie (30th place, round of 106) and the freshmen trio of Ava Van Inwegen (36th, 118), Caroline Lawson (39th, 121) and Megan Haymaker (43rd, 129) rounded out the fourth-place team finish for the Jaguars. With having such a young team, Hadden — who also runs cross country — has changed up her practice schedule this fall so that she can help out the underclassmen.
"Last year I divided my practices, but this year since I'm the only returning senior on the team, I run in the morning. So I wake up at like 5 a.m. and then I'm here (at Shawnee Golf & Country Club) every day," Hadden said. "So I go to practice, and then I practice after practice because I can get a lot more done when I practice alone, but we kind of need the leadership of upperclassmen."
Hemke leads St. James to third place
After finishing as the fifth or sixth golfer for St. James in most of last year's tournament, senior Sammy Hemke wanted to take her game to the next level to make sure that she would shoot low enough to contribute to the Thunder's team score this fall.
Hemke got to see hard work start to pay off on Wednesday, as she fired a round of 89 to lead the Thunder to third place at the Cat Classic. The round for the St. James senior was good for eighth place. Hemke shaved nearly 30 strokes off her scores from the 2016 regional and state tournaments.
"I feel really good. I worked really hard over the summer," Hemke said. "I dropped from about 116 at regionals, so I worked really hard. I went up to Nebraska and worked with my dad, so I'm really feeling pretty good about breaking 90."
The biggest problem for Hemke in the past has been hitting greens and sinking her putts, but she cleaned up her game in both of those areas in the first tournament of the season. Hemke carded six pars and eight bogeys to keep her score low.
"The biggest part of the game is in the putting and the chipping," Hemke said. "I had the long game, but I needed to work on the short game."
St. James senior Mary Kate Krebs finished just outside of the top 10 after shooting a round of 91 to take 11th place. Krebs was content with her round, but said to her teammates afterward that her putter was her downfall after missing a few par and birdie putts. Hemke believes that Krebs and the rest of her teammates will only get better with more practice.
"We did so well," Hemke said. "All of those low scores today and knowing that we just have the whole entire season go do down. We are on track for persistent success."
Sophomore Kelly Krebs finished just inside the top 20 after firing a round of 99 to place 19th. Junior Alex Cozzitorto and freshman Jane Grant both shot rounds of 102 to respectively finish in 22nd and 25th place. Sophomore Allison Comer followed in 28th place with a round of 106.
The Thunder edged the Jaguars by two strokes for third place with a team score of 381. Aquinas and Gardner-Edgerton placed first and second, respectively, with team scores of 336 and 374.
Gomer guides SMNW to seventh place
Shawnee Mission Northwest senior Cassie Gomer has some high hopes for her final high school season. Gomer wanted to shoot a little bit lower at the Cat Classic, but she wasn't too discouraged with her round of 97 to begin the season.
"I think it was pretty good for the first tournament," Gomer said of her 15th-place finish. "I am expecting better in the future, but I think that's a pretty good start."
Gomer's normal strengths and weaknesses were flip-flopped in the season-opening tournament.
"Usually I rely on my drives to get me some good distance and today my drives were not so hot, but my short game was pretty good," Gomer said.
The SM Northwest senior believes that if she can continue to improve around the green and gets back to her normal self off the tee that her scores should drop in upcoming tournaments.
"I hope to shoot in the 80s sometime soon," Gomer said. "We have a good team this year, so I'm hoping to possibly make it to state as a team, and if not, get some good individuals there."
All of the Cougars competing at the Cat Classic were upperclassmen between Gomer and fellow seniors Camille Haley (29th place, round of 106), Maggie Congrove (38th, 120) and Emilia Battles (46th, 137) and juniors Sidney Henkensiefken (31st, 107) and Haley Wiercinski (42nd, 126). The Cougars finished seventh out of nine teams with a team score of 430.