Lightning sparks western Shawnee house fire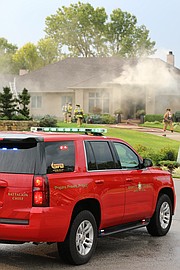 Fire investigators say a lightning strike caused a Sunday morning house fire near 64th Street and Warwick Street.
Firefighters from Shawnee and Lenexa were called to the nearly 3,200 square foot home just before 7:40 a.m., after smoke alarms alerted residents.
Shawnee Fire Marshal Corey Sands says the resident reported they believed the home had been struck by lightning. Sands says the lightning strike energized the corrugated stainless steel gas line inside the home.
"This caused the cast gas line to arc off of a nail and caused the fire," Sands said.
Damage is estimated at $80,000.
---
Operation 100 News provides overnight news coverage for the Shawnee Dispatch. Follow on Twitter for real-time updates.
More like this story