Hinkle leads Mill Valley girls basketball past
SMNW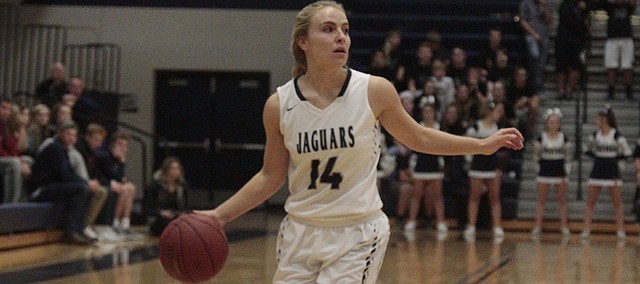 As the Shawnee Mission Northwest defense continued to crowd the lane to keep Mill Valley forwards Evan Zars and Trinity Knapp from getting easy buckets or Claire Kaifes from driving to the basket, the Jaguar girls basketball team needed some sharp shooting from the perimeter to power past the Cougars on Thursday.
Northwest challenged Mill Valley senior guard Adde Hinkle to knock down open shots from the perimeter, and she did just that by draining four 3-pointers. Hinkle poured in a career-high 16 points to lead the Jaguars to a 44-39 victory over the Cougars in the season opener for both teams.
"They play like a saggy man (defense), which sometimes looks like a zone," Hinkle said. "So we really have to pay attention and see where they are in it so we were able able to run the right offense against man or a zone. (It took) just a lot of communication from everyone."
Hinkle missed her first two shots from behind the arc, but she drained back-to-back 3-pointers in the second quarter to give the Jaguars a 15-12 lead. Mill Valley never trailed the rest of the way.
"The first few shots were a little rough, but once I finally made one I just kind of started flowing from there and I got more confident and I was able to sink a lot more," Hinkle said.
After taking a 15-14 lead into the break, the Jaguars were able to get Knapp going inside to start the second half. Knapp scored the first five points of the third quarter, but quickly got into foul trouble. Northwest senior Sarah Petersen picked up the second and third fouls on Knapp. Petersen knocked down four free throws and Staley transfer D'Asya Collier-Williams made a layup to account for a 6-0 Northwest run that tied the game at 20-20.
The Jaguars (1-0, ranked No. 8 in Class 5A) heated up again from long distance, though, to regain momentum. Kaifes and Hinkle made consecutive triples to push Mill Valley's lead back to six. Hinkle also made a difference on the defensive end for the Jaguars, as she came up with a steal and transition layup to close out the third quarter.
"She was so great defensively. She did an outstanding job on the defensive end, too," Walters said. "It was nice for her to knock down shots. That made them change the way they were playing and they couldn't slough off. They didn't have as much of the lane clogged, which opened some other things up for us. I'm glad she saw one go in and she fed off that to her defense and just did a great job all night."
The Cougars (0-1) did not back down in the fourth quarter, and used a full-court press to fight their way back in it. Mill Valley had a seven-point edge with less than four minutes left after a Lexi Ballard layup, but the Cougars cut the deficit to one again with two free throws from Abby Winter and layups from Rachel Seibold and Collier-Williams.
Northwest had the chance to take the lead with 1:48 remaining when Collier-Williams went to the charity stripe for two shots. She missed both, though, and Jordann Nachbar was whistled for a foul while going for the rebound to send Kaifes to the line for a one-and-one at the other end. Kaifes missed the front end, but got her own rebound.
"We missed some key free throws down the stretch and then we missed a couple of box-outs, especially on the free-throw line," Northwest coach Tyler Stewart said. "It's hard to win that way against a good team. We've got to sure those up, watch film and see how we can improve from there."
Zars came through in the clutch the rest of the way for the Jaguars, as she made four free throws in the final one minute and 39 seconds to help seal it. The St. Louis University signee was held without a field goal, but finished 5-of-6 from the line and had a steal and rebound in the last minute to stuff the stat sheet.
"The thing about Evan is that she is just so consistent across the board. Basically with Jordann and Hannah (Black), they are very similar to Claire and Evan and are both long and rangy," Mill Valley coach Drew Walters said. "They're very good defenders and I thought they both did a great job on each other. Evan asserted herself late. You don't want to foul very many of us because I think we're all pretty good free-throw shooters. She has total confidence of going in and knocking them down in big spots."
The Jaguars will now play in the Huhtamaki Hardwood Classic at De Soto, and will take on Excelsior Springs at 5 p.m. Monday in the first round.
The Cougars will take on Blue Valley North (ranked No. 7 in 6A) at 5 p.m. Saturday in the Shawnee Mission West Shootout.
SMNW (39)
Abby Winter 0-0 2-2 2, D'Aysa Collier-Williams 3-6 1-4 8, Megan Formwalt 0-3 0-0 0, Rachel Seibold 2-8 1-2 5, Kennedy Tayler 0-0 0-0 0, Hannah Black 4-7 2-2 10, Jordann Nachbar 2-5 1-3 5, Megan Hanson 0-1 0-0 0, Sarah Petersen 2-4 5-5 9. Totals 13-34 12-18 39.
MILL VALLEY (44)
Presley Barton 2-8 0-0 5, Adde Hinkle 6-9 0-0 16, Trinity Knapp 4-9 1-1 9, Claire Kaifes 2-8 1-5 7, Evan Zars 0-4 5-6 5, Payton Shurley 0-2 0-0 0, Lexi Ballard 1-1 0-0 2. Totals 15-39 7-12 44.
SMNW 7 7 7 18 — 39
MV 7 8 13 16 — 44
3-point goals: SMNW 1-2 (Collier-Williams); MV 7-18 (Hinkle 4, Kaifes 2, Barton). Fouled out: Knapp, MV. Turnovers: SMNW 15, MV 15.