Shawnee natives help
UCM

women's soccer punch ticket to national title match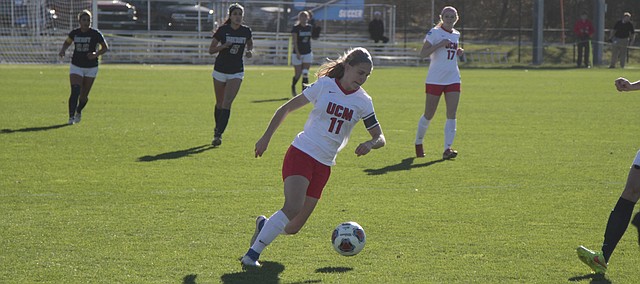 Kansas City, Mo. — Four Shawnee natives came one step closer to being national champions after the University of Central Missouri women's soccer team defeated Mercy College (N.Y.), 3-0, in the NCAA Division II national semifinals on Thursday at Swope Soccer Village.
Mill Valley alumnae Kayla Hamner and Haley Freeman, Shawnee Mission Northwest product Mikala Modiri and former SM West standout Ashton Dvorak have helped the Jennies to a record of 25-0 entering Saturday's national title match against Carson-Newman (Tenn.).
"It's crazy," Freeman said. "It's honestly like a once-in-a-liftetime opportunity and it's been the best freshman year I could have asked for."
Freeman and Modiri both came off the bench, while Hamner — who was the MIAA Defensive Player of the Year — started on the back line. As the backup goalie, Dvorak did not appear in the match.
Megan Woolley put the Jennies on the board in the 14th minute, and Makayla Toth found the back of the net five minutes later to give UCM an early two-goal advantage. Jada Scott added an insurance goal in the 57th minute after burying a penalty kick.
The two-goal lead at halftime was plenty for a UCM squad that has outscored its opponents, 88-4, this season. UCM head coach Lewis Theobald was able to take advantage of the Jennies' fast start by going to his bench to keep his players fresh for the national championship game. Twenty-three players saw action for the Jennies, and freshman defender Skylar Drum and senior goalie Ana Dilkes were the only two whole went the full 90 minutes.
"We have a lot of confidence in everybody who dressed today and so we've played a lot of kids most of the year," Theobald said. "To be able to get these players who are really deserving an opportunity to play was really good."
Freeman, a freshman midfielder, logged a team-high 38 minutes off the bench and registered one shot on goal. Modiri helped push the pace up top for the Jennies in her 31 minutes, and also tallied a shot on goal.
Hamner was one of only six UCM players to see more than 60 minutes of action, as she was on the pitch for 62 minutes. Along with providing leadership on the back line, Theobald spoke highly of Hamner's offensive abilities. Hamner wasn't able to put either of her shots on frame in the national semifinal, but she has seven goals and seven assists this season.
"Kayla Hamner is an attacking threat coming out of the back and then Allysa Gann and Skylar both are pretty rock-solid defenders," Theobald said. "Courtney (Killian) was a forward and we moved her to the back, so she's good coming out of the back. But then we go to the bench with Annie Parscale, who is really athlete, and Emily Griffin, who is a forward that we moved to the back. So our depth there also pays off."
With Hamner being a redshirt senior, she did not play with Freeman at Mill Valley. Freeman said that Hamner helped convince her to play for UCM, though, and credited Modiri and the rest of the senior class for helping make the transition for her and the other freshmen an easy one.
"We've had a great senior class that has really led the way for us and being able to make an impact as a freshman has been a great experience," Freeman said.
Freeman said that being able to play in front of some of her friends and family members made the win that much more special. The former Shawnee prep soccer standouts are four of 23 players on the UCM roster from the Kansas City area. The others include: Killian (Lee's Summit), Griffin (Blue Springs South), Woolley (Piper), Drum (Lawrence High), Gann (Lee's Summit), Parscale (Lee's Summit West), Taylor Hughes (Olathe South), Kelsey Mueller (Excelsior Springs), Abby Rhodes (Olathe South), Alexis Cutrera (Notre Dame de Sion), Frankie Ross (Blue Valley West), Callie Henshaw (Smithville), Gianna Palmentere (Lee's Summit North), Baylie Edwards (Raymore-Peculiar), Emma Jarrell (Shawnee Mission South), Madi Sanders (Park Hill South), Jordyn Atagi (William Chrisman), Kristina Colling (St. Thomas Aquinas) and Mallory Kroencke (Blue Springs South).
The Jennies will try to complete an undefeated season and win their first national title in program history when they go up against Carson-Newman. The match is scheduled to start at noon Saturday at Swope Soccer Village.