De Soto wrestling looks for underclassmen to step up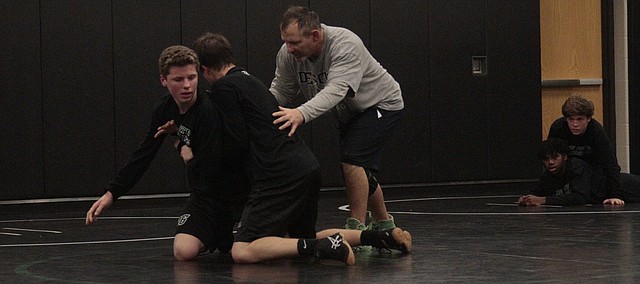 De Soto — Between graduating four of its five state qualifiers from last year and having a group of kids get a late start with practice while playing for the football team, there has been a lot of youth in the wrestling room for the De Soto wrestling squad.
While his team lacks experience, De Soto coach Shannon Sawner said the Wildcats have not lacked on effort during the first few weeks of practice.
"Even though we're young, what I like is that our guys are pretty athletic and they seem to be learning quick. We're always shooting for the end of the year," Sawner said. "We don't want to be awesome in December. We want to be awesome in February. With our athleticism, maybe we can catch up to some of the other teams that are ahead of us in the beginning."
The Wildcats kicked off their season on Friday at Spring Hill Duals with a win over Sumner and losses to Basehor-Linwood, Chanute, Santa Fe Trail and Holton. De Soto's victory over Sumner was a decisive one, as the Wildcats won, 72-12, behind pins from Kolby Minor (106 pounds), Evan Vilchis (113), Lane Warner (120), Evan Werner (126), Dylan Dossett (138), Jay Harris (152), Luke Barger (170) and Cooper Pflaum (182).
De Soto's loss to Basehor-Linwood would was close throughout with the Wildcats eventually falling, 45-36. Only seven of the 14 possible matched were wrestled, and all of the Wildcats' points came on six forfeits.
The Wildcats had a few bright spots in their setbacks against Chanute, Santa Fe Trail and Holton. In a 72-9 defeat at the hands of Chanute, Warner won by a 14-12 decision and Werner won by fall in 31 seconds. Warner is the lone returning state qualifier for the Wildcats, and Werner is one of the team's few seniors.
Werner has set out the goal of joining Warner at state this season, and has tried to set a good example for the younger wrestlers.
"It's going pretty good," Werner said. "There are a lot of freshmen this year, so we're going to be young. They seem to be learning all of the moves pretty well so far."
Barger highlighted the final two duals for the Wildcats with 14-5 win by major decision in a 67-7 loss to Santa Fe Trail and a 6-4 win by decision in a 63-15 loss to Holton. Minor also won by an 11-10 decision against Santa Fe Trail, while Alex Harris won by fall in 1:19 against Holton.
Harris and Barger are two of the wrestlers who joined the team late after helping De Soto football team reach the Class 4A-I sub-state title game. Sawner said that there are a number of other football players who he thinks will start to find some success after they get a few more practices under their belts.
"Possibly I think Michael Mashburn will be a heavyweight. He's actually probably going to have to cut a few pounds to make heavyweight at 285," Sawner said. "He's a big boy. He had a good year (in football).
"Zach Toburen is another junior that will be in here at 220 that's probably going to step into a little more varsity. Cooper Pflaum is another football guy that is going to probably step in get some varsity (matches). He saw a few matches as a freshman and now he's going to have to jump in there."
Despite the football players not being at the first few practices, the wrestling room was still pretty full due to sharing the room with Lexington Trails. Sawner believes that the freshmen he has now feel a little bit more comfortable because some of them have been in the room previously as wrestlers with Lexington Trails.
"That's kind of the plan. We want to teach them some of the basic stuff, so it goes faster when they get here as freshmen," Sawner said. "They seem to transition a little easier when they've been in the system for a couple of years already. There's a little bit of a system that we try to teach."
The Wildcats will compete next on Friday and Saturday in the Lee's Summit North tournament.