Numbers, expectations rise for
SMNW

wrestling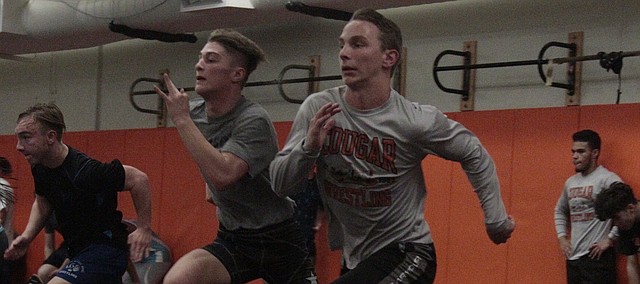 Christmas came about six weeks early this year for Shawnee Mission Northwest wrestling coach Howard Newcomb.
Over the past couple of years, Newcomb has had some top-tier wrestlers and a number of guys who have progressed over the season, but his squads haven't had much depth. So when nearly 50 kids showed up to the first day of practice, Newcomb was excited to say the least.
"I get super pumped every time I think about it. I was kind of on the verge of getting depressed when thinking about what we were going to do and being able to field a team," Newcomb said. "All of these guys came out of the woodwork and they've been doing a tremendous job. And it's not just having the numbers because we've had numbers before, but these guys just all work hard.
"We're not actually having to get after people to keep going. We're not saying, 'Why didn't you come to practice today?' and that sort of thing. They're here because they want to get better and they want to be good at wrestling."
As several of the newcomers learn the ropes, Newcomb couldn't ask more much out of his two seniors in Jerad Habben and Julian Gutierrez with the example they've set.
"Jerad Habben has just become a tremendous leader in the room," Newcomb said. "He worked really hard all summer and the offseason and has come in with that senior's mentality that you really expect from most kids. He has just really taken over the room and really looks good. I'm really happy with him."
Newcomb continued, "Julian Gutierrez is my other four-year guy. He's a great leader as well. He just works. He has a motor. He's just works all the time and never shuts down. I'm really relying on those two guys."
Habben has a few short-term and long-term goals that he would like to accomplish. The SM Northwest senior, who is a three-time state qualifier, is closing in on the school's all-time pins record. Habben's biggest goals are to notch 42 wins to become SM Northwest's all-time wins leader, and to round out his high school career as a state champion.
"I'm trying to win a state title this year, of course, but I'm trying to set the win record. I'm trying to get 150, and I need 42 for 150," the 132-pounder said. "I should set the school's pin record after this weekend because I think I'm seven away or something."
Habben is excited about sharing his last go-around at SM Northwest with long-time practice partner Charles Brockmann. After placing third at state last season and posting a 40-win campaign, there is only one thing on Brockmann's mind that he wants to accomplish.
"To win state this year," the 120-pound Brockmann said.
Sophomore Gabe Arreguin also returns for the Cougars as a state qualifier from last season. According to Newcomb, Arreguin came back much stronger than he was at the end of last season after gaining 10 pounds.
"He's no longer going to have to eat to get to 106," Newcomb said. "He's actually probably going to have to cut a few pounds to get to 106. Hopefully he'll have a better year this year with not being out-weighed every match."
While the lower weight classes will likely serve as the strength of the SM Northwest lineup with the likes of Arreguin, Brockmann and Habben, as well as Caleb Rosebaugh and Gutierrez at 138 and 145 pounds, Newcomb is looking forward to the development of his wrestlers at the heavier weights.
Adam Consiglio (182 pounds), Will Heitman (195), Isaac Emerson (220) and Israel Centeno (285) are a few of the guys that Newcomb believes have a great chance to contribute to the varsity lineup. Although the SM Northwest coach is excited to field a full lineup, he anticipates that it could be a bumpy road for the inexperienced wrestlers. Newcomb had traditionally used the motto of "Prepare like a champion," but he switched things up this year and went with "Love the process" after being inspired by the postgame press conference quote from Iowa State football coach Matt Campbell after the Cyclones' upset victory over TCU.
"It really is a process," Newcomb said. "Hopefully these kids buy in to that, trust it and just go with it. That definitely will help us in the long run."
Most of Newcomb's varsity squad is kicking off the season this weekend at the Steve Leslie Invitational, which will wrap up today at Pleasant Hill. Arreguin, Brockmann and Habben are all undefeated after Friday night's action.
"I think we're going to be pretty successful in leading them this year. Everybody in this room is hard-working," Gutierrez said. "They don't give up. They put their mind to what they're going to do."
More like this story