SJA

wrestling welcomes large freshman class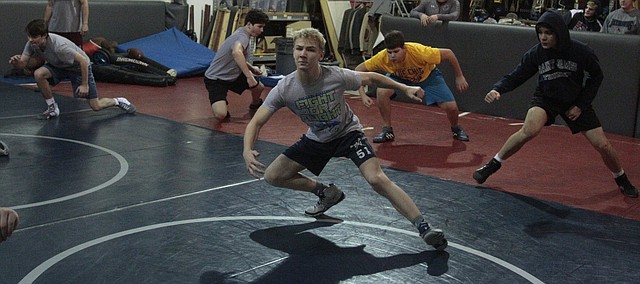 Replacing state champions is nothing new for the St. James wrestling team.
The Thunder will be presented with that challenge once again as they look to fill the voids left by Clay Lautt and Sammy Cokeley, but a young group of St. James wrestlers are ready to step up and contribute.
"They're all having a good time. They're working hard," St. James coach Mike Medina said. "It's going to be a building process. It seems like every year we've graduated state champs. Everyone has talked about it being rebuilding, but we have some good young experienced kids coming up."
Medina's squad will have a plethora of youth that includes 17 freshmen. The St. James coach has been impressed with the senior leadership of Drew Ernsdorff, Connor Weltmer and Max Lutz.
"They're picking up the moves. They're having fun," Ernsdroff said of the freshmen. "That's the big thing. They're loving being here."
Ernsdorff, Lutz and sophomore Cade Lautt all are looking to return to the state tournament this year. Cade, the younger brother of Clay, placed sixth at state last year as a freshman. The St. James 182-pounder sits at No. 2 in the Kansas Wrestling Coaches Association preseason rankings, but missed the first few weeks of practice with a knee injury he suffered in the Thunder football team's quarterfinal loss to Mill Valley.
Despite the injury, Cade's goals remain the same.
"My goal this year is to win state," the St. James sophomore said.
Between a few injuries and getting the underclassmen some experience, wins and losses aren't of the utmost importance to Media as the Thunder begin their season today with the Trailblazer Open/Novice Invitational at Gardner-Edgerton.
"It's a learning experience because the next week we go right to Council Bluffs (Iowa). It's the same thing. It's a pool tournament that goes into brackets. You've got Apple Valley, Minnesota, some really good Iowa and Nebraska teams," Medina said. "It's just a building process and then hopefully by the time we get to second semester, we're going back to Platte County (Mo.). We'll see Platte County again there and hopefully by then our kids are healthy, they're in shape, they've got the experience and hopefully getting ready for the state series."