SMN

wrestling light on numbers, heavy on experience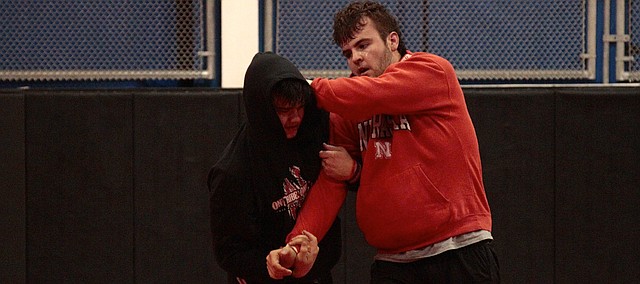 Overland Park — While the Shawnee Mission North wrestling team is low on numbers this season with 17 grapplers, coach Tom Peterman is encouraged about the talent that he has in his close-knit squad.
Sophomore Aidan Randall, junior Jeffrey Downey and senior Tanner Willmon all return as state qualifiers from last year, and senior Alonso Salgado is also back as a two-time state qualifier.
"It gives us a good base, a good foundation. It would be nice if we had a few more bodies," Peterman said. "Right now we've got 17 people on our team. We're still looking for a (106)-pounder, somebody small to fit that weight class. Probably (113) also.
"We've had a couple of people that have come in that quit. Wrestling just wasn't for them. You've got to give them credit for at least trying it. We just need more bodies. I think that if we at least don't give up more than 12 or 18 points, we might be able to handle a few wins on duals. It's going to be tough and tight."
Willmon is No. 5 in Kansas Wrestling Coaches Association rankings in the 195-pound weight class. The SM North senior is embracing the high expectations to begin the season.
"It pushes me to stay at fifth or even try to be higher than fifth," Willmon said. "It makes me work even harder in practice and makes me strive to place in every tournament.
Downey has been Willmon's primary practice partner so far this season, and he has high hopes for the future as he transitions to a different weight class.
"I'm cutting weight this year," Downey said. "I'm going down to 182 from 220, so hopefully I'll be having some good luck there."
Willmon and Downey both were teammates on the football field as well. Peterman said that they both came in in good shape, but that there is a major difference between being in football shape and wrestling shape.
"You've got to go a solid two minutes maybe sometimes to where you're not going seven seconds or maybe 12 if it's not a long play," Peterman said. "They worked hard last week. I was impressed with how hard they pushed themselves and trying to get into wrestling condition. I think it will help them in the long run."
While the Indians won't be as deep as most other teams, their talent is equally spread throughout the lineup with Zack Jordan and Randall (120 pounds), Salgado (138), Cagney Bustamante (170), Willmon (195), Downey (220) and Alex Williams (285) all competing today at the Leavenworth Challenger.