Specht sparks
SMNW

boys hoops in win over Mill Valley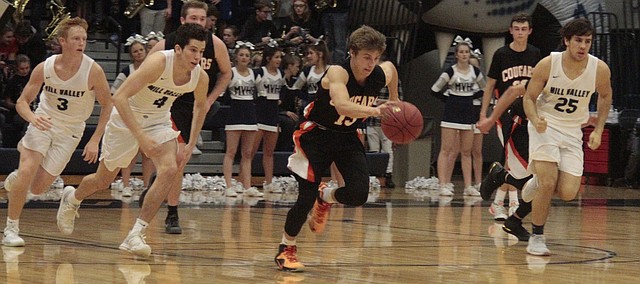 In his first varsity start, Shawnee Mission Northwest senior George Specht didn't waste much time in establishing the tempo in the Cougars' 60-46 season-opening win over Mill Valley on Friday.
Specht frequently jumped out in the passing lanes and corralled long rebounds to lead the Cougars to transition layups, and ended the night with a game-high 22 points.
"We're not too big, so we really have to focus on running," Specht said. That's one of our strong suits as a team."
The SM Northwest senior showcased his offensive versatility by getting to the rack, hitting a couple of mid-range jumpers and knocking down a key 3-pointer during a 7-0 Cougar run to close the third quarter after the Jaguars had pulled within three.
Specht also dished out six assists, most of which also came on fast break opportunities with senior C.C. Ghilardi (13 points) and junior Dale Talley III (10 points) joining him in transition. While Specht closed out the game in fitting fashion with a coast-to-coast layup, his teammates joked with the SM Northwest guard gave him a hard time for not throwing down a dunk.
Specht was all smiles after the game, and spoke highly of Ghilardi — the lone Cougar who logged significant varsity minutes last year — for helping him and the rest of the team be mentally ready for the matchup against the Jaguars.
"C.C. is a good leader to have — the best teammate, too," Specht said.
Although the guards did a bulk of the damage for the Cougars, the front court of Luke Towler and Dylan Brunner made the most of their minutes. Brunner finished with six points after going 3-for-5 from the field, and Towler made both of his shots and went 1-for-2 from the line to add five points.
"We've got to have those two bigs down there working and making sure to get guards open and everything," Specht said. "So they are a big factor, too."
After Specht hit a buzzer-beating jumper to close out the first quarter, the Cougars pushed their lead from four to eight in the second to take a 30-22 advantage into the locker room. The Jaguars were able to get rolling in the third quarter, as they put together a 9-2 run to cut the deficit to three after two Logan Talley free throws. Talley sparked the spurt for the Jaguars with a 3-pointer, and Ike Valencia added the other two buckets.
The run was particularly encouraging for Mill Valley coach Mike Bennett because the Jaguars weren't relying on senior guard Cooper Kaifes, who netted a team-high 18 points, to get them going.
"That's the only way we're going to be successful. We can't look at one guy carrying us. We've got to have everybody doing their thing, playing their role for this team to be successful. When we started doing that, we cut the lead so we've just got to continue that."
However, after the freebies from Talley trimmed the Northwest lead to 36-33, Ghilardi and Specht hit back-to-back 3-pointers to put the Jaguars back in a nine-point hole. Bennett was disappointed in the Jaguars' shot selection after the Cougars padded their lead.
"We've got to slow it down as far as just what we're doing offensively. Just too quick of shots — not good shots either — and we've got to have balance," Bennett said. "We've got to be able to get it inside, outside and get the shot that we want. We didn't do that tonight. Too many miscues on offense, too many easy turnovers that led to quick transition points and then we turned around on defense and we didn't do a good job defending either."
The Jaguars (0-1) will try to get on track next week in the Huhtamaki Hardwood Classic at De Soto. Mill Valley will play at 5 p.m. Monday against Excelsior Springs in its first-round game.
"We're excited about the opportunity. We get to play over at De Soto, so that's exciting," Bennett said. "We haven't played there before — at least the varsity hasn't, so we're excited about going over there and seeing what we can do. But definitely the next two practices, we've got to sharpen our tools."
The Cougars (1-0) will look to keep rolling in their home opener at 7 p.m. Friday against Washburn Rural.
SMNW (60)
Ty Lindeman 0-1 0-0 0, Dale Talley III 4-6 2-4 10, George Specht 9-16 3-4 22, Logan Skeens 0-1 2-3 2, C.C. Ghilardi 5-10 1-2 13, Evan Higgins 0-0 2-2 2, Luke Towler 2-2 1-2 5, Dylan Brunner 3-5 0-0 6. Totals 23-41 11-17 60.
MILL VALLEY (46)
Colton Hinkle 1-1 0-0 2, Sammy Rebeck 1-2 2-4 4, Mason Little 1-1 0-0 2, Logan Talley 1-8 2-2 5, Kyle Bonnstetter 0-1 0-0 0, Ben Weigel 1-1 1-1 3, Cooper Kaifes 7-18 0-2 18, Ike Valencia 2-2 0-0 4, Brody Flaming 1-1 2-4 4, Keeshawn Mason 2-7 0-2 4. Totals 17-42 7-13 46.
SMNW 18 12 13 17 — 60
MV 14 8 11 13 — 46
3-point goals: SMNW 3-9 (Ghilardi 2, Specht); MV 5-20 (Kaifes 4, Talley). Fouled out: None. Turnovers: SMNW 11, MV 25.
More like this story