Veteran group leads Mill Valley wrestling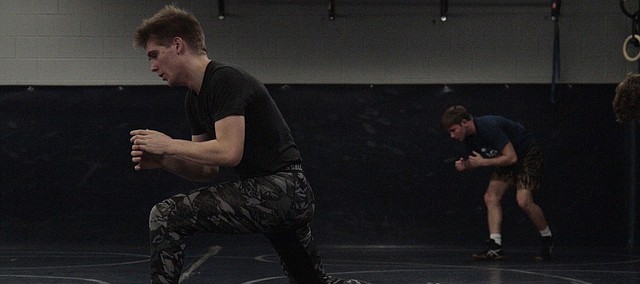 For Mill Valley senior wrestlers Conner Ward and Jarrett Bendure, their individual goals for their final season with the Jaguars are simple.
With Ward being a three-time state runner-up and Bendure taking third twice, the Mill Valley seniors wants to finish their respective high school careers on top. But that's only part of the plan for Ward and Bendure. The dynamic duo believes that the Jaguars have what it takes as a team to win it all after finishing fourth at the Class 5A state tournament last season.
"I think we're really excited this year for an opportunity. We really believe we can win a state title this year," Ward said. "It's a big opportunity for us. We've got a few new freshmen coming in."
Joining Ward and Bendure as returning state qualifiers are Austin Keal, Bryson Markovich, Hayden Keopke, Sage Sieperda and Derek Wiedner. The Jaguars will also return Zach Keal, whose freshman season was cut short due to injury, and have the likes of Ethan Kremer and Brodie Scott highlighting a talented freshman class.
"It's good to get new guys in here. We lose seniors, but we gain freshmen," Bendure said. "It's good to reload and we're right back to it. Every single year we get new kids and get better opportunities to keep going with this program."
Head coach Travis Keal has been pleased with the vibe in the room during the first few weeks of practice, and attributed that to the work that the Jaguars put in before the season officially began.
"We had a really good fall preseason conditioning with a lot of great senior leadership. Some day we do bleachers, track work, sprint work," the Mill Valley head coach said. "The kids did really good. We came together as a team and that's exciting because sometimes people look at wrestling as an individual sport, but it is a team and these guys understand that. It's exciting."
The Jaguars are ranked fourth in the Kansas Wrestling Coaches Association 5A preseason rankings, and Ward and Bendure are both No. 1 in their respective weight classes at 145 and 152 pounds. The rankings don't mean much to the Jaguars, though, other that they're embracing that they might have targets on their backs with high expectations.
"It's a good thing to be ranked No. 1, but it really doesn't matter at the end of the day," Bendure said. "The main goal for me is to be a better person and to be a better wrestler and to be a better teammate throughout this whole year."
Bendure, Ward and several other Jaguars launched their wrestling careers long before high school with the Mill Valley Kids Wrestling Club. Regardless of how his final season of high school wrestling ends, Bendure plans to set a positive example for future generations of Jaguar grapplers.
"It's my last legacy for this high school to where I can put a stamp on me saying I placed third twice and whatever I do this year and that I was a good person and had good grades and everything like that," Bendure said. "I was just a good role model for these younger kids."
Ward's love for Mill Valley goes well beyond the wrestling room, as he regularly attends other MV sporting events and leads chants in the student section. The Mill Valley senior has found extra motivation through watching teammate Dylan Gowin win a state title last year and cheering on the Jaguar football team to state championships in 2015 and 2016.
"It builds a winning culture in our school and for our sport," Ward said. "I know seeing them win and winning back to back state titles really pushes me and makes me want to win a state title and get our team to be a part of this culture to win a state title at Mill Valley."
The Jaguars will kick off their season today at the Trailblazer Open/Novice Invitational at Gardner-Edgerton.
More like this story