Jubilant Jennies: Four Shawnee natives win national title with
UCM

women's soccer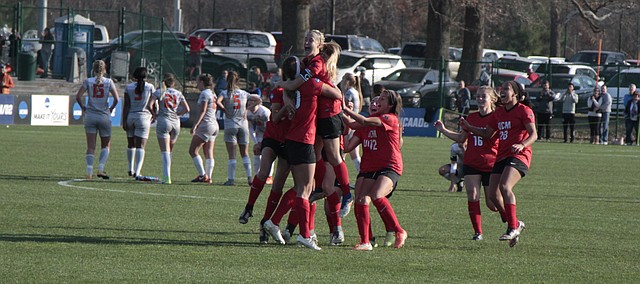 Kansas City, Mo. — As one of two redshirt seniors on the University of Central Missouri women's soccer team, Mill Valley alumna Kayla Hamner anxiously stood at midfield with a few of her teammates as the Jennies were one penalty kick away from winning their first NCAA Division II national championship on Saturday at Swope Soccer Village.
Hamner's journey to get to that moment was one the Olathe South product Abby Rhodes — UCM's other redshirt senior — would best understand, as they both suffered season-ending injuries to force a fifth year of eligibility. It was Rhodes who had the chance to secure the national title for the Jennies in the fifth round of penalty kicks. Carson-Newman sophomore Jacqueline Burns held her line on Rhodes' shot to the center of the frame, but the ball bounced off the hands of the Eagles' keeper and into the back of the net to send to the UCM faithful into a frenzy.
Rhodes ran back to celebrate with her teammates, and Hamner jumped into her arms before a dog pile ensued. The Jennies defeated the Eagles, 1-1 (5-3 in penalty kicks), to finish the season 26-0.
"It's surreal," Hamner, who earned All-American and an all-tournament team honors as a defender, said. "I can't grasp it really. It's awesome."
The jubilation for the Jennies was 30 seconds away from not happening, though. The Jennies outscored their opponents, 89-5, this season, but trailed for most of the match after Lauren Wade scored in the 19th minute to put the Eagles on top. The chances for an equalizer continued to mount for the Jennies as they outshot the Eagles, 30-19, but it wasn't until the 90th minute when Jada Scott got fouled in the box that they finally were able to break through. Scott remained calm, cool and collected before drilling it home with 30 seconds left in regulation.
"Coach (Lewis Theobald) has been telling us all week, 'It's a 90-minute game. It's a 90-minute game. Stay in it the whole time.' Jada had a great run in there and got a foul and it was awesome," Hamner said. "We stayed in it, so it was awesome. It was a great team effort."
The score remained deadlocked at 1-1 at the conclusion of two 10-minute overtime periods to set the stage for penalty kicks. After UCM's Baylie Edwards and Scott and Carson-Newman's Lara Hallgrimsdottir and Magda Mosengo all made their respective PKs, the shootout was tied at 2-2. That set the stage for Hamner, who didn't have any doubt that her shot would go in.
"Walking up there, I knew I had to put it in the back of the net and I knew I was going to. I just nailed it right in there and went back and celebrated with my team."
The drama really started to build after Hamner's PK. Carson-Newman's Helen Seed rifled a shot off the bottom of the crossbar that bounced in to keep the shootout even at 3-3.
Next up for UCM was another Mill Valley alumna in Haley Freeman. The Central Missouri freshman put a soft touch on her shot to tuck it in the bottom left corner. Despite a collective gasp from the UCM-dominated Swope Soccer Village crowd that it might go wide, Freeman executed it just like she planned.
"It was definitely to go to the left," Freeman said. "I always go to the left, so I was just going to stick with what I know."
The streak of makes finally came to end after Freeman's attempt, when UCM senior goalie Ana Dilkes saved a shot from Holly Talbut-Smith. Dilkes made eight saves in the match — including one on a breakaway opportunity by Wade in the 62nd minute.
As a three-time first-team All-American, Dilkes recorded 21 shutouts in her senior campaign. The national title game marked the final collegiate game for Dilkes, though, and a Shawnee native is hoping for the chance to fill her shoes next year. Shawnee Mission West product Ashton Dvorak didn't appear in any matches during her freshman season with the Jennies, but said the opportunity to learn from Dilkes was one the she's treasured.
"I have learned that no matter what happens, whether you let one go through your legs or you just have a bad game, you can always come back from that game and that non-save and be 10 times better. Confidence is huge," Dvorak said. "I've learned confidence and no matter how big of a position (Dilkes) is in, she's always calm, always ready to play and always has the mentality that she's here to win. She's here to play and she's here to do her best. I learned that I need to start getting in the mindset of that to be a college athlete and hopefully win the spot next year."
After Dilkes' save on Talbut-Smith, Rhodes stepped up to win it for the Jennies on the next attempt. While the moment was particular special for Rhodes and Hamner, it also sent six true UCM seniors out on top — including former SM Northwest standout Mikala Modiri.
"I think more than anything, we're just humbled by it," Modiri said. "We're just talking about it from the start that we had to do it together, so I think just being a part of a team that works so hard day in and day out and then seeing the results from it is just humbling. I wouldn't have wanted to do it with anyone else."
The UCM seniors had experienced their fair share of postseason heartbreak prior to this year — having lost in the Elite Eight to Grand Valley State (Mich.) in 2014, 2015 and 2016. The Jennies finally conquered their long-time nemesis in the Elite Eight this year to advance to the Final Four for the first time in school history. The fact that 23 UCM players got to celebrate the national title in their hometown made the moment that much more special for them.
The UCM players from the Kansas City area include: Hamner, Freeman, Modiri, Dvorak, Rhodes, Edwards (Raymore-Peculiar), Courtney Killian (Lee's Summit), Emily Griffin (Blue Springs South), Megan Woolley (Piper), Skylar Drum (Lawrence High), Allysa Gann (Lee's Summit), Annie Parscale (Lee's Summit West), Taylor Hughes (Olathe South), Kelsey Mueller (Excelsior Springs), Alexis Cutrera (Notre Dame de Sion), Frankie Ross (Blue Valley West), Callie Henshaw (Smithville), Gianna Palmentere (Lee's Summit North), Emma Jarrell (Shawnee Mission South), Madi Sanders (Park Hill South), Jordyn Atagi (William Chrisman), Kristina Colling (St. Thomas Aquinas) and Mallory Kroencke (Blue Springs South).
"Having the championships in Kansas City just meant so much to the whole team and feeling like we had our whole big family and soccer community from growing up when we were little because soccer is a sport that we've all been playing since we were young," Modiri said. "It's meant so much to have all of the people that helped shape us and grow us to be the players that we are and get us to where we are to be here to support us."
Shawnee Mission Northwest soccer coach Todd Boren and Mill Valley soccer coach Arlan Vomhof were both on hand to see their former players win the national title. The two coaches shared a few words about what it meant to them to be a part of the special moment.
"Having both of them as freshmen all the way through high school, I got to see both of their first high school goals and first collegiate goals and then to see one career start and one end, it's pretty awesome," said Vomhof of Freeman and Hamner.
Boren added, "As coaches, we're really proud for her (Modiri). It's exciting. I remember her coming into Northwest as a freshman and I think she was coming off of a Division IV club team. (She was) not the most skilled player, but the fact that she's standing here with UCM playing for a national championship — just kind of that road that she has taken — it just kind of proves and shows what hard work can do for you as a person."