Johnson County board votes not to extend Zacharias' contract
Johnson County will soon have a new county manager.
Last week at its meeting, the Board of County Commissioners voted 4-3 not to extend the contract of current manager Hannes Zacharias.
To provide the 30-day notice, as required in his contract, his service as county manager will end effective Dec. 31.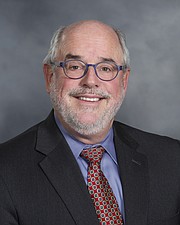 The action was not unanimous, but was supported by four of the seven commissioners.
Those who voted not to renew the contract were: Commissioners Michael Ashcraft, Mike Brown, Steve Klika and Jason Osterhaus.

Chairman Ed Eilert and Commissioners Jim Allen and Ron Shaffer voted against the motion to not renew the contract.
Eilert released a statement today announcing his disappointment.
"As I stated prior to and following the vote, I do not agree with the decision and believe it is not the correct action for our county commission to take," he said. "This vote does not reflect in any negative way on the moral, ethical or professional character of Mr. Zacharias, as I and others stated as the vote was taken. Our county has many successes and achievements which are due to the leadership of Mr. Zacharias since his appointment in August 2009.
"He brought a wealth of experience in local government to our county and I am extremely grateful for his public service career with Johnson County. I wish him success in his future."
He added that in the coming weeks, the commissioners will begin the process to determine the selection of the next county manager.
"I very much appreciate all of our county employees' hard work and leadership which have resulted in the nationally recognized services that our county taxpayers have come to expect from our organization," Eilert said. "I trust your demonstrated commitment to the positive results of the organization will continue throughout the transition period."
In a video of the meeting from Thursday morning, Eilert is clearly unhappy with the vote, telling his fellow board members it didn't make sense to him.
"Our county is in the best financial condition, we've made hard decisions to make sure we can deliver the county's services we are required to deliver and we need to deliver in an effective and efficient manner," he said passionately. "Much of that credit goes to the leadership of this county. I think this is absolutely the wrong decision. If you look at the accomplishments of this county, this action does not make sense."
Allen, who represents Shawnee, echoed the chairman's comments, stating it was the worst vote he has ever heard taken.
He called Zacharias an outstanding individual who always represented the county in a professional manner.
"It shocks me," Allen said. "It's uncalled for. It's unnecessary. Frankly, I don't understand it."
On the other side of the vote, Klika agreed Zacharias is a professional individual and the vote should not negatively reflect his work or character.
He said many of the commissioners just felt it was time for a change.
In a letter sent to the Shawnee Dispatch, Zacharias said he was told the majority of the board wants to take Johnson County in a more fiscally and socially conservative direction.
He also said he loves Johnson County and he is sad he will not be able to continue leading it next year.
The full letter is below:
Dear Editor,
A majority of the Johnson County Commission has voted to not renew my contract to serve as County Manager, effective Dec. 31, 2017. As all managers know, this is their right. As expressed to me, the majority wants to take Johnson County in a more fiscally and socially conservative direction, impose more direct oversight by the commission over county operations, and adopt a more "laissez-faire" attitude toward regulation. Although this governmental decision runs somewhat contrary to the County Charter, I respect it.
I want to use this space, however, to say thank you to the citizens of Johnson County, the governing body members, and the more than 4,000 employees I have had the pleasure to serve with these past 16 years. Together, we steered the Johnson County community through the worst recession in memory, reducing staff by 12 percent and ongoing expenses by $47 million — all the while maintaining an inspired workforce and increasing citizen satisfaction, as measured by the ETC Institute, the Olathe-based company that conducts annual county-wide surveys. During my tenure, we have added more libraries and parks, opened the Arts and Heritage Center, added to the county trail system, passed a sales tax to replace the outdated courthouse and medical examiner facility, and planned for the replacement of the Tomahawk wastewater facility. These are some of the largest undertakings in the county's history.
On my watch as county manager, we have integrated services for vulnerable populations, made our mental health services more robust, and have maintained Johnson County as the healthiest county in the state. We have integrated our criminal justice system and are inventing ways to reduce pre-trial incarceration, which makes our system the envy of much of the country. We are national award winners in virtually every area of county government and have received the trust and confidence of county residents, who routinely rate us at 95 percent or above in citizen satisfaction polls. It's no secret that Johnson County sets the standard nationally. We have done so while maintaining coveted AAA bond ratings and the lowest mill levy of any county in Kansas. By virtually all measures, Johnson County ranks in the top 1 percent of all counties in the United States.
I am most proud of the culture our organization has fostered. County staff is focused on doing the right thing, for the right reason, for the public good. It is an organization dedicated to public service, striving for constant improvement, and living the Athenian oath: to leave this community better than we found it. As I leave this position, I certainly hope that I have lived up to this standard.
I love Johnson County and the Kansas City region. I am sorry that, come Dec. 31, I will not be able to lead the outstanding county workforce in delivering the award-winning services Johnson County residents want and deserve. Until then, I intend to complete my duties and assist in the orderly transition to another manager.
My hope is that I can express my passion and talents to help this region and Johnson County prosper and grow in some other capacity come Dec. 31. Thank you for the privilege to serve.
Sincerely,
Hannes Zacharias
Johnson County Manager