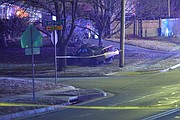 Shawnee Police have identified the woman killed in Monday morning's single car crash on 75th Street near Westgate Lane.
Police say Edwina Bates, 48, of Kansas City, Missouri was the driver and sole occupant of the car.
The Shawnee Police Department's Traffic Safety Unit continues to investigate after the car Bates was driving struck a utility pole and then a tree.
According to recorded radio traffic, two officers were dispatched the area of 75th Street and Westgate Lane at 3:52 a.m. on a report of a non-injury accident. The caller did not see anyone around the crashed car.
Once on scene officers found a Chevrolet Impala had crashed through a utility pole and then hit a tree in the front yard of 12600 West 75th Street. About 20 minutes later, officers found Bates dead in the front yard of 12610 West 75th Street, just east of Good Shepherd Catholic Church and school.
Shawnee Fire and Johnson County Med-Act were dispatched at 4:28 a.m. and confirmed the death at 4:36 a.m.
Operation 100 News was on scene as neighbors told police that they were up early preparing to go hunting when they heard a "loud sound" at about 3:50. The men told police that they thought the sound was something caused by the wind but knew it was something much more serious when emergency vehicles showed up.
In a news release, Major Sam Larson described the damage to the vehicle as "significant."
Two tow trucks removed pieces of the car from the scene. The car's engine separated from the body during the crash.
75th Street was closed between Long Avenue and Richards Drive until about noon Monday, as Kansas City Power & Light crews worked to replace the utility pole which snapped like a toothpick in the crash.
No other information has been released.
Police are asking anyone who may have information regarding this crash to call them at 913-631-2150.
---
Operation 100 News provides overnight news coverage for the Shawnee Dispatch. Follow on Twitter for real-time updates.