Wrestling roundup:
SMNW

's Habben becomes four-time Steve Leslie Invitational champion, ties school pins record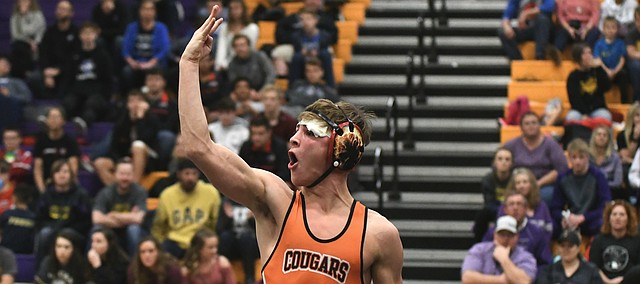 Shawnee Mission Northwest senior Jerad Habben won his fourth consecutive Steve Leslie Invitational weight class title with pins in all eight of his matches on Saturday at Pleasant Hill.
Seven of Habben's eight pins came in the first period, as he tied the Northwest school record for wins by fall with 79. Habben won by fall over St. James Academy's Mikey Crocker in the 132-pound weight class title match.
Northwest junior Charles Brockmann also stood at the top of the podium at the end of the day after winning the 120-pound weight class. Brockmann won all of his matches by fall as well. Four of the six pins came in the first period for Brockmann. The SM Northwest junior won by fall over Kirksville's Donovan Gaines for the weight class title.
Northwest sophomore Gabe Arreguin rounded out the three Cougars to wrestle for a weight class championship, but lost to Kirksville's Logan Blickhan by medical forfeit to take second place. Arreguin went 5-1 at the season-opening tournament with three of his wins coming by fall.
The Cougars finished eighth in the team standings with 355.5 points.
St. James placed fourth with 472 points behind first-place finishes from Ty Lewis and Thomas Henderson. Lewis went 8-0 with four pins to win the 126-pound weight class. The St. James 126-pounder won 10-6 decision over Prairie View's Brayden Dame in the title match.
Henderson posted a perfect 10-0 record en route to a 138-pound weight class championship. He won by fall late in the third period over Chillicothe's Lavery Jones in the championship match for his sixth pin of the tournament.
The Thunder also had three weight class runners-up in Crocker (9-1 record at 132 pounds), Cole Petty (8-1 at 195) and Drake Ortiz (7-2 at 220). Nick Wilson added a third-place finish at 182 pounds after going 8-2.
Kirksville won the Steve Leslie Invitational with 530.5 points.
Lautt leads St. James, Ward sets tone for Mill Valley at Gardner-Edgerton Invitational
St. James' top wrestlers joined Mill Valley at the Gardner-Edgerton Invitational on Saturday.
Sophomore Cade Lautt led the Thunder with a weight class championship at 182 pounds. Lautt posted a 5-0 record with three pins, and won by forfeit over Owasso's Justin Johnson in the title match.
Drew Ernsdoff chipped in a third-place finish in the 126-pound bracket after going 3-1. Connor Weltmer rounded out the placers for the Thunder, as he finished sixth at 170 pounds with a record of 2-2. The Thunder finished 11th in the team standings with 67 points.
Mill Valley placed sixth as a team with 117 points behind 145-pound weight class runner-up Conner Ward. The Mill Valley senior won his first two matches by tech fall and his third by fall to coast to the semifinals. Ward then earned a 9-0 major decision over Olathe North's Javier Contreras before falling in the title match to Southeast Polk's Cade DeVos — who is the No. 1 ranked wrestler in Iowa — by a 3-1 decision.
Ward was one of seven placers for the Jaguars. Austin Keal went 3-1 at 113 pounds, which was good for third place. Zach Keal (2-2 record at 106 pounds) and Jarrett Bendure (3-2 at 152) finished fourth in their respective weight classes. Bryson Markovich (3-1 at 132) and Ethan Kremer (3-1 at 195) both earned fifth-place finishes, while Devon Handy (2-2 at 120 pounds) rounded out the placers for Mill Valley after taking sixth.
Broken Arrow won the Gardner-Edgerton Invitational with 234 points.
Willmon paces SM North at Leavenworth Challenger
Shawnee Mission North senior Tanner Willmon finished fourth in the 195-pound weight class at the Leavenworth Challenger on Saturday.
Willmon won his first two matches over Liberty's Nate Berry and Raymore-Peculiar's Joey Stalone to reach the semifinals. The SM North senior fell to Free State's Elijah Denmark in the semifinals before dropping a rematch against Stalone for third place.
Aidan Randall and Jeffrey Downey both placed in their respective brackets to help highlight the tournament for the Indians. Randall (120 pounds) and Downey (220 pounds) went 2-3. Alonso Salgado finished seventh with a record of 2-3 at 138 pounds to round out the Indians competing in the 'A' brackets.
North finished ninth with 29.5 points. Liberty won the Leavenworth Challenger with 200 points.
De Soto goes 1-4 at Spring Hill duals
The De Soto wrestling team went 1-4 in the Spring Hill duals on Friday.
The Wildcats defeated Sumner, but fell to Basehor-Linwood, Chanute, Santa Fe Trail and Holton.
Kolby Minor (106 pounds), Lane Warner (120), Evan Werner (126) and Luke Barger (170) each won two matches apiece for the Wildcats.