103-year-old woman defies memory loss stereotypes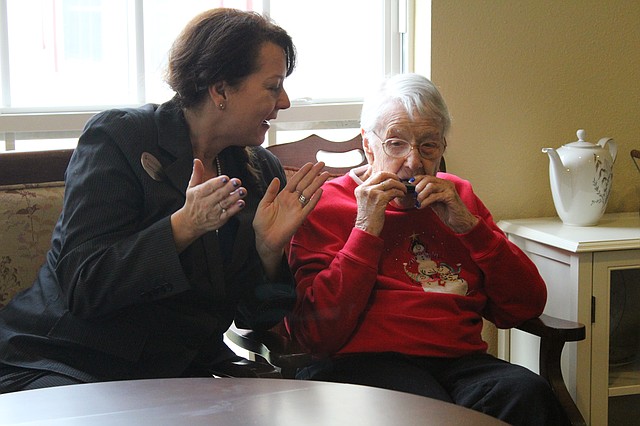 Dorothy Plummer loves to dance, play tennis and socialize.
The former Shawnee resident bowled in leagues with an 11-pound ball until her favorite bowling alley, Mission Bowl, closed two years ago.
Last week, she gave a harmonica performance to a crowd of enthusiastic music-lovers.
Oh, and we should probably mention Plummer is a 103-year-old Alzheimer's patient.
Diagnosed two years ago, she is now in the Clare Bridge memory care program of Brookdale College Square in Overland Park.
The oldest resident at the center, Plummer is defying stereotypes of those who live with dementia.
Her special harmonica performance on Nov. 28 was to help Brookdale Senior Living highlight the company's national campaign to debunk the myths associated with dementia during National Alzheimer's Disease Awareness month.
Brookdale Senior Living states every 66 seconds, someone in America develops Alzheimer's. The number of people with the disease in Kansas is expected to increase over 19 percent by 2025 and rise more than 18 percent in Missouri.
The way Alzheimer's patients are treated is vital for everyone, Brookdale College Square executive director Arlin Bohn told the Dispatch.
At Brookdale, staff emphasizes personal-centered care, by finding out who the person was before the disease to who they are afterwards.
It's about bridging the gap, he said.
"Dorothy is the same social, caring, loving and kind woman she always has been," Bohn said. "The only difference now is that she has dementia."
Plummer's son agrees that although the disease has been gradually gaining on his mother, she hasn't changed as a person.
"Mom always used to say if you don't have something good to say about something, don't say anything at all," said Gary Herrick, of Olathe. "That was her view on life and it still hasn't changed. She compliments everyone around her. She thanks everyone."
He's been impressed with the care his mom has received at Brookdale.
"Everyone is kept busy here, you don't sit in your room," he said. "You're in the presence of other people, which is something mom enjoyed. She was always involved in the community."
The center is proud to have Plummer as a resident. They often encourage her to play music and have a special bowling game she plays.
Plummer has played the harmonica since she was a child and she has bowled for 75 years.
Brookdale College Square even featured Plummer in a video on their website.
Executives hope her story will inspire other families who are dealing with a loved one who has the disease.
"When people hear someone has Alzheimer's, the label of the disease can unfortunately replace who the person is," Juliet Holt Klinger, senior director of dementia care for Brookdale, stated on the center's website. "Their life becomes shaped by the diagnosis. The things they love to do may be taken away when they don't need to be. This can cause disengagement, potentially leading to depression, isolation, loss of appetite, weight loss, and even falls."
She encourages people with dementia to have open, honest conversations with their loved ones early in the disease process.
Brookdale offers a downloadable Alzheimer's care journal designed to help with these discussions.
"When a person with the dementia makes it clear how they would like to live, what brings them purpose and joy, and what will matter to them as the condition progresses, it is much easier for care partners to help create and sustain the life that is meaningful to them," Holt Klinger said.
To view the video about Plummer or to download a care journal, click here.
More like this story