SM

North girls hoops tops Basehor-Linwood, 51-47, in home opener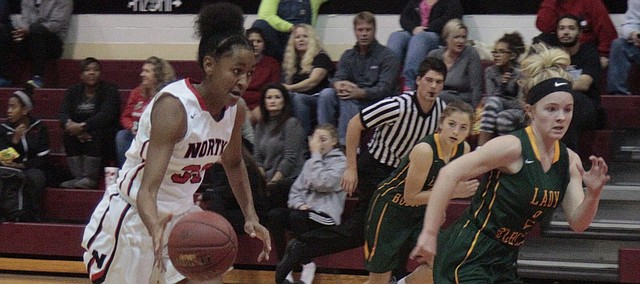 Overland Park — While the Shawnee Mission North girls basketball team led by three at halftime against Basehor-Linwood despite the one-two punch of sophomore LeLe Love and senior Hannah Redick doing all of the scoring, the Indians knew that they would need a more balanced effort to come away with their first win of the season.
After Love and Redick scored 12 points apiece in the first half, SM North's stingy perimeter defense helped create some easy offense for the Indians, as they earned a 51-47 win in their home opener. It also was the first victory at SM North for coach Amanda McNeill.
"It's amazing. It was a great feeling," McNeill said. "The community and everyone here tonight was very supportive — high-fiving us after the game. The girls were excited in the locker room. It's a great feeling. We're hoping there are many more of these to come."
Love led the way with a double-double — scoring 25 points and pulling down 12 rebounds. It was the freshmen duo of Kylie Dunn and Kiara Williams that gave the Indians the spark that McNeill was looking for after halftime, though. Dunn came up with one of her three steals to get a transition layup that started the scoring in the second half. Williams then knocked down a 3-pointer on the next possession.
"We came out flat in the third on Saturday (49-36 loss to Blue Valley Southwest) and so I told them coming out of halftime, 'Keep up the intensity. Keep up the energy,' and it really brings up the whole team when other people get involved," McNeill said. "It kind of honestly relieves the load on others, so it was nice to see more girls get involved tonight."
Junior Noel Watkins came over on a double-team with Williams to force another steal before going coast to coast for a layup for the Indians' next basket. As the supporting cast became more involved offensively, more opportunities opened up for Love. The sophomore standout scored back-to-back buckets to give the Indians a 35-26 lead midway through the third quarter.
"We're sharing the ball really well, so that's what helped us win in the end," Love said.
While the Indians were plagued by turnovers in the first half, Dunn (seven points, three steals and a block) and Williams (four points) were more poised in the second half with their ball-handling. McNeill has been encouraged with how the freshmen have stepped in right away.
"Those two freshmen have very good court awareness or court sense, and they know when and where to get the ball to LeLe in order to help her be successful," McNeill said. "Those three playing together right now, they're doing fantastic."
Although the trio of Love, Dunn and Williams give the Indians a foundation for the future, they received a boost from their most experienced varsity player in the first half. After Love picked up her second foul with less than two minutes to go in the second quarter, Redick took charge. Basehor-Linwood took a 21-20 lead following a Katie Yankovich layup, but Redick answered by knocking down a 3-pointer while getting fouled. The SM North senior missed the free throw to complete to four-point play, but made one of two from the line on the next possession to give the Indians a 24-21 halftime lead.
"It was good," said Love of Redick stepping up. "I've just got to stay out of foul trouble."
While the Indians led for the entirety of the second half, the Bobcats pulled within two after a McKenzie Jones 3-pointer with just under three minutes to play. North pushed its lead back to six with three free throws from Dunn and another from Watkins. Adell Gore drained a 3-pointer with 19 seconds left to make it a one-possession game again at 50-47, but Love was able to put the game away at the line by knocking down one of two shots with 9.3 seconds remaining.
The Indians only had one field goal in the final four minutes, but Dunn's defensive effort with a steal and block down the stretch proved to be crucial in holding off the Bobcats.
"She is a tenacious defender. We always have her guarding one of the best guards," said McNeill of Dunn. "I told them before the game, 'Let the defense create our offense.' Shots will drop. Shots will come, but as long as we guard hard we'll get some easy buckets in transition. I can't be more proud of Kylie tonight."
The Indians (1-1) will return to action at 5:30 p.m. on Dec. 12 when they play host to Blue Valley.
SMN (51)
Noel Watkins 1-2 1-2 3, Kylie Dunn 2-6 3-7 7, Tiana Lee 0-1 0-0 0, Mackenzie Vielhauer 0-2 0-0 0, Kiara Williams 1-3 1-2 4, Hannah Redick 3-10 3-5 12, LeLe Love 11-21 3-5 25, Keagan Stiers 0-0 0-2 0, Madison Koller 0-0 0-0 0. Totals 18-43 11-25 51.
B-L (47)
McKenzie Jones 4-11 3-4 13, Carly Gore 1-1 0-0 3, Adell Gore 1-2 0-0 3, Katie Yankovich 3-9 0-0 7, Georgia Nespoli 0-3 0-0 0, Libby Stallbaumer 3-11 1-4 8, MacKenzie Bizzell 1-1 0-0 2, Riley Tinder 4-9 0-0 8, Isabel Sibert 0-2 0-0 0, Sami Fisher 1-6 1-2 3. Totals 18-55 5-10 47.
SMN 9 15 16 11 — 51
B-L 10 11 11 15 — 47
3-point goals: SMN 4-16 (Redick 3, Williams); B-L 6-19 (Jones 2, Yankovich, Stallbaumer, C. Gore, A. Gore). Fouled out: None. Turnovers: SMN 18, B-L 16.