Mill Valley's Talley, De Soto's Kellner enjoy experience of Simone Awards ceremony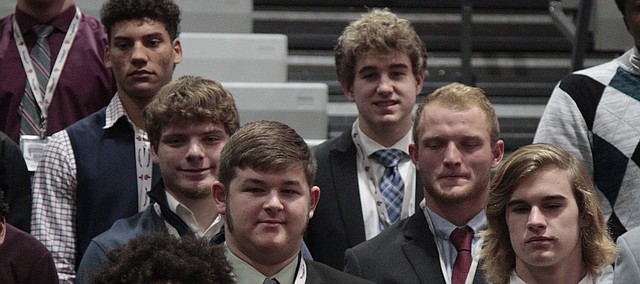 Park Hill, Mo. — Mill Valley junior wide receiver Logan Talley and De Soto right tackle Marshall Kellner didn't receive any hardware at Tuesday's Thomas A. Simone Awards ceremony at Park Hill, but they both cherished the honor of being selected to be there.
Talley was one of four finalists for the Otis Taylor Award, which goes to the best wide receiver/tight end in the Kansas City area. Kellner was a finalist for the Bobby Bell Award, which is given to the top lineman/linebacker for small class schools in the metro.
Park Hill's Ronnie Bell not only won the Otis Taylor Award, but was crowned as the Simone Award winner for being the best football player in KC. Bell was the first Simone Award winner for Park Hill since inaugural recipient Jeff Kelso won it in 1983. The other award winners at Tuesday's ceremony were Bishop Miege quarterback Carter Putz (Frank Fontana Award for best small class player), Platte County defensive end Michael Smith (Bobby Bell Award) and Blue Springs defensive end Daniel Parker (Buck Buchanan Award for best lineman/linebacker in large classes).
Talley and Kellner were both a part of teams that reached the state semifinals this year, but their paths will be quite different this offseason. Talley was the one of only three finalists for the five awards that is a junior — joining Eastern Kansas League foes Graham Mertz (Blue Valley North quarterback) and Dylan Downing (Bishop Miege linebacker). The Mill Valley wide receiver is looking forward to the chance of being at the ceremony again next year, and more importantly leading the Jaguars as they go for their third state title in four years.
"We have a lot of returners next year, so we're going for that state championship," Talley said.
While Talley is excited that the Jaguars will have a lot of experience coming back next season, he acknowledged that senior quarterback Brody Flaming and senior wideout Evan Rice will be difficult to replace.
"Me and Evan are best buds. He's definitely taught me a lot over the past two years. I'm sad to see him go, but it was a good season for him," Talley, who hauled in 91 catches for 1,254 yards and 11 touchdowns, said. "Me and Brody definitely have really good chemistry. Again, it's sad to see him go, but he had a good career here."
Talley joined Bell, Raytown wide receiver Dominic Gicinto and Blue Valley Northwest tight end Jackson Heath in the group of Otis Taylor Award finalists.
"This is a tremendous honor just being here representing my school, representing my teammates," Talley said. "It's just a great feeling."
While Talley will be back at Mill Valley for one more year, Kellner's career at De Soto came to a close after helping the Wildcats to a 10-win season.
"I'm very proud of what we've been able to do and the people before us in the years before to get better and better each year," Kellner said. "Them leading us and now us being able to set an example for the following classes to hopefully do the same thing or better."
Kellner did not allow allow a sack or quarterback hurry all season, and recorded 89 pancake blocks. Each member of the De Soto offensive line weighed at least 275 pounds. Kellner said that the DHS O-line enjoyed pushing their opponents around and helping pave the way for the backfield to accumulate more than 2,800 rushing yards and 40 touchdowns.
"At the end of a block and seeing the long runs and scoring touchdowns and being able to celebrate with my guys, it was awesome," Kellner said.
With linemen not often being in the spotlight, being recognized for a prestigious honor was something new to Kellner. Smith, Downing and Harrisonville two-way lineman Nick Kruse were named as Bobby Bell Award finalists along with Kellner.
"It's cool. You never expect it. I don't expect it," Kellner said. "I work for my team. I'm a team player, but it's definitely really cool to be recognized for doing your job."
Kellner has his eyes set on continuing his football career in college, but he's not sure where or what level he'll be playing at.
"I've been talking to KU and K-State about possibly walking on," Kellner said. "I've had an offer from UCM (Central Missouri) and William Jewell. I've talked to some other Division II (schools). I'm still waiting on possibly Air Force. I talked to them last season."
While the recruiting process continues for Kellner, he's enjoyed being able to meet other players from the Kansas City area through the Simone award finalist and winner ceremonies.
"It's awesome not only to be up for it and have the honor, but to meet all of the other people around the metro area that have done an awesome job," Kellner said.