Stifling defense helps St. James power past Eudora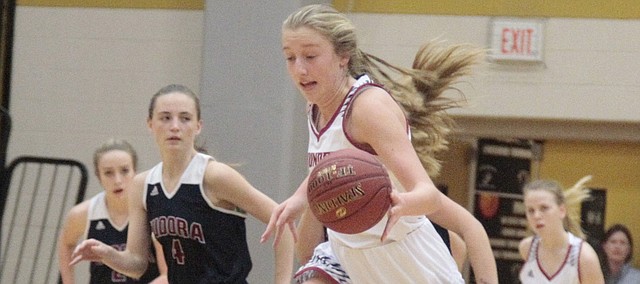 Paola — After the St. James Academy girls basketball team suffered a season-opening loss to Piper on Monday, first-year coach Samantha O'Malley acknowledged that she struggled to get sleep while mulling over film.
As a former college coach at Andrew College — a junior college in Cuthbert, Ga. — coaching at the high school level served as a different experience for O'Malley. The Thunder coach didn't have much time to go over Monday's loss since her team since St. James had a quick turnaround to gear up for Tuesday's Paola tournament consolation semifinal matchup against Eudora.
The one thing that O'Malley did emphasize to her players is that she expected them to give their all on the defensive end against the Cardinals. The Thunder answered their coach's call, as they defeated Eudora, 45-28, to give O'Malley her first win at St. James.
"It's one of our goals this year to be one of the best defensive teams like all-around," senior Claire Kearney said. "We're really working on that and focusing on it this year to be really defensive and cause more turnovers for them so we can push the ball down the floor and get more points for our team."
With both teams struggling to find a rhythm offensively in the first half, the Thunder's stifling defense create some opportunities to get out in transition for St. James. Freshman Abby Dunsmore gave the Thunder a spark in the first quarter by scoring four of her nine points and coming up with four steals.
"Dunsmore jumped out as a freshman and really set the tempo for the entire team," O'Malley said. "She really was the leader on the floor and got a bunch of steals. Everyone round her elevated their game that much higher."
Dunsmore, Kearney and freshman Claire Worthington scored nine points each to highlight a balanced offensive performance for the Thunder. Senior Mary Goetz and junior Claudia Russell added eight and six points, respectively.
The Thunder made it a point to feed Kearney and Dunsmore in the post in the second half. After missing all five of her shots in the first half, Kearney made all four of her field goals in the second. Kearney said that Tuesday's game was big for her and Dunsmore from a confidence standpoint as an inexperienced front court.
"It's a great opportunity for us because I'm a senior and it's my first year playing (varsity) she (Dunsmore) is a freshman, so it's her first year playing," Kearney said. "So it's really exciting for us to get an opportunity to play with the people who have been playing for so long and get a chance out there on the court."
The Thunder took a 14-12 halftime lead into the locker room, but grabbed momentum early in the third quarter with three straight baskets from Kearney, Dunsmore and Goetz. St. James led for the entirety of the second half.
"We've worked so hard, so to see all of our hard work kind of pay off and the numbers fall in our direction was extraordinary," O'Malley said.
St. James (1-1) will look to build on the win over the Cardinals against Bonner Springs at 6:30 p.m. Friday in the fifth-place game of the Paola tournament.
"It's really cool that we get to be her (O'Malley's) first St. James team," Dunsmore said. "We're just trying to go up from here."
ST. JAMES (45)
Claire Kearney 4-9 1-2 9, Abby Dunsmore 3-6 3-6 9, Claire Worthington 2-3 4-4 9, Mary Goetz 2-4 4-4 8, Claudia Russell 2-6 1-2 6, Torri Kempf 1-4 0-0 2, Maddie Russell 1-1 0-0 2, Madi Biondo 0-0 0-1 0, Katelyn Hall 0-0 0-0 0, Brianna Streeter 0-0 0-0 0, Anna Feldkamp 0-0 0-0 0. Totals 15-30 11-18 45.
EUDORA (28)
Reagan Hiebert 3-6 4-4 12, Catherine Grosdidier 2-5 0-0 6, Niki Pearson 1-2 3-3 5, Devin Purcell 1-3 0-0 3, Alaina Howe 1-2 0-0 2, Riley Hiebert 0-1 0-0 0, Emily Watson 0-5 0-0 0. Totals 8-24 7-7 28.
St. James 5 9 17 14 — 45
Eudora 3 9 10 6 — 28
3-point goals: St. James 2-9 (Claudia Russell, Worthington); Eudora 5-14 (Grosdidier 2, Reagan Hiebert 2, Purcell). Fouled out: Reagan Hiebert, Eudora. Turnovers: St. James 7, Eudora 14.