Big night from Barton leads Mill Valley past Truman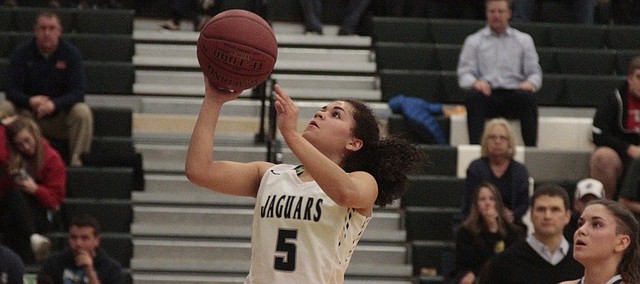 De Soto — When Mill Valley junior Presley Barton makes a 3-pointer, one can almost guarantee that she'll continue to get the ball on the next few possessions with the opportunity to keep rolling.
Barton's eyes continued to light up as she got open looks against Truman's zone on Wednesday in the Huhtamaki Hardwood Classic semifinals, as she drained five of her seven 3-pointers in the second quarter of the Jaguars' 58-45 win over the Patriots. The Mill Valley junior led all scorers with a career-high 27 points.
"It feels great to come into a game and hit shots," Barton said. "It feels really good."
The five 3-pointers from Barton in the second quarter helped turn a 12-8 deficit to 27-19 halftime lead for the Jaguars. Barton found her spot at the top of the key and shot right over the Patriots' 2-3 zone.
"We put in some things (Tuesday) to try to prepare and quite frankly we were hoping it would be one of those Presley-hot games because we knew she would have opportunities," Mill Valley coach Drew Walters said. "She found a rhythm and when she's in rhythm and full of confidence, it's going to go in. It was nice to see her have a game like that and it really sparked us."
Barton also was active on the defensive end with two steals that led to transition layups. Adde Hinkle led the Jaguars defensively with four steals, as she posted a balanced stat line that included eight points and six assists.
"We work really hard on defense at practice, so it feels good to come into the game and get it done," Barton said.
Walters was proud of the Jaguars' defense in the post, too. Evan Zars and Trinity recorded two blocks apiece to go along with scoring 10 and four points, respectively.
"I know Presley was hot, but we responded and everyone really picked it up on the defensive end for a long time. I think we held them for a pretty long time with only a bucket and can't them off the free-throw line," Walters said. "They do a great job of spacing and we adjusted some things. Our girls handled some things that were new that we really hadn't worked on, and that was nice."
With the win, the Jaguars (3-0, ranked No. 8 in Class 5A) advanced to the Huhtamaki Hardwood Classic championship game against Gardner-Edgerton (ranked No. 8 in 6A) at 4 p.m. Saturday. The Trailblazers defeated De Soto, 37-21, in the other semifinal.
"We're going to be very confident and we're going to practice hard and get the 'W'," Barton said.
MILL VALLEY (58)
Presley Barton 10-14 0-0 27, Adde Hinkle 4-8 0-0 8, Trinity Knapp 2-3 0-0 4, Lexi Ballard 0-1 0-0 0, Claire Kaifes 3-8 0-0 7, Evan Zars 5-7 0-1 10, Payton Shurley 1-1 0-0 2, Ella Shurley 0-0 0-0 0. Totals 25-42 0-1 58.
TRUMAN (45)
Kaylie Simonds 0-1 0-0 0, Erin Davis 4-7 2-2 13, Brodi Byrd 5-9 0-0 12, Becca Gilpin 1-3 0-0 3, Jewel Hart 2-4 2-4 6, Deon Monroe 3-10 5-9 11, Rosie Braley 0-1 0-0 0. Totals 15-36 9-15 45.
MV 8 19 11 20 — 58
Truman 12 7 9 17 — 45
3-point goals: MV 8-20 (Barton 7, Kaifes); Truman 6-18 (Davis 3, Byrd 2, Gilpin). Fouled out: None. Turnovers: MV 12, Truman 9.
More like this story