Turnovers cost De Soto in loss to Gardner-Edgerton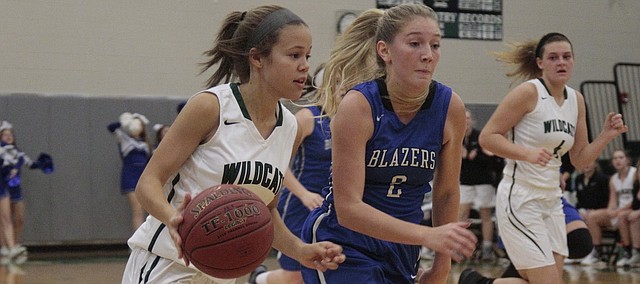 De Soto — While turnovers plagued the De Soto girls basketball team in a 37-21 loss to Gardner-Edgerton in the Huthamaki Hardwood Classic semifinals on Wednesday, DHS coach Ryan Robie had no intentions of changing the Wildcats' game plan.
Going into Wednesday's game, the Wildcats had found a lot of success from pushing the pace offensively with a run-and-gun tempo en route to wins over Shawnee Heights and Turner. The Wildcats (2-1, ranked No. 9 in 5A) weren't able to get out in transition as much on Wednesday, though, as they committed 33 turnovers against a veteran Gardner-Edgerton squad.
"We want to get out and run. That's what we do," Robie said. "First and foremost, we played a really tough team. I know they were without (Skylar) Washington tonight, but I told our kids that that is a really good basketball team. It's senior-led and full of some really good players.
"It was a good test for us from a physical standpoint. Those kids get after it and compete and get their hands on every pass. We've got to definitely work on our execution when we get slowed down a little bit for sure."
De Soto was able to stay within striking distance in the first half thanks to its defensive effort. The Wildcats held the Trailblazers to 14 of 47 shooting from the field, and clamped down on the perimeter to keep Gardner-Edgerton from hitting any of its 12 3-pointers.
However, Wildcats still found themselves trailing the Trailblazers, 32-13, midway through the fourth quarter. The Wildcats showed signs of life in the final three minutes when Jordan Diehl and Mariah Grizzle hit back-to-back 3-pointers, but it was too little, too late. Mackenzie Shupe added two 3-pointers to lead the Wildcats with eight points.
"I challenged them to show a little toughness down the stretch," Robie said. "We responded well. It came a little bit late, but we'll get there."
The Wildcats will try to bounce back in the third-place game of the Huhtamaki Hardwood Classic against Truman at 1 p.m. Saturday. Truman lost to Mill Valley, 58-45, in Wednesday's other semifinal matchup. The Trailblazers (ranked No. 8 in 6A) will play Mill Valley (ranked No. 8 in 5A) at 4 p.m. in the championship game.
"For us, it's getting out and running. That's been our early successes," Robie said. "But again, we've got to continue to work on the little things and execute in the half court because we're not always going to be able to run."
DE SOTO (21)
Mara Montgomery 0-0 0-0 0, Jordan Diehl 1-5 0-0 3, Mariah Grizzle 2-9 1-4 6, Lamayh Ricks 1-3 0-1 2, Linnea Searls 0-6 0-0 0, Ellie Bream 1-2 0-0 2, Mackenzie Shupe 2-7 2-6 8, Emily Fuhr 0-2 0-0 0. Totals 7-34 3-11 21.
GARDNER-EDGERTON (37)
Kelby Wilson 1-4 0-0 2, Kynli Nelson 6-17 1-2 13, Madyson Beasley 2-5 2-2 6, Taylor Carpenter 2-6 6-9 10, Sofia Semon 2-11 0-0 4, Mia Vallery 1-4 0-0 2. Totals 14-47 9-13 37.
DHS 3 4 3 11 — 21
G-E 5 12 10 10 — 37
3-point goals: DHS 4-17 (Shupe 2, Diehl, Grizzle); G-E 0-12. Fouled out: None. Turnovers: DHS 33, G-E 12.
More like this story