Shooting woes catch up to
MV

boys basketball in loss to Gardner-Edgerton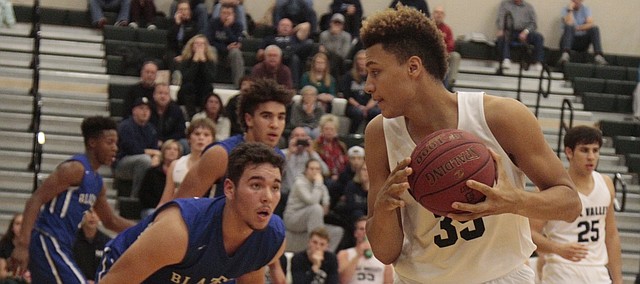 De Soto — Everything that could go wrong, did go wrong for the Mill Valley boys basketball team in the fourth quarter of Thursday's 51-29 loss to Gardner-Edgerton in the semifinals of the Huhtamaki Hardwood Classic.
Mill Valley (1-2) was within striking distance after Logan Talley's 3-pointer cut the deficit to 30-26 in the closing seconds of the third quarter, but the Jaguars felt like a lid for over their basket for the rest of the way. Gardner-Edgerton outscored Mill Valley, 21-3, over the final eight minutes.
Gardner-Edgerton junior Tyler Rollwagen scored five of his game-high 21 points to start a 13-0 fourth quarter run before Mill Valley senior Sammy Rebeck ended the Jaguars' drought with 3:35 remaining. Rebeck hit a free throw a couple of minutes later to account for all of the Jaguars' points in the fourth.
"We shot 22 percent for the game," Mill Valley coach Mike Bennett said. "That's not going to win you any games."
The most efficient offense for the Jaguars came in the first quarter when Brody Flaming went to work down low for both of his buckets. Cooper Kaifes added five of his 15 points in the first quarter to give the Jaguars a 9-5 lead.
The advantage for the Jaguars vanished in a flash after the Trailblazers' went on a 7-0 run to start the second quarter. Mill Valley hung around for the rest of the second and the third quarter thanks to their defensive effort in the half court, but the Jaguars' offensive struggles caught up with them.
"We're trying to get offensive boards, so our transition got a little sloppy late which led to some easy run-outs with the extent of the score. And then you've got some game strategy where they're going to stall a little bit and we're going to have to foul, so that's going to stretch the score," Bennett said. "We're going to take some gambles, and that's going to stretch the score a little bit because they're probably going to find that guy that we're trying to double off of. Tonight we just couldn't put it in the basket."
The Jaguars will try to bounce back in the third-place game at 2:30 p.m. Saturday against Blue Valley Southwest, who lost to De Soto, 58-51, in the other semifinal. Bennett said that it will be important to get back to what worked well in the Jaguars' 63-31 first-round win over Excelsior Springs.
"We passed the ball well. I thought we got the shots that we wanted and the shots that we practice," Bennett said. "We shared it. I think we had 21 assists and tonight (against Gardner-Edgerton) we had eight, so I think a big part of it is sharing the basketball and getting it to the spots that we need to get it to to score."
MILL VALLEY (29)
Sammy Rebeck 2-6 1-2 5, Mason Little 0-4 0-0 0, Logan Talley 1-4 0-0 3, Kyle Bonnstetter 0-1 0-0 0, Ben Weigel 0-0 0-0 0, Cooper Kaifes 5-21 4-4 15, Ike Valencia 1-3 0-0 2, Alan Williams 0-0 0-0 0, Brody Flaming 2-6 0-0 4, Keeshawn Mason 0-4 0-0 0. Totals 11-49 5-6 29.
GARDNER-EDGERTON (51)
Teven McKelvy 1-3 5-7 7, Tydus Webb 3-7 1-4 8, Corbin Schrack 0-3 0-0 0, Reid Frase 0-2 0-0 0, Cam Trammell 0-0 0-0 0, Tyler Rollwagen 8-21 2-2 21, Laine Meyer 0-0 0-0 0, Brody Marshall 3-5 1-3 7, Luke Jennings 2-6 0-0 4, Brandon Darnell 1-2 0-1 0, Luke Soza 0-1 2-2 2. Totals 18-41 11-19 51.
MV 9 6 11 3 — 29
G-E 5 13 12 21 — 51
3-point goals: MV 2-16 (Kaifes, Talley); G-E 4-13 (Rollwagen 3, Webb). Fouled out: None. Turnovers: MV 13, G-E 12.
More like this story