Performing arts center opens in Shawnee movie complex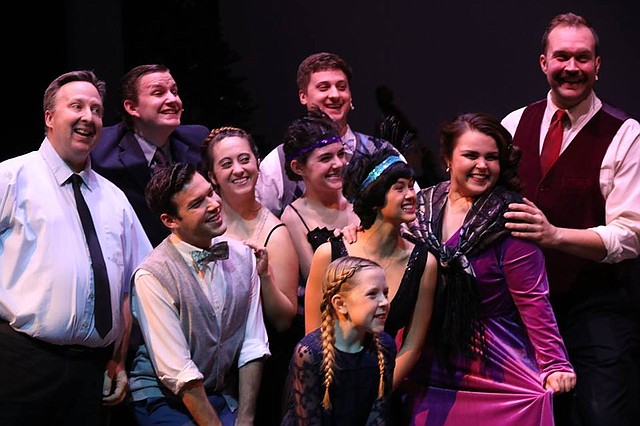 It may be the only movie theater in the nation where actors perform outside the silver screen and it's happening in Shawnee.
Thanks to a unique partnership between Music Theatre Kansas City and B&B Theatres, there is now a cultural arts performance venue located inside the Shawnee 18 movie complex, 16301 Midland Drive.
Aptly named B&B Live, the 300-seat live theater is the new home for MTKC, a long-standing Kansas City area theater organization which is known for its high-quality performances and theater-training for children.
It is located inside one of the movie complex's largest auditoriums.
Theater officials and city leaders celebrated the grand opening of the venue with a ribbon-cutting, reception and season kick-off performance of "A Wonderful Life" on Friday evening.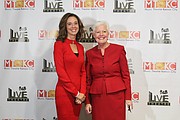 "We're bringing theater to the suburbs," said MTKC founder Cary Danielson Pandzik, with a beaming smile. "It's hard to believe because we've never had our own space before. It feels like a crazy dream."
She approached B&B Theatre officials with the idea for the venue last year and they gave her an enthusiastic green light for the project.
As his family is a huge supporter of the performing arts and MTKC, B&B president Bob Bagby told the crowd during the ribbon cutting, "It's been wonderful to bring this dream to reality."
To create the B&B Live venue, MTKC raised $600,000 to complete the first phase of the theater's renovation, which started in September and finished late last month.
The performance venue features a state-of-the-art-theater lighting system, new seating and carpet, and new stage. It also has a rehearsal hall with two dressing rooms, mirrored walls and a 5-inch sprung floor to help dancers and performers avoid injury while rehearsing.
The large movie screen will be used for projection backdrops for MTKC productions and can be used to show movies as well.
In addition to being MTKC's permanent home, the B&B Live theater is available for rental to other performing groups, dance studios, theatre groups and other live performance acts or corporate meeting events.
It is the first live performance theater inside a movie theatre complex in the nation, Bagby told the crowd.
And for staff, volunteers, performers and donors of MTKC, the concept of having a permanent space is a Cinderella moment.
For 25 years, MTKC traveled from theater to theater across the metro area, unleashing its magic on each brightly-lit stage.
Volunteers and staff for the traveling theater company quickly became pros at transporting sound equipment, intricate stage sets, and delicate costumes to various venues several times per year.
Young performers cast in each musical commuted across both sides of the state line, eager to share their love of musical theater.
Everyone associated with MTKC is grateful the theater company's vagabond existence has come to an end.
Plus, the unique concept is one that puts Shawnee on the map.
"This is a huge step for us tourism-wise in Shawnee," said Kevin Fern, the executive director of Visit Shawnee, who pointed out the B&B Shawnee 18 complex stands next to several hotels. "MTKC has a reputation for developing stars who have gone off to Hollywood. For B&B to use one of its theaters for live theater is very innovative and cutting-edge and we're very excited it's all happening right here in Shawnee. We're very glad and proud MTKC is calling us their home."
He added city officials are proud of how the Shawnee 18 complex has flourished into a first-class operation during the past year.
In addition to B&B Live, the complex features several other unique concepts, which were part of a major renovation.
In August, B&B Shawnee 18 unveiled its MX4D Motion EFX theater, which uses 4D technology to create built-in motion and special effects in the seats and surrounding theater.
Seats move in sync with onscreen action and special EFX generators bring the movie to life with wind, water effects, jolts, pokes and scents.
The theater is the fifth one of its kind in the United States; it is the first one in the Midwest.
Earlier this year, B&B Shawnee 18 also unveiled its ScreenPLAY interactive family auditorium, which features a full-size climbing playground, toddler area and a giant slide.
The colorful theater, which offers a 15-minute intermission and 20-minute pre-show play, is meant to accommodate families with very young children.
Similar to MX4D, ScreenPLAY is the first one in the region and only third one in the country.
The complex also has a full-service bar and kitchen and it replaced static seats with electric recliners.
As for MTKC, it is currently working on securing donations for its second phase of construction, which will include $2 million worth of upgraded renovations.
City officials and movie-goers at the B&B Live reception told the Dispatch the new performing arts center blends with the movie complex's latest innovations.
"It's beautiful and it fits perfectly into our family-oriented community," mayor Michelle Distler said. "Like many other people, I come here with my family all the time. The seats are comfortable and the food is good. It's exciting that people don't have to drive to south Johnson County for (these amenities) anymore."
The mayor and her daughter attended the MTKC performance of "A Wonderful Life" after the reception on Friday evening.
The musical will run again from Thursday to Sunday.
Tickets are $10 for children 10 and under; $25 for adults.
Tickets are available at the B&B Shawnee 18 box office or online at mtkc.org.
From Dec. 29-31, it will feature an original musical, "Soundstage: the Hollywood Musical Project," a homage to the silver screen.