Shawnee author and cartoonist donates portion of book proceeds to nonprofit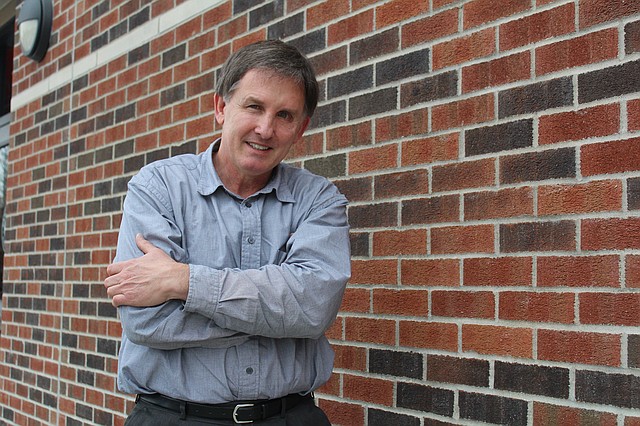 Every time Jeff Chaltas looks in a mirror, he is reminded of the worst day of his life.
More than three decades ago, he was driving from California to Salina when he fell asleep at the wheel, causing a severe car wreck.
A few days after the wreck, Chaltas, then 21, woke up in a Salt Lake City hospital with facial cuts, the front half of his head shaved and an ear-to-ear incision where doctors had operated on his skull, his jaws wired shut, and with temporary double vision due to a blow-out fracture of the left eye orbit and its effect on the eye muscles.
Despite his injuries, he feels thankful no one else was injured on the road that day.
The Shawnee resident has also had numerous reconstructive surgeries since the accident, which occurred May 21, 1984, but the physical and emotional scars remain.
It took him a long time to accept that his face was always going to reflect some damage from the accident.
Medical procedures and camouflage makeup can help improve one's physical appearance after an injury, but they often come with limitations, he said.
According to Chaltas, other challenges include dealing with regret about how the accident could have been prevented, questioning self-worth in a world so focused on external beauty, fending off depression caused by the effects of the injury and sometimes dealing with awkward stares, comments and questions from others.
While this emotional roller coaster might make many people crumble, it just makes Chaltas stronger. And 33 years after his accident, he sees the world through an optimistic, humor-filled lens which has helped him fulfill a lifelong ambition: to create a book of cartoons.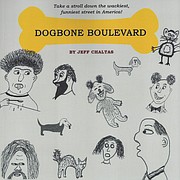 "I feel driven to accomplish things and not waste time," he said. "God gives us a gift and it's our job to give it back to the world. For me, it's writing and storytelling."
His book, "Dogbone Boulevard," which he self-published last month, contains original one-panel cartoons focusing on everyday humor.
With the release of the book, Chaltas is dedicating 5 percent of all its sales for one year to the Friends In Service of Heroes organization, a national nonprofit organization based in Olathe which helps military veterans and their families.
"Due to Jeff's injuries from a car wreck years ago, he has personal experience with the same kinds of physical and emotional challenges many veterans face after they are injured," said Paul Chapa, co-founder and president of FISH. "We are pleased that he is generously donating a portion of the book sales to Friends In Service of Heroes so we can help additional military personnel. His cartoons in 'Dogbone Boulevard' bring a refreshingly wonderful and unique perspective, along with a high degree of humor and creativity that many people will enjoy."
The military holds a special place in the Salina native's heart.
His late father, John Chaltas, was a World War II veteran, who served in the United States Army from 1943 to 1946, and several of his uncles served in the military, including one who was in the Battle of the Bulge, the last major German offensive on the Western Front during WWII.
"Although I wasn't in or injured in the military, I have the utmost respect for our military personnel and know to some extent the challenges that people with disfiguring and life-altering injuries face based on my own experience," said Chaltas, who estimates he has had nearly 15 minor and major surgeries after his car accident. "In addition to the physical effects, the psychological challenges include accepting your own new and different personal appearance. At some point, it's important to come to terms with the new image in the mirror, and that's often not easy to do."
His interest in drawing and writing happened long before his accident, however.
Chaltas recalled becoming a fan of newspaper comics as a kid, drawn to them because he found them funny, goofy and concise.
As an adult, he took drawing classes to sharpen his skills.
He draws his inspiration from real-life everyday events that occur in his life, or in his imagination.
"There is so much negativity in the world, so I try and stay positive," he said. "I've always admired comedians and how they cheer people up. I want to make people smile and feel better."
Chaltas is already working on his second book.