Cougars falter late in fourth quarter in loss to
SM

South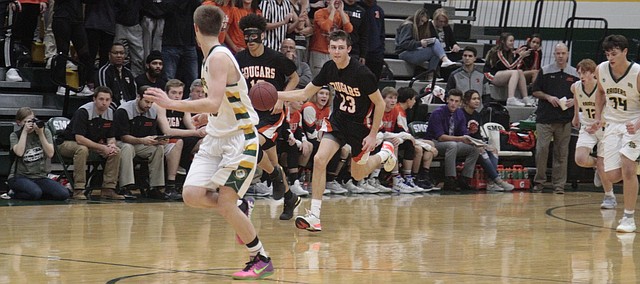 Overland Park — The fourth quarter of the Shawnee Mission Northwest boys basketball team's 64-41 loss to SM South on Tuesday served as a microcosm for where the Cougars are at through three games according to coach Mike Rose.
With the Cougars trailing by 16 to begin the quarter, the duo of senior George Specht and junior Dale Talley III made a few hustle plays cut the Raiders' lead to 10 midway through the quarter. A big turning point occurred when Talley made one of two free throws before getting his own rebound to prolong the Cougars' possession. Specht went on to drain a 3-pointer to capitalize on Talley's rebound, and then came up with a steal and transition layup a few seconds later to cut the deficit to 12.
Talley's second bucket of the quarter pulled the Cougars within 10 at 46-36 about a minute later, but things went downhill fast for Northwest after that. South's Sam Caldwell scored four straight points to extend the Raiders' lead back to 14 to keep the odds stacked against Northwest. The Cougars thought they finally came up with an emphatic stop when Specht came flying across the lane for a block, but he was unable to keep his emotions in check and was whistled for a technical foul.
Nick Wissel made both technical free throws and the Raiders kept rolling in what ended up being a 16-0 run to put the game out of reach.
"It's hard for this group because we're relatively young and there's inexperience and I think the last two games we've had situations where we've got to learn from it. That's another one of those situations," Rose said. "For the first time in three games, we struggled mightily shooting the basketball. We're going to have to get that figured out."
Talley was the only Cougar to shoot better than 50 percent from the field (5-for-9 for 12 points), but the Northwest junior saw limited minutes in the first half after picking up two fouls in the first two-and-a-half minutes. Specht (4-for-14 shooting, 10 points) also was called for two fouls in the first quarter.
"That happened the last game with George, too. He hit his first three shots and then he got into foul trouble against Washburn (Rural)," Rose said. "He had to come over and sit with us for a while. Those are things we've got to learn from.
"We're not guarding the ball very well, which is why we're picking up those fouls early. That's why we went to zone to try to stay out of foul trouble, but then we got down there in the second half and we had to go back to man just to try to make something happen. Hopefully we'll learn from it. I think we will. We'll get back in the gym and see if we can get better."
Prior to their losses to South and Washburn Rural, the Cougars (1-2) found a lot of success from coming up with steals and getting transition layups in their season-opening win over Mill Valley. Rose said if the Cougars can get back to showing that kind of defensive effort and build off a couple of other bright spots from Tuesday that they'll be OK in the long run.
"I look at the stats and we did some good things tonight. We only turned the ball over 13 times. We rebounded the ball fairly well," Rose said. "But our shooting percentage was bad and the last two games we've had guys get into foul trouble. That's an adjustment for us because we're not very deep. How do we handle all of that? We've had to learn that the last two games."
While the Cougars shot 29.2 percent from the field, the Raiders were able to get a lot of high-percentage shots to put the ball in the bucket at a 49 percent clip. Evan Hickman led the Raiders with 20 points, and Hunter Schneider and Jake Potthoff added 12 and 10, respectively.
"They do a really nice job of getting their kids moving to where they can get penetration and kick-outs. That really hurt us a lot because we weren't guarding the ball very well," Rose said. "So they were able to get a straight line to the basket and get good looks there or dump-downs or kick-outs. It's hard to stop that if you don't have all five guys rotating and playing the way they need to."
The Cougars will try to get back to the .500 mark when they play host to Olathe East at 7 p.m. Friday.
SMNW (41)
Ty Lindeman 0-1 0-0 0, Dale Talley III 5-9 1-2 12, George Specht 4-14 2-2 11, Logan Skeens 1-3 2-2 5, C.C. Ghilardi 1-13 2-2 5, Evan Higgins 1-3 0-0 3, Luke Towler 1-3 0-2 2, Dylan Brunner 1-2 2-5 4, Peyton Carder 0-0 0-0 0. Totals 14-48 9-15 41.
SMS (64)
Erik Smith 0-0 2-2 2, Ike McLey 0-0 0-0 0, Jack Calderwood 1-1 0-0 2, Jake Potthoff 4-12 1-1 10, Nick Wissel 0-6 3-4 3, Evan Hickman 8-12 4-6 20, Sam Caldwell 3-7 2-2 9, Hayden Polen 0-0 0-0 0, Max Close 0-0 0-0 0, Mac Wissel 0-0 0-0 0, Hunter Schneider 6-9 0-1 12, Skyler Rhoads 2-2 2-2 6. Totals 24-49 14-18 64.
SMNW 9 7 8 17 — 41
SMS 20 6 14 24 — 64
3-point goals: SMNW 4-22 (Talley, Specht, Skeens, Higgins); SMS 2-10 (Caldwell, Potthoff). Fouled out: None. Turnovers: SMNW 13, SMS 10.