SMNW

's Nachbar brings energy in win over

SM

South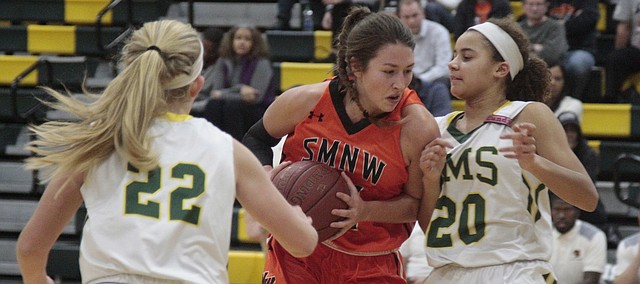 Overland Park — Shawnee Mission Northwest senior Jordann Nachbar has never been one to focus on leading the Cougars in different statistical categories.
With the Cougars trailing by three points against SM South at halftime on Tuesday, Nachbar knew that she needed to lead the team in an area that doesn't appear on the stat sheet. Nachbar prides herself on playing with energy, and she did just that in the Cougars' 55-46 win over the Raiders. The energy from Nachbar ended up leading to a big statistical night, too, as she finished with 26 points, 15 rebounds, three assists, three steals and a block.
"I thought that we had to pick up the energy because the first half we were not very good," Nachbar said. "I just thought, 'I need to bring more energy. I need to pick the pace up.' I had two fouls in the first (quarter), so I was like, 'I need it pick it up.'"
After sitting on the bench for the bulk of the second quarter due to foul trouble, Nachbar made up for lost time with 13 points in the third to turn a 23-20 deficit into a 41-30 lead for the Cougars.
The pressure was still there for the Cougars going into the fourth quarter, though, with senior Sarah Petersen saddled with four fouls and junior Hannah Black out of the game after a hard fall to the floor late in the third. The Raiders trimmed the Cougars' lead to three at 49-46 after a traditional 3-point play from Meredith Bunker with 1:29 remaining, which also drew the fifth foul on Petersen.
That was as close as the Raiders would get, though, as junior Rachel Seibold and Nachbar sealed the game at the free-throw line. Seibold struggled from the field with a 1-for-7 shooting night, but she made up for it at the charity stripe. The SM Northwest junior knocked down 10 of her 13 shots from the line, and scored six of her 12 points in the fourth quarter.
"It's good," said Nachbar of Seibold's aggressiveness. "She's like, 'I'm not playing good,' and I'm like, 'No, just keep driving. You're getting to the line. They're fouling you and you're going to foul them out. Just keep going to the line.' It was great for her."
Nachbar's energy rubbed off on Seibold, Petersen and the rest of the Cougars. Before Petersen fouled out, four of her six points came on high-low feeds from Nachbar.
"That's probably my favorite is high-low with Sarah because she's usually open and I just know to lob it and she's going to go get it," Nachbar said.
Although Petersen fouled out while trying to take a charge on Bunker, she successfully drew a charge on Robyn MacDonald to foul the South senior out with 2:42 to go. Junior Abby Gerber and MacDonald led the Raiders with 17 and 13 points, respectively, but their fourth-quarter rally came up short.
Northwest coach Tyler Stewart was proud of how his team handled adversity in the second half, but noted that the Cougars (2-1, ranked No. 6 in Class 6A) would need to be at the top of their game in the next two contests before winter break. The Cougars will play host to Olathe East (No. 3 in 6A) at 5:30 p.m. Friday before traveling to Olathe Northwest (No. 9 in 6A) at 5:30 p.m. on Dec. 20.
"We're happy with spurts. We've still got to work on our consistency," Stewart said. "We've still got two really big games against Olathe East and Olathe Northwest that are going to be dogfights. It will be fun."
SMNW (55)
Abby Winter 1-2 0-0 2, D'Asya Collier-Williams 2-7 0-0 4, Megan Formwalt 1-1 0-0 3, Rachel Seibold 1-7 10-13 12, Kennedy Taylor 0-6 0-0 0, Hannah Black 0-6 2-2 2, Jordann Nachbar 10-14 5-7 26, Megan Hanson 0-2 0-0 0, Sarah Petersen 3-6 0-0 6. Totals 18-51 17-22 55.
SMS (46)
Meredith Bunker 1-4 1-1 3, Elisabeth Crawford 2-4 0-0 5, Karoline Shelton 3-12 1-2 7, Robyn MacDonald 4-7 5-6 13, Abby Gerber 5-12 4-4 17, Natalie Payne 0-3 1-2 1. Totals 15-43 12-15 46.
SMNW 14 6 21 14 — 55
SMS 8 15 7 16 — 46
3-point goals: SMNW 2-12 (Formwalt, Nachbar); SMS 15-43 (Gerber 3, Crawford). Fouled out: Petersen, SMNW; MacDonald, Shelton SMS. Turnovers: SMNW 10, SMS 16.