It's a go: Shawnee council approves $113M project at Westbrooke shopping site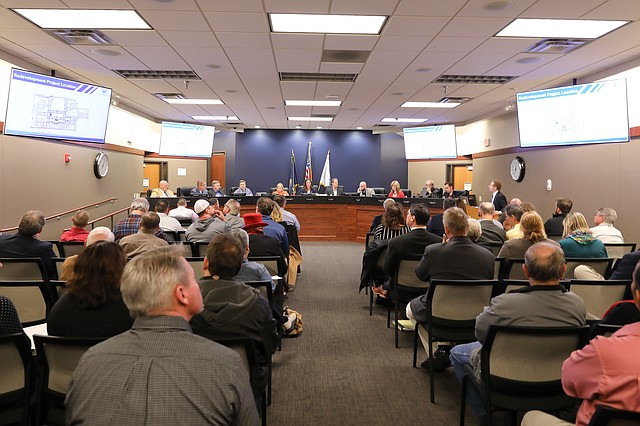 It's official.
After years of blight and deterioration, the site of a nearly-vacant Shawnee shopping center was green-lighted to be a $113 million mixed-use hotspot.
At its meeting Monday evening, the city council approved a $31.8 million tax incentive package and project plan for the Westbrooke Green project, which includes $21.5 million in Tax Increment Financing and $10 million from a 1.5 percent Community Improvement District sales tax.
It also approved rezoning the area, which sits on the northeast corner of 75th Street and Quivira Road, from commercial neighborhood to residential high-rise; commercial neighborhood to planned office commercial.
Approval for the re-zonings was unanimous. Councilmembers Eric Jenkins and Mike Kemmling voted against the tax incentive items, however.
For months, developers of the project have been promoting Westbrooke Green as a luxurious mixed-use space, featuring high-end apartments, retail and restaurants.
It calls for 530 luxury residential units in four-to-five story apartment buildings, along with a parking structure.
The residential component will feature a variety of high-class amenities, such as a large pool, outdoor seating with a fire pit, a state-of-the-art fitness center and a media center, among other possibilities.
There will be 11 retail and restaurant buildings totaling around 111,000 square feet. Those buildings will include an upscale grocery store, a coffee shop with a drive-thru and two other restaurants with drive-thrus.
Many of the restaurants are expected to face a large community green space, which will feature a small amphitheater and a clock tower.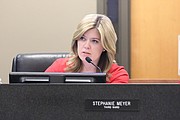 Although the council gave the green-light, various aspects of the project have faced dissent from both residents and elected officials over the past few months.
At the public hearing on the project Monday evening, several residents went up to the podium to give their two-cents.
Former Shawnee city council member Tracy Thomas told the council she was embarrassed for Shawnee because she thinks the city is getting played.
She doesn't believe the project will succeed as it will sit on a failed retail site in a high-crime corridor, Thomas pointed out.
She told the council she worries the project won't be built as it is presented and the developer will end up doing whatever he wants in the end.
"The partner (developer) here claims there's not enough apartments in this part of town," she said, incredulously. "Are you kidding me? It's like a half a mile long. These are not that special. Eleven-hundred dollars a month is not upscale apartments."
Shawnee resident Robert Sumner, who lives across the street from the proposed development, said he is happy the area will finally be redeveloped, but he has many reservations about the project.
"I don't believe the five story apartment complex is appropriate for the area," he said. "Putting 500 apartments and several drive-thru restaurants will make the traffic in that area really congested. It's already congested at 75th and Quivira."
A couple residents spoke out in favor of the project, however.
Shawnee resident and business owner Tammie Green told the council she is excited to see more businesses and retail come to the area.
Stephanie Morgan, who lives right behind the shopping center, said she hopes the project will attract more upscale dining, so Shawnee residents will no longer have to spend tax dollars in nearby cities.
"If I want to eat at McDonalds or McAlister's (Deli), that's great, but any town can get that," she said. "We don't have destination places or destination services. We get the basic thing every single community off any freeway can get. Shawnee is better than that."
A few councilmen also expressed their grievances.
For Jenkins, Kemmling and Dan Pflumm, it wasn't the project itself that caused discomfort, but the tax incentives attached to it.
They all felt the amount requested was simply too much.
"Moving forward, I hope we do a better job of negotiating with potential developers on the incentives," Pflumm said.
The majority of the council, however, were satisfied with the outcome and a few expressed excitement at the potential Westbrooke Green could bring to the city.
Councilmember Stephanie Meyer said she has often heard the Westbrooke Village shopping center is run down and crime-ridden.
"This (project) is a great solution to that and it's also a solution to growing our business base," she said. "It brings in a project that is interesting and unique for Shawnee."
Councilman Brandon Kenig agreed, adding "If you get a really good quality project there, it could have a positive effect on other nearby development."
Now it is approved, developers will be working towards phase one of the project beginning next year. They plan to demolish most of the current structures and construct three apartment buildings, a parking garage, and add 8,400 square-feet of retail, along with the green space and amphitheater. They anticipated phase one to be completed by Oct. 1, 2021, with the remainder being completed by the same time in 2024.
The Westbrooke Green project team is a joint venture between Mission Peak Capital and Extell Development Company. It also includes attorney John Petersen, Polsinelli; engineer Brad Sonner, Olsson Associates and architects Clint Evans and Tim Homburg, NSPJ Architects.