New sports nutrition store focuses on 'traditional service values'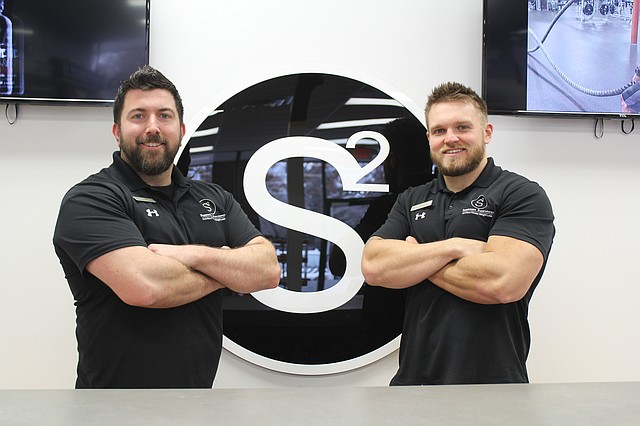 It started out as a hole-in-the-wall sports nutrition shop 20 years ago and now, after morphing into a popular Midwestern franchise, Supplement Superstores still swears by its mom and pop values.
Franchisees Jeff Wasserman and Kyle Comes opened the new Shawnee store on the northwest corner of Shawnee Mission Parkway and Quivira Road earlier this month.
They also own a Supplement Superstores in south Overland Park.
"In this day and age where everything is moving online, we're doubling down on old-fashioned customer service and traditional service values, which is something the internet really can't take away from small businesses," said Wasserman, of Kansas City, Mo. "We remember people's names and we basically build our business one handshake at a time."
The two best friends may be new business owners and new face to the Kansas City fitness scene, but they are no strangers to the company they represent.
They started out as minimum wage employees at the original Supplement Superstores location in Springfield, Mo. while in college nearly a decade ago. After working their way up and watching the company grow, one store at a time, they finally brought the business to the Kansas side.
Other locations in Missouri, besides Springfield, include the St. Louis area, Columbia and Jefferson City.
There are nearly 20 stores total.
Supplement Superstores was founded in Springfield, Mo., in 1999 by two college guys, Andy Frisella and Chris Klein, who, like Wasserman and Comes, were enthusiastic about sports fitness and had a drive to create a reputable business.
One of the reasons Wasserman and Comes remain so passionate about the company after all these years is because it's an opportunity to do more than sell products.
It's about helping people, Wasserman said.
Supplement Superstores, 11908 Shawnee Mission Parkway, aims to be the ultimate resource for people just getting started on their fitness journey, whether the intention is to lose weight or build muscle or get toned.
Navigating the fitness industry can be daunting, because it is difficult to know who to trust, Wasserman pointed out.
"Around the corner, there is someone trying to sell you something," he said. "We push you in the right direction and we will always be honest with you."
Plus, every employee at Supplement Superstores is a certified personal trainer and sports nutritionist, allowing them to make educated supplement recommendations based on a variety of factors about each customer, based on their lifestyle, eating habits and goals.
They also offer advice and tips on diet exercise.
After all, no supplement in the world is a magic pill, Wasserman emphasized. Supplements are only beneficial when the customer is willing to take the extra step that goes with it.
With so many supplement options available, however, it is nice for people to have guidance from someone who has their best interest at heart, and that's where Supplement Superstores comes They've witnessed some incredible success stories, such as one female customer who lost 200 pounds and went on to become a popular fitness blogger.
Comes told the Dispatch that many of their customers become good friends.
The two send out thank-you cards to customers and sometimes, even help them out in a bind, whether it's helping them move or fixing a flat tire.
"We've developed real friendships with many of our customers," said Comes, of Olathe. "We're like a family."
They hope to keep that positive momentum going in Shawnee.
And they don't plan on stopping in northwestern Johnson County either.
Although they can't release all the details yet, the two business owners confirmed one fact: they're already planning on future growth.
For more information, visit supplementsuperstores.com.