Shawnee police act as Santa's helpers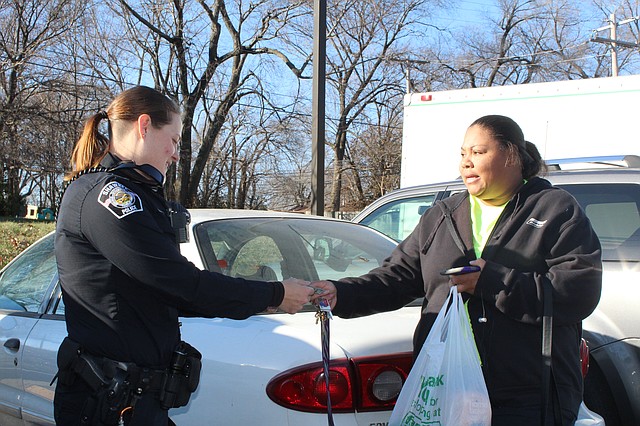 He didn't have to slide down chimneys last week to spread a little holiday cheer. Instead, an area Secret Santa relied on Shawnee police officers to act as his elves, by gifting a little green in place of toys.
Thanks to the generous Secret Santa who donated $20,000 this year, the city's police department handed out $100 bills to residents in need.
Last Wednesday, a Dispatch reporter rode along with Officer Crystal Herber as she took to the streets, seeking out residents to share the gift.
On the beautiful sunny day, she shared her past Secret Santa exchanges from the past.
Herber fondly recalled how last year she had stopped a speeding driver who was on the way to the hospital where his wife was giving birth.
"He definitely needed the money," she said, with a grin.
Earlier this month, she pulled over a family-of-six in a wrecked vehicle. After the father explained they had recently been in a car accident, she gifted them $100, much to their astonishment.
Another family she gave $100 to this year was living out of an RV.
"As an officer, you learn to trust your instinct about who needs it," she said. "I feel God is guiding me to give it to certain people I meet on calls."
That instinct tugged at her on Wednesday afternoon when she pulled into Shawnee Community Services, a local food pantry and free clothing resource which serves the entire Kansas City metro area.
As a woman walked out of the door carrying a bag, Herber knew she had found someone who could use some unexpected good news.
When approached by the police officer and Dispatch reporter, the woman, Latoria Burden, appeared bewildered, as many people would be in such an odd situation, but her confusion turned to disbelief when Herber handed her a hundred-dollar bill, with a hug and a smile.
"I'm so happy," Burden managed to say through shock. "You just made my day."
When she explained she had an 11-year-old son at home, Herber gave her a few police badge stickers to give him, which delighted Burden as well.
The Lenexa mom told the Dispatch the extra money will be extremely useful for this holiday season.
"God bless you all," she said.
Once she got back in the car, Herber was still smiling from the heartwarming interaction.
"That's what it's all about," she said. "You never know people's stories until you ask."
The past couple weeks have been an extraordinary experience, Herber told the Dispatch.
She, along with the rest of the Shawnee police force, have been doing their best to be good stewards of the donation.
"It's about bridging that gap between police and citizens, because it's not just about giving back to the community, but establishing a relationship with it as well," she said.
More like this story