Aquinas outlasts St. James, 45-42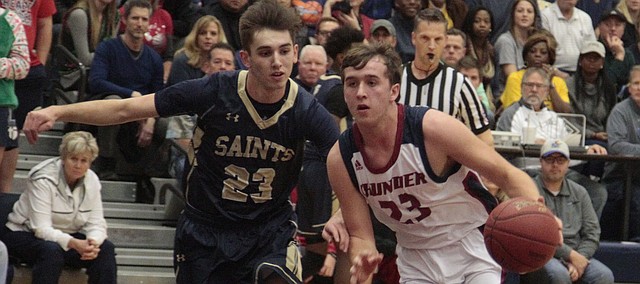 Lenexa — It wasn't the triple-overtime classic like the first time the two teams met last season, but yet another rivalry game went down to the wire on Wednesday night between the St. James Academy and St. Thomas Aquinas boys basketball teams.
The Saints possessed the lead for the majority of the contest, but the Thunder found themselves with a chance to send the game to overtime as they trailed by three points with 8.6 seconds remaining. St. James guards Casey Worley and David Hornung both got looks at 3-pointers to tie it, but their shots didn't fall in what was a 45-42 victory for Aquinas.
While the loss was a tough pill to swallow for the Thunder, it was a game that Worley and a number of St. James players had been waiting for. With the likes of St. James alumni Zach Thornhill, Will Mckee, Kyle Dekraai and Spencer Kaifes in the stands watching instead of garnering most of the minutes on the court, Hornung and Josh Spradlin were the only two players for the Thunder that had logged major playing time at reserves in previous matchups against the Saints.
"It's always great because we know we're going to have a huge fan base. The fans really showed out tonight," Worley said. "It was my first game really playing in this kind of environment and I loved every second of it. It was the funnest game of my life."
Worley drilled a 3-pointer with 19.2 seconds remaining to cut the Saints' lead to 44-42. The senior guard finished with nine points, but made primarily made his presence felt with a couple of steals and hustle plays to chase down loose balls.
"My mind-set tonight was help the team in any way possible, get on the floor as much as possible and get those nervous jitters out," Worley said. "That's just what I did, so I was happy with it."
Although Worley hit two of the Thunder's seven 3-pointers, it was Aquinas senior Drew Nusbaum who stole the show with his shooting from behind the arc. Nusbaum knocked five triples and finished with a game-high 23 points. The senior guard did a bulk of his damage in the first and third quarters. Nusbaum hit three 3-pointers in the first quarter and got fouled on one of them to score 10 of the Saints' first 12 points.
The 6-foot-1 Aquinas senior showed that he could do more than just shoot it from long distance in the second half, too. Nusbaum opened the second half with a traditional 3-point play to push the Saints' lead to 28-21. Worley answered with a bucket to pull the Thunder within five, but Nusbaum responded with another 3-pointer.
St. James sharp-shooting sophomore Jack Moellers kept Nusbaum and the Saints from breaking the game open in the second half. Moellers hit two of his four 3-pointers in the third quarter and led St. James with 13 points. He hit eight 3-pointers in the Thunder's season opener against Wyandotte en route to a career-high 26 points.
"We're not the tallest and we're not the fastest, so we kind of have to play to our strengths. We feel like we have a bunch of guys who can shoot threes," St. James coach Stan Dohm said. "Taking the right ones is going to be a big thing all year because it's definitely going to be a very important part of our offense."
After Nusbaum started dealing with a calf cramp late in the third quarter, the Thunder had a prime opportunity to seize control. The Thunder pulled within one at 35-34 after a 3-pointer from Moellers, but they weren't able to tie it up or take the lead the rest of the way.
The loss to Aquinas dropped St. James' record to 2-4 going into winter break. Four of the Thunder's six games have come down to the final possession. The Thunder's missed opportunities at the free-throw line came back to haunt them against the Saints. St. James only made half of its 14 free throws in the first half, and missed a rebound in the final 20 seconds after Aquinas senior Jack Morrissey made one of two at the line.
"We haven't shot a lot of free throws this year. We don't attack the rim a lot, so we don't have a lot of opportunities to shoot free throws," Dohm said. "Then some of those loose balls late where I thought our guys were in possession, the ball just didn't bounce our way a couple of times."
The Thunder will travel to Mill Valley at 7:30 p.m. on Jan. 3 for their first game after winter break.
"We're going to get better each game. We took a giant step forward from the Grandview game," Dohm said. "I wish we didn't have to go on break right now because I kind of like where we're at. We've lost two games in the last eight seconds that could have flipped a 2-4 record to a 4-2 record. That makes you feel a whole lot different, but like I told our guys, 'Sometimes the scoreboard lies. Sometimes the scoreboard doesn't always match (our effort).' I thought we spilled our guts tonight."
ST. JAMES (42)
Josh Spradlin 4-10 0-0 10, Michael Cahill 0-0 0-0 0, Casey Worley 3-6 2-3 9, Reed Wilkinson 0-1 0-0 0, David Hornung 2-8 2-2 6, Jake Dunsmore 0-2 2-4 2, Gus Lechtenberger 0-0 0-0 0, Jack Moellers 4-11 1-2 13, Sean Ziesman 1-4 0-4 2. Totals 14-41 7-15 42.
AQUINAS (45)
Drew Nusbaum 7-13 4-4 23, Jack Morrissey 0-4 1-2 1, Zac Genilo 1-4 1-2 4, Joe Rost 3-6 0-1 6, Kenny Gavin 3-9 1-2 8, T.J. Williams-Bey 0-0 0-0 0, Chris Navickas 0-0 0-0 0, Zarian Navy 1-6 0-0 2, Jorge Palazuelos 0-1 1-2 1. Totals 15-43 8-12 45.
St. James 10 11 13 8 — 42
Aquinas 12 13 13 7 — 45
3-point goals: SJA 7-24 (Moellers 4, Spradlin 2, Worley; STA 7-19 (Nusbaum 5, Gavin, Genilo). Fouled out: None. Turnovers: SJA 9, STA 9.