SJA

freshman Worthington shines in Thunder's loss to Aquinas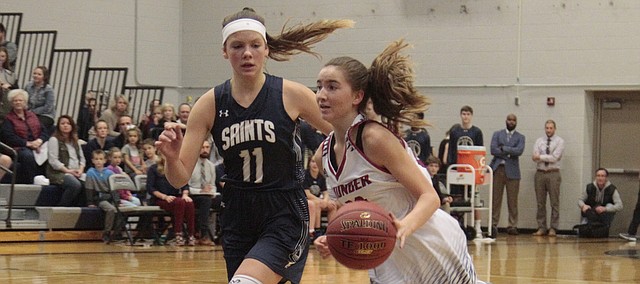 Lenexa — While the St. James Academy girls basketball team had more than a week to prepare for its game on Wednesday against St. Thomas Aquinas, the Thunder knew they had a tough matchup head of them with going up against the two-time defending Class 5A state champions.
The experienced Aquinas squad presented a big step up in competition from Piper, Eudora and Bonner Springs, where were the three teams that Thunder played at the Paola tournament. The Saints kept the Thunder at arm's length for the first three quarters before pulling away in the fourth for a 51-29 victory, but first-year St. James coach and Aquinas alumna Samantha O'Malley found out a lot about her team in its final game before Christmas break.
O'Malley top priority in her first season at St. James is getting her players to buy in on the defensive end. After a slow start offensively that saw the Saints jump out to a 14-2 lead early in the second quarter, the Thunder were able to keep Aquinas from running away with it thanks to their defensive effort.
"Our defense is pretty good. I'm very proud of our defense to be quite honest, but offensively finding the basket and getting the ball to go through the net would be a nice change," O'Malley said. "We came off a really good game where we shot exceptionally well down in our tournament, but this game they weren't dropping and unfortunately when they're not dropping we've got to find other ways to score and that we did not do."
The Saints possessed a lot of physicality in the post between the senior duo of Sereena Weledji and Allison Thomas. Weledji sparked the Saints with eight of her game-high 13 points in the first half, and the Thunder were short-handed down low after losing freshman Abby Dunsmore to a knee injury early in the second quarter. O'Malley called upon guard Mary Goetz to go up against Weledji, and the St. James coach was proud of her senior rose to the occasion.
"Mary has a lot of heart. She has a lot of fight in her and I knew putting her on the inside that she could do good things for us and she did," O'Malley said. "She stepped up and she fought the battle. She had a tough competitor to go against, but she did it and she did her job exceptionally well.
"She got a lot a lot of accolades and praise in there in the locker room and letting the team know that this is the kid you've got to mimic. It's her because with her heart and her fight, we'll stop players that are good like Weledji is."
While Goetz set the tone for the Thunder defensively, freshman Claire Worthington fueled St. James on the offensive end. Worthington hit two of her three 3-pointers in the third quarter and led St. James with 11 points.
"I think I just started to get more comfortable once I warmed up to it," Worthington said. "I got a lot more confidence in my shot."
The confidence was exactly what O'Malley was looking for out of the freshman point guard. Worthington's third 3-pointer cut the deficit to 30-22 late in the third quarter, which charged up the Thunder's bench.
"I've been pretty hard on her at practice and really reminding her to step up and be the point guard I need her to be, especially going into the next couple of years," said O'Malley of Worthington. "Today she really did step up and do exactly what this team needed. To see that confidence and that light in her, that will be energy that we'll be able to build off of."
After Worthington's triple pulled the Thunder within single digits, Weledji answered with a 3-pointer of her own at the buzzer to end the third. The Saints (ranked No. 1 in Class 5A) cushioned their lead throughout the fourth, as they outscored the Thunder, 18-7, over the final eight minutes.
As the Thunder go into winter break with a 2-2 record, they know the schedule won't get much easier when they travel to Mill Valley at 6 p.m. on Jan. 3. The young Thunder team is excited for another difficult challenge from the third-ranked Jaguars.
"Our goal is to really work hard over break and coming out of just ready to play," Worthington said.
ST. JAMES (29)
Claire Worthington 3-6 2-2 11, Madi Biondo 0-1 0-0 0, Claudia Russell 1-5 0-0 3, Claire Kearney 1-2 0-0 2, Torri Kempf 2-5 0-0 5, Mary Goetz 2-5 1-1 5, Katelyn Hall 1-3 0-0 3, Abby Dunsmore 0-0 0-0 0, Anna Feldkamp 0-0 0-0 0, Brianna Streeter 0-2 0-0 0, Maddie Russell 0-0 0-0 0. Totals 10-29 3-3 29.
AQUINAS (51)
Molly Hartnett 0-2 2-2 2, Blythe Pearson 3-5 2-2 10, Alayna Townsell 3-7 2-2 9, Sereena Weledji 5-9 2-2 13, Allison Thomas 3-5 4-4 10, Grace O'Keefe 1-3 0-0 2, Grace Jacobs 0-2 3-3 3, Madison Skelton 0-1 0-0 0, Claire Thomas 1-1 0-0 2. Totals 16-32 15-15 51.
St. James 2 8 12 7 — 29
Aquinas 10 10 13 18 — 51
3-point goals: SJA 6-20 (Worthington 3, Hall, Kempf, C. Russell); STA 3-7 (Pearson 2, Weledji). Fouled out: None. Turnovers: SJA 11, STA 11.
More like this story