Three people escape from early-morning house fire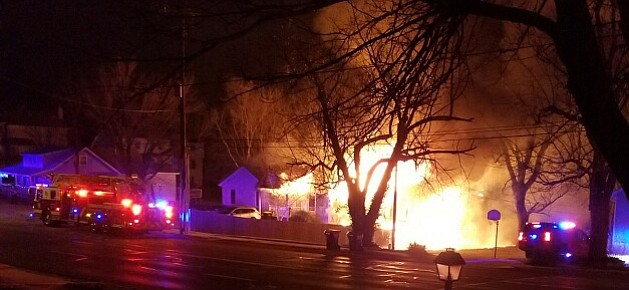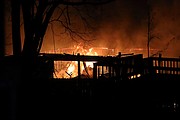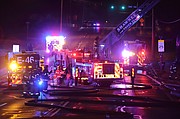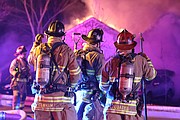 Three people were able to get out of their Nieman Road home shortly after it caught fire early Friday.
Dispatchers received multiple 911 calls from people reporting the house at 5019 Nieman Road was on fire. Police and firefighters were dispatched a 4:03 a.m.
Neighbor Cody Newman said he looked outside to see what his dog was barking at and saw the fire across the street.
Firefighters from Shawnee and Overland Park responded to the fire and worked for more than two hours to bring the fire under control.
Shawnee Fire Marshal Corey Sands confirms three people escaped from the burning house.
"Two residents were transported from the scene to KU Medical Center for minor injuries that occurred while attempting to extinguish the fire before calling 911."
Nearly 2,900 people were without power for a short time as KCP&L was forced to cut power to a large area due to a downed power line along the side of the house and energized overhead lines which hampered aerial fire suppression efforts from the front until power could be disconnected.
The home is a total loss with a damage estimate of $275,000.
"This fire could have easily taken an even more devastating turn," Fire Marshal Sands said. "Residents that discover a fire in their home should follow their fire escape plan and call 911 from a safe location. Fires move too quickly to try to extinguish them yourself."
No firefighters were injured. The cause of the fire remains under investigation.
The American Red Cross is assisting the residents of the house.
---
Operation 100 News provides overnight news coverage for the Shawnee Dispatch. Follow on Twitter for real-time updates.
More like this story