Hometown heroes:
SKC

's Matt Besler visits Trailridge, helps recognize Larry Benson as Sporting Samaritan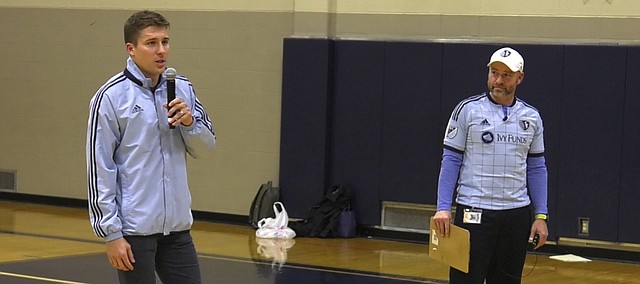 As a member of the United States Men's National Team and a nine-year veteran defender for Sporting Kansas City, Blue Valley West alumnus Matt Besler easily fits the description as a hometown hero — especially for youth soccer players in the KC area.
Before Besler enters his 10th season with SKC, he's taken the time to talk with several of the kids who idolize him, as well as help recognize people who he considers to be hometown heroes. One of Besler's recent stops was at Trailridge Middle School, where he helped SKC and Blue Cross Blue Shield honor TMS physical education teacher Larry Benson as a Blue KC Sporting Samaritan.
Benson was previously honored as the Sporting Samaritan for the month of May before Sporting KC's 2-0 win over the New York Red Bulls on May 3, but sharing the experience with the Trailridge students was equally as special for the long-time educator.
"It couldn't be better," Benson said. "To see someone as prominent as Matt Besler — a superstar in our community and on the field — come and spend time talking to our youth, that's the idea. That shows character, it shows honor and that's what we want to show to our youth and to our kids here at Trailridge."
Benson is in his second year of teaching at Trailridge and third year overall in the Shawnee Mission School District. Prior to teaching at Rhein Benninghoven Elementary, Benson spent 13 years impacting students in the De Soto School District.
"During that time, I coached football, basketball, wrestling and high school baseball. Then we had a family change where I have three kids and they were all three getting to the age where they were wrapped up in sports, so I decided I would coach them, " said Benson of his daughter Josie and sons Brant and Jett Wayne. "An opportunity at Shawnee Mission opened up and it was too good not to take."
Before Benson watched on as Besler gave the Trailridge students a few of wisdom, he made sure that the Sporting KC captain was in his natural habitat by pumping up the students to do the "I Believe" chant.
"I've enjoyed getting to know Larry seven months ago and then again today. I was able to meet his family both times," said Besler of Benson. "He's a great guy. I can see why he's affected so many people and why he seems to be a student favorite around these parts."
Benson was nominated by four different people before eventually being selected as a Sporting Samaritan, which is a monthly honor that Blue KC and Sporting have been sponsoring for the past two years.
"One of the things that Blue Cross and Blue Shield of Kansas City prides itself in is that we're actually a part of the community. It's not just about signs and billboards and advertising," Christina Lively, Blue KC's vice president of marketing and communications, said. "It's really about bringing people like Matt Besler here, as well as honoring people like coach Benson — who is such a pillar in the community and mentor to other coaches, teachers and students. Anytime that we can kind of connect those dots is special for us."
Besler spoke for about 10 minutes to the seventh and eighth graders before opening the floor to answer a few questions. The first point that the 2012 MLS Defender of the Year and five-time all star made to the Trailridge students was that he was once in the same position that they are in, and admitted that he was not the best soccer player in middle school.
"There were other people who were better than me. There were other people that were stronger. There were other people that were faster. There were other people that were smarter than me, did better in school," Besler said. "I just want to say that that's OK. That is going to happen. I think in today's world that it's very hard to not compare yourself to other people, especially at your age because I'm telling you that I know what it's like."
Prior to being drafted as the eighth overall pick in the 2009 MLS Draft by the Kansas City Wizards — now Sporting KC — Besler starred at Notre Dame and BV West. Besler emphasized to the students that he set numerous goals at each goals to help him become the player that he is today.
"I know some of you might think that tomorrow might be the day that you're going to sign that professional contract, but it's probably not going to happen tomorrow," Besler said. "There's going to be a lot of other things that happen before you get to that point, so make those goals in increments. What's something that you can do before professional soccer?
"Maybe you want to make your club team. Boom, that's goal Number One. Maybe in high school, you want play for the varsity. OK, that's goal Number Two. Goal Number Three, play in college and get a college scholarship. Then you work your way up and you do all of these little goals along the way and before you know it, you're looking back and you're thinking, 'Oh, I've already accomplished a lot of these. Now the one in front of me is my ultimate goal — playing professional soccer.'"
As Sporting KC's captain, Besler knows a lot about leadership. The United States Men's National team member gave a simple definition of the word leadership to the middle schoolers.
"Leadership is positively influencing one person. That's all it is to me," Besler said. "I think sometimes we think, 'Oh leadership is scary and I'm not a leader. I don't want to be a leader and someone else can do it because it's hard.' But if you break it down to the definition I just gave you, we all can do it."
Besler was honest with his answers to each of the questions thrown his way at the end of each assembly. The 30-year-old defender shared his favorite moments on the pitch — which were winning the 2013 MLS Cup and representing the United States in the 2014 World Cup in Brazil — and one of his recent and most painful memories. Besler and the US Men's National Team failed to qualify for the 2018 World Cup next summer in Russia, and it's something that has continued to eat at him.
While Besler said that empty feeling won't likely go away anytime soon, he wanted to let the Trailridge students know that how you respond to difficult times helps to define who you are on and off the field.
"People always talk about building character and going through very tough experiences that will make you stronger. I don't think I can go through a much tougher experience than that," Besler said. "In a way, I don't want to say that I'm lucky, but I had a huge opportunity for going through that because there was only 11 people on the field that day. So there were only 11 people in this entire country that experienced what I experienced and know what it is like. I feel like I had that opportunity that not a lot of people will get and I think that I'm going to be a lot stronger from it."
More like this story