New
VA

medical center celebrates upcoming opening in Shawnee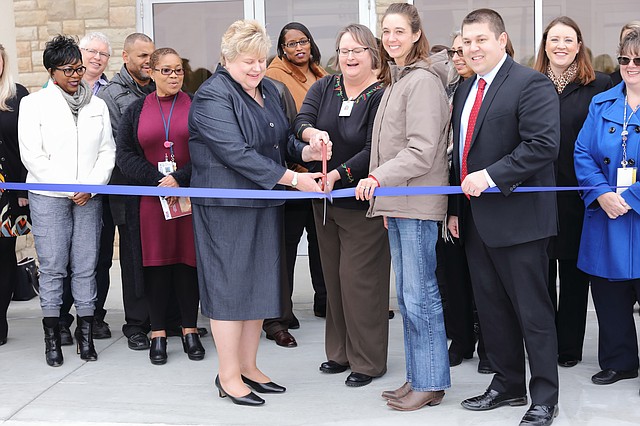 Veterans in the Shawnee area now have a more convenient location to receive care.
Kansas City VA Medical Center held a ribbon cutting ceremony for their newest Community-Based Outpatient Clinic, located at 6830 Anderson Street, on Friday afternoon.
Staff and executives from Kansas City VAMC, Shawnee city officials, and dozens of veterans showed up for the ceremony, which included full tours of the facility and refreshments.
Representatives from the offices of Kansas Senator Pat Roberts, Senator Jerry Moran and Congressman Kevin Yoder were also present.
The clinic includes four patient aligned care teams and two geriatric health care teams, as well as phlebotomy, mental health and telemedicine services.
It also has pharmacists and mental health staff on hand and a lab for blood work.
The first patient appointments will be Jan. 2.
Kansas City VAMC, and its community-based outpatient clinics, provide care for over 50,000 veterans annually.
Last year, they received 500,000 visits total.
The new 10,000 square-foot facility in Shawnee has 15 exam rooms, an educational room and 55 parking spaces.
Kansas City VAMC executives said they hope the Shawnee location will be more convenient for veterans who live in Johnson County and western rural areas.
"There are approximately 10,000 to 11,000 veterans in Johnson County who haven't registered for the benefits they've earned," said Dwayne Rider, KCVA public affairs officer. "We want to let veterans, especially younger veterans, know this is an option for them."
He pointed out that VA medical centers are a bit different than others, because many provide numerous services in one location, such as dental work and eye exams.
At the ribbon-cutting ceremony, Shawnee Mayor Michelle Distler told the large crowd she was honored and excited to have the new community-based outpatient clinic open in Shawnee.