SM

North football duo, Maranatha soccer standout sign with William Jewell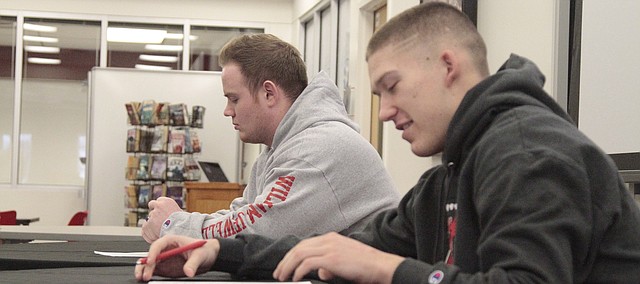 Overland Park — OVERLAND PARK — Shawnee Mission North seniors Will Schneider and Danny Presler know what it is like to build a football program from their four years on the gridiron with the Indians.
On Wednesday, they signed their national letters of intent in the SM North library with the common goal of doing the same thing at William Jewell.
"We kind of go in wanting to turn it around because that's what we're used to," Presler, an all-state honorable mention offensive lineman, said. "We think it has a lot of potential. I think it's going to turn out to be a good program."
Presler and Schneider led the Indians to a 6-5 record in 2016 — North's first winning season since 2004. The SM North duo experienced a winless freshman season, before winning two games in 2014 and three in 2015.
The two SM North seniors now join a William Jewell that is coming off of a 1-9 campaign in 2016. Jewell moved from the NAIA to NCAA Division II level in 2011, but has not had a winning season since 2007. Schneider and Presler are excited to get the chance to change that.
"I definitely know that I'm going to get an opportunity, where at other schools they were going to say you're going to walk on your first year. Jewell just said you're going to get the opportunity to come in and compete, and that's all I can ask for," Schneider — the Kansas all-time state passing yards leader, said. "I just want that chance. I wanted someone to say that they were going to give me a chance. That was the first thing that I just kind of loved about Jewell. Everybody is equal here. We're going to get an equal opportunity, and that's awesome."
Schneider acknowledged that the scholarship offers from Division I FBS and FCS schools never accumulated like he expected them to, but he's only focused on what lies ahead. The left-handed dual-threat quarterback picked Cardinals not only for the football program, but for the layout of Jewell's campus and the priority that the team places on academics.
"Jewell was just the right fit for me because when I got there, first off I loved the campus. When I got there, you walk up on the hill and everything and you see the view," Schneider said. "Everything they have to offer from that standpoint like campus wise, and you're going to get the best education that you probably can. At Jewell, they're going to give you all of the opportunities."
Schneider has not determined a major yet, but he has a good idea of the fields that he would like to go into. He credited the experience he has had at SM North for giving him a number of areas that he's interested in studying.
"I want to do something on the athletic-type side. I either want to be a college coach, so I'll get a coaching minor or something along those lines or I also want to be an athletic trainer, so I'll be in sports medicine," Schneider said. "I'm leaning more toward in sports medicine and being an athletic trainer just because my experience here with our trainer Kevin (Stalsberg) has been awesome. That's something that I want to do."
Coaching is something that Presler has in mind as well, and he is planning to major in elementary or secondary education.
While Presler and Schneider have become close friends on and off the field at SM North, they promised each other early on in the recruiting process that they would not influence each other's college decision. The idea of going to the same college did intrigue them, though, and now they're excited to build an even stronger friendship.
"That was always in the back of our minds. It wasn't really the deciding factor," Presler said. "It definitely made it better. We told each other that we're going to pick the school that best fits us, and at William Jewell, we felt the most wanted there.
"We'd get the best education there, and that's basically why we chose (William Jewell). Us going to the same school makes it that much better because it makes it easier on us knowing someone and having your best friend being your roommate."
With Schneider and senior running back Marcos Garcia playing behind him for all four years at SM North, Presler built a special trust with the Indians' backfield tandem. In post-game interviews, Schneider has always been quick to praise the SM North offensive line, and Presler said that his quarterback's selflessness makes it a lot more enjoyable to block for him.
"It makes it a lot of fun when your quarterback doesn't turn around and start cussing you out and stuff like that. I've never dealt with that obviously because I've only had Will, but I know of guys and you see in movies if a quarterback doesn't appreciate his offensive line, they're not going to block as hard or go as hard for him," Presler said. "Will is one of those guys where you want to block as well as possible. It makes it a lot easier to get motivated when you have a quarterback behind you that you like."
Schneider is thrilled to be joining Presler at Jewell, but he's excited about the rest of the Cardinals' recruiting class, too. Schneider had the chance to meet fellow Cardinals signee and Kearney (Mo.) senior Ethan Luft — who won the Bobby Bell Award as the top small-Class lineman/linebacker in the Kansas City area — on a recruiting visit to Jewell. The SM North senior has also met Free State quarterback Dallas Crittenden, who also signed with the Firebirds.
"I've talked to him (Crittenden) one time at a camp, but he's a great kid," Schneider said. "I've seen a lot of the kids that Jewell is recruiting, and you can tell their recruiting class is a lot of good kids."
Presler, Schneider, Crittenden and Luft were four of the 20 players that signed with Jewell on Wednesday.
"Redbirds rising, man," Schneider said with a smile. "Hashtag Redbirds rising."
Maranatha soccer standout Crowder signs with Jewell
Schneider and Presler weren't the only two Shawnee-area athletes to sign their national letters of intent to William Jewell on Wednesday.
Maranatha Christian Academy senior Kayla Crowder signed with the Cardinals to continue her soccer career at the collegiately level.
"I'm really excited. I really like the coach, and I'm excited to get there," Crowder said after leading the Eagles' basketball team to a 39-33 home win over Immaculata on Jan. 24. "They have a good program, and I'm excited to just go with them this next season and start college soccer."
After finishing just below .500 in 2014 and 2015, the Crowder will try to help the Cardinals rebound from a 4-11-2 2016 season. Joining Crowder in the Cardinals' recruiting class were Ireland Hawkins of Central (Springfield, Mo.), Lee's Summit Lexy Hawkins and Kickapoo's Annalee Arbeitman.
More like this story