SMNW

girls hoops holds off Free State, 52-50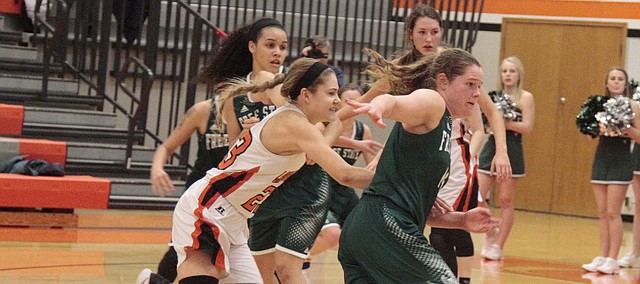 As Shawnee Mission Northwest's girls basketball team took the court on Friday against Free State, the Cougars had the same goal has several of the Firebirds' other opponents — shut down senior Madison Piper.
It has been much easier said than done when it comes to stopping the two-time Sunflower League Player of the Year, but the Cougars found a way to effectively do so in their 52-50 win over the Firebirds.
Sophomore Hannah Black spent the majority of the night face-guarding Piper, with junior Megan Nugent occasionally spelling her here and there. Black and Nugent held the Santa Clara signee scoreless on just two shots in the first half, and the Cougars' lead bloomed to as many as 19 at 22-3 at the 2:40 mark of the second quarter.
"They played really hard, and we defended about as well as we have all year in the first half," SM Northwest coach Tyler Stewart said. "She's a great player, and if you give her one open look, she's liable to make two or three or three in a row. They did a great job of making her shots limited and tough."
Black has been depended on by Stewart to play at the top of the Cougars' 1-3-1 zone, but she showed that her man-to-man defense is extremely effective, too. The SM Northwest sophomore credited her play on the defensive end to what she has learned from Stewart and the Cougar coaching staff.
"Just listen to what our coaches, read the scouting report, follow it and do what they tell us to do," Black said.
While Black and Nugent continued closely guard Piper after the break, the Free State senior found a way to get going anyway. Piper scored 14 points in the second half, and helped lead a furious Free State comeback.
The Cougars led 24-8 at the break, but turnovers plagued them when they returned from the locker room. Northwest turned the ball over on seven of its last 10 possessions in the third quarter, and Free State eventually took a 38-37 lead after a traditional 3-point play from Piper with 6:37 left.
Free State's lead was short-lived, though, thanks in large part to SM Northwest junior Jordann Nachbar. Nachbar scored the first four points of a 7-0 SM Northwest run, and poured in a game-high 21 on 9-of-9 shooting from the field.
"She played hard and went after it," said Stewart of Nachbar. "She never stops. She has a high motor, and it showed on the court."
The Firebirds still hung around, though, even after Piper was helped off of the court after suffering an apparent ankle injury with 1:36 remaining. Free State trailed, 50-44, when Piper went down, but junior Cameryn Thomas scored four straight points to pull the Firebirds within two. Cougar guard Gena Ojeda calmly stepped up to the line to knock down two free throws to push SM Northwest's lead back to four, but Thomas answered again with another bucket with 21.2 seconds left.
The Cougars were able to run a majority of that time off the clock before Ojeda got fouled again with 0.8 to play. Ojeda missed both, but the Firebirds were unable to get a look for a game winner after the ball went off the iron.
"I really liked how we handled that adversity there," Stewart said. "They came out and really pressured us, and we had to really settle down, get it to the middle and attack when they pressed us. I thought we did a better job at the end there."
Northwest moved to 10-4, while Free State (ranked No. 9 in Class 6A) fell to 8-6. The Cougars will the road to take on Lawrence High (No. 8 in Class 6A) at 5:30 p.m. Tuesday.
SMNW (52)
Gena Ojeda 4-9 2-4 14, Megan Nugent 1-3 0-0 2, Emmalee Rose 2-8 3-6 8, Hannah Black 1-2 0-0 3, Sarah Petersen 1-1 0-0 2, Jordann Nachbar 9-9 3-7 21, Rachel Seibold 0-0 2-2 2, Haley Nunnink 0-0 0-0 0, Donavyn Hill 0-0 0-0 0. Totals: 17-29 10-19 52.
FSHS (50)
Sam Lawrence 0-3 0-0 0, Cameryn Thomas 6-12 6-8 18, Caely Kesten 2-6 3-4 7, Madison Piper 5-11 2-3 14, Jaelyn Two Hearts 4-12 0-0 9, Jaycie Bishop 0-4 0-0 0, Erin Cushing 0-0 2-2 2, Haley Hippe 0-0 0-0 0. Totals: 17-46 13-17 50.
SMNW 13 11 13 15 — 52
FSHS 3 5 25 17 — 50
Three-point goals: SMNW 6-14 (Ojeda 4, Black, Rose); FSHS 3-12 (Piper 2, Two Hearts). Fouled out: Hannah Black, SMNW. Turnovers: SMNW 17, FSHS 10.
More like this story