Mill Valley baseball star chosen for Senate Youth Program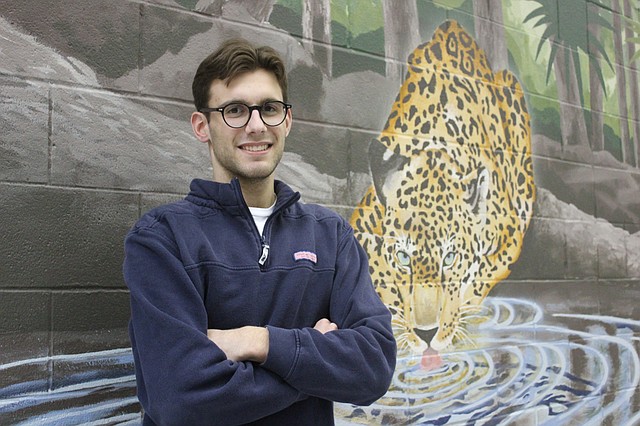 Jack Campbell dreams of walking up the steps to the U.S. Capitol building one day.
The 18-year-old has wanted to be a politician since he was a kid.
"It sounds cliche, but it's about leaving the world in a better place than how you found it," he said. "That idea really resonated with me. There are a million ways to make the world a better place, but I want to do it in the legislature."
Next month, he'll get a taste of what his future could entail.
The Mill Valley High School senior was recently selected to be a delegate to the 55th annual United States Senate Youth Program (USSYP), which takes place March 4-11 in Washington D.C.
He is one of 104 students from across the nation picked for the program and he will also receive a $10,000 scholarship from the Hearst Foundations.
Two student delegates are chosen per state.
While in Washington, D.C., the student delegates will attend meetings and briefings with senators, members of the House of Representatives, Congressional staff, the president, a justice of the Supreme Court, leaders of cabinet agencies, an ambassador to the United States and senior members of the national media.
The students also will tour many of the national monuments and several museums, and they will stay at the historic Mayflower Hotel in downtown Washington, D.C.
"I'm really excited to meet other students just as interested in politics as I am," Campbell said. "It's kind of surreal that I could establish connections with people that could one day lead to internships."
Earning a spot in the USSYP wasn't easy, however.
Campbell had to take an intense history and government exam, plus write a government-related essay.
But although it was hard work, it was fun, he insists.
He added that a catalyst for his passion for politics stemmed at Mill Valley.
"Mill Valley has an amazing social studies department," he said. "The teachers are all awesome and there's a wide variety of subjects offered."
Constitutional Law and Political Participation are just a couple classes he's taken, along with traditional history and civics classes.
"It's helped me discover what I love," he said. "Three years ago, I would have told you I liked politics. Now, I know it's a topic much more complex than I ever imagined."
Now he cites economics and foreign policy as two of his favorite political subjects.
Campbell initially became interested in politics four years ago, when his eighth grade social studies class talked in-length about President Obama's reelection.
His sophomore year at Mill Valley, he took a civics class, focusing on the basics of government.
He was hooked.
"I started to mature academically and take more pride in my classes," he said. "School suddenly became fun because I would look forward to my AP classes everyday. I love learning about our country's history and talking politics."
Since then, he's become a superstar in his class.
Campbell is the co-chair of the Political Discussion Club, a Kansas Boys State delegate, and he was recently appointed to sit on a council that meets quarterly with the superintendent to discuss improvements of the two high schools in De Soto USD 232.
He is also a member of DECA, a student group focused on business and entrepreneurship, and the president of the Caddyshack, a student-managed store at his high school.
After graduating in May, he will attend the University of Central Arkansas, where he has received a Division 1 athletic scholarship for baseball.
His accomplishments, and his most recent achievement, do not surprise his Mill Valley baseball coach, government teacher and mentor, Jeff Strickland.
As far as he's concerned, this is only the tip of the iceberg for the affable teenager.
"I'm very proud of him and not just because of the award, but of how he represents Mill Valley and baseball in general," Strickland said. "He works very hard and he's a good kid. He's a huge asset to our school."
When Campbell heads to the nation's capital next month, he will be following in the footsteps of major political powerhouses who also attended USSYP, which was established in 1962.
They include Governor Chris Christie, who participated in 1980 and Karl Rove, former deputy chief of staff to President George W. Bush, who participated in 1969.
The USSYP was created by Senate Resolution 324 and has been sponsored by the Senate and fully funded by The Hearst Foundations since inception.
The impetus for the program as stated in Senate testimony is "to increase young Americans' understanding of the interrelationships of the three branches of government, learn the caliber and responsibilities of federally elected and appointed officials, and emphasize the vital importance of democratic decision making not only for America but for people around the world."
In addition to outstanding leadership abilities and a strong commitment to volunteer work, the student delegates rank academically in the top one percent of their states among high school juniors and seniors.
For more information about USSYP, visit www.ussenateyouth.org.