Mill Valley boys basketball falls to Gardner-Edgerton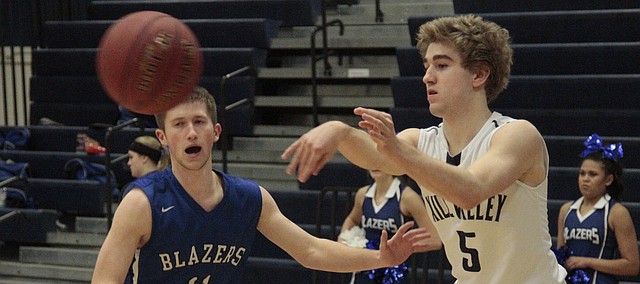 One does not have to look any further than the difference in made free throws when trying to put a rhyme or reason behind the Mill Valley boys basketball team's 57-42 loss to Gardner-Edgerton on Tuesday.
The Jaguars (4-12) only trailed the Trailblazers by four points midway through the third quarter, but Mill Valley couldn't keep Gardner-Edgerton away from the charity stripe down the stripe. The Trailblazers made 21 free throws — with 18 of them coming in the second half. The Jaguars only made six freebies.
"I just think that they dictated what they wanted to do. They got to the foul line," Mill Valley coach Michael Bennett said. "They got it inside, and got easier shots than us. We took a lot of forced shots, and thought that was a difference in the game … and us getting farther and farther away from the rim and them getting closer and closer to the rim."
Both teams struggled to get going from the field in the first quarter, as Mill Valley junior Brody Flaming and Gardner-Edgerton's Bryson Rohr netted four points apiece to bring the score to 4-4 after eight minutes.
The Trailblazers hit the Jaguars with an 8-0 to open the second quarter, but Mill Valley was able to weather the storm, and only trailed by six (18-12) at the break.
Jaguar sophomore Logan Talley made a back-door layup on an assist from Ike Valencia to pull the Jaguars within 22-18 in the third, but the Trailblazers closed the quarter on a 11-4 spurt, and led by double figures the rest of the way.
The Jaguars were without their leading scorer, Cooper Kaifes, for the fifth straight game. The Mill Valley junior suffered an initial foot injury in the McPherson Invitational in late January, and before breaking his foot against Bishop Miege.
"He was able to play through it and didn't think anything of it, and against Miege, he heard something pop," Bennett said. "We got him X-rayed, and obviously broken foot."
Bennett has still been encouraged about how the Jaguars have played without Kaifes, as they've been able to defeat Lansing and Blue Valley Southwest despite their star being sidelined. Blake Montgomery led the Jaguars with 15 points against the Trailblazers.
"We've had guys step up, and that's what we need," Bennett said. "We need guys to step up, and I think that will help us in the future if we continue to have guys step up."
The Mill Valley coach has stressed for his team to be aggressive and not settle for jumpers, which was something he said they struggled to do on Tuesday. The Jaguars' shots weren't falling from the outside, as they only made four 3-pointers — all of which came in the fourth quarter.
"I stressed to the guys, 'What do we do if we're not hitting jump shots?'" Bennett said. "And that happens. You'll have nights where you don't hit it. So we have to find ways to have balance, get it inside and have multiple scorers."
The Jaguars will hit the road at 6 p.m. Friday against St. Thomas Aquinas. The Saints are ranked No. 2 in Class 5A.
Mill Valley points: Blake Montgomery 15, Brody Flaming 8, Jack Cooper 6, Ike Valencia 6, Tanner Moore 3, Jansen McCabe 2, Logan Talley 2.
Gardner-Edgerton points: Bryson Rohr 13, Blake Nichols 11, Devan Toomey 8, Conner Boyt 7, Lucas Soza 6, Austyn Hatton 6, Anthony Reed 4, Luke Jennings 2.
More like this story