Mill Valley second, St. James third at
EKL

wrestling tournament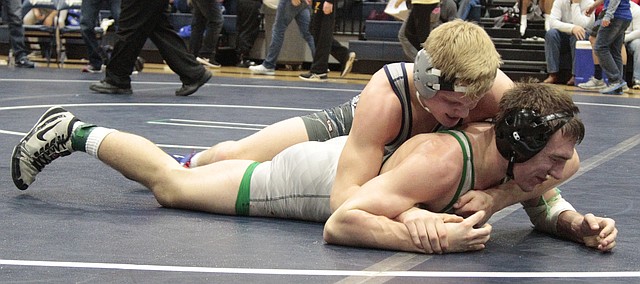 Overland Park — All five Mill Valley wrestlers who reached the Eastern Kansas League Tournament finals won their weight class championship matches on Saturday at St. Thomas Aquinas, but the Jaguars still weren't satisfied with their second-place team finish.
Dylan Gowin, Conner Ward, Joey Gray, Jarrett Bendure and Jett Bendure stood at the top of the podium at the end of the day, but they were frustrated that they weren't up their teammates when the team champion was announced. The Jaguars finished second to Blue Valley Southwest by 21.5 points.
"It's cool, but we're in second," Gowin said. "We need more, and we're getting a few guys back next week, so hopefully in regionals we'll not be in second."
Gowin was the first Jaguar to win his weight class after pinning Gardner-Edgerton's Drake Taysom in 58 seconds in the 120-pound title match. Taysom finished third at state in Class 6A last year at 106 pounds, while Gowin took third at 113 pounds in 5A. Gowin said that the caliber of opponent does not change his game plan entering each match.
"I just go out there and wrestle hard every match," Gowin said. "That just happened to be what happened this time. I have a mindset going in that I'm just going to compete and put up points on the board, and that's what I did."
Juniors Conner Ward and Jarrett Bendure continued the trend of the Jaguars winning in convincing fashion. Ward won the 132-pound title match by an 11-3 major decision over BV Southwest's Riley McCall, and Bendure pinned BV West's Zach Schram in 1:32 to win the 138-pound bracket.
Joey Gray stepped to the center mat next for the Jaguars, and had one of the closer matches of the tournament against St. Thomas Aquinas' Tommy Carroll.
Gray and Carroll were deadlocked at 2-2 before the Aquinas 145-pounder got a reversal to go up 4-2. Gray answered with a reversal of his own, but Carroll got an escape point to maintain a 5-4 advantage.
Gray notched a takedown to take the lead at 6-5, but Carroll came through with another reversal to reclaim an one-point edge. The Mill Valley 145-pounder dug deep, though, in the closing seconds for a reversal of his own and held on to win the match.
"It was hard to stand up against him, but I found a switch worked out well," Gray said. "In the last 10 seconds, I was able to hit it and win."
Jett Bendure was the final Jaguar to wrestle for a weight class title, and he made quick work of Gardner-Edgerton 160-pounder Conner Greig to win a 9-4 decision.
The Jaguars are eager to get back into the wrestling room on Monday, as they gear up for their Class 5A regional tournament Friday and Saturday at Leavenworth against De Soto, Schlagle, Harmon, Sumner Academy, Turner, Washington, Lansing, Leavenworth, St. James Academy, BV Southwest, Aquinas, Pittsburg, Shawnee Heights, Highland Park and Seaman. They're also hopeful the heavyweight Alec Derritt and 182-pounder Sage Sieperda will be able to return to action.
"Hopefully we'll have a full squad when we roll into Leavenworth next weekend," Mill Valley coach Travis Keal said.
Thunder take third
Finishing right behind Mill Valley in third was another first-year Eastern Kansas League member in St. James Academy.
Just like the Jaguars, the Thunder had five wrestlers advance to the finals. Drew Ernsdorff, Sammy Cokeley and Cade and Clay Lautt won their respective weight classes, while Dominic Stean was the runner-up at 220 pounds.
"I think they did great," St. James coach Mike Medina said. "In the placing matches, we lost one of the placing matches, so I was excited about that — whether it was wrestling for first place or seventh place. We always talk about ending on an odd number, and the guys took it to heart."
As defending state champions, Clay Lautt and Cokeley wasted little time in winning their championship matches. Lautt pinned BV Southwest's Johnnie Kramer in 47 seconds to earn the 182-pound title, and Cokeley coasted to a win by fall in 1:54 in the 170-pound championship match against BV West's Aaron Davis.
While Clay Lautt and Cokeley didn't need much time to come away with their respective victories, the title matches for Cade Lautt and Ernsdorff went the full three periods.
Cade Lautt and BV Southwest's Michael Stack were tied at 1-1 until the St. James 152-pounder got a take down with 30 seconds left. The Thunder freshman was able to grind out a 3-1 win by decision.
"Over those six minutes, I just kept on working so in the end he was more tired than I was," Lautt said. "I just kept moving my hands, feet and it worked out."
The early stages of the season featured a few rough patches for Cade, but he's embraced Medina's "learning by losing" philosophy, and has grown under the leadership of his older brother.
"It's pretty fun because it's been like three years since we've been on the same team," Cade Lautt said. "Every once in a while, I work with him in practice to get a different feel. It's definitely a lot harder, but it helps me."
Cade Lautt and Ernsdorff both credited their first-place finishes to the tough competition that the Thunder have faced this season
"I think the most important thing is our schedule," Ernsdorff said. "That's helped a lot with wrestling the best of the best around the nation, and it just works out when you're facing the best from around the area."
Ernsdorff seized the lead early in the 126-pound title match against BV Southwest's Seth Nitzel, and never relinquished it en route to a 6-2 win by decision.
"Drew was sick the last couple of weeks, and his health is starting to come back. His strength is coming back," Medina said. "He's getting more confident. He came to us as a freshman, was kind of thrown into a difficult schedule and wasn't used to that. He's really buying into it now and realizing losing is learning. Today it definitely paid off. He was very confident out there."
The Thunder don't have the same depth as the Jaguars or some of the other EKL teams, but Medina felt that the Thunder put together an impressive effort across the board.
"I'm just proud of all the boys. You don't place in a tournament like this when we don't have a full team without the other kids," Medina said. "The kids that are taking seventh, third, fourth, fifth. TJ Miller really stepped up today and got third. That's his highest place.
"We don't have a full team. It's been a difficult year filling the spots, but everyone has stepped up with scoring some points so I'm proud of them."